Is the new Jimny the best Suzuki 4X4 ever made? Our resident Zook nerd thinks it could be … well, nearly
Words by Evan Spence, Images by Harry Temple
I'm not going to hide the fact I am a Suzuki enthusiast. I learnt to drive in an '84 model Sierra I bought for $1200, and took that thing everywhere including the Vic High Country on my P-plates at 80km/h the whole way. I've had a modified LWB Vitara wagon, two LWB Sierras, and a handful of SWB Sierras in various states of modification; in fact, I still have one in my backyard. It has been lifted, regeared and modified cheaply and easily using mostly second-hand parts. Which is what Zooks are supposed to be – cheap and easy. The 2019 Suzuki Jimny sadly isn't cheap these days, with quotes coming in at $30,000 or more depending on where you live and the options boxes you tick. With that said, you are getting more inclusions than we have ever seen in a Suzuki 4X4. Cheap and classy … who would have thought?
INTERIOR
The first thing you'll notice is how much vision you have in the 2019 Jimny. It's a breeze to manoeuvre in tight carparks or tracks, especially with the great turning circle. Full points there. Also full points for incorporating retro touches, like the dash cluster reminiscent of the SJ70 Sierra, and the way you feel like you are actually sitting in a modern version of a 90s Sierra. Suzuki trainspotters will have a field day … I sure did. Seating is pretty good, front and rear. I'm nearly two metres tall and had plenty of headroom in both the front and back seats.
Suzuki tells us the front seats will fold flat, so you can actually sleep in the vehicle. I tried it, and yes it is possible – if you don't have feet, that is. Still, a cool idea that, with some tweaking, could work well.
With the back seats folded flat, there is ample space for luggage, more than you'd think looking at it from the outside. Interestingly, the back door doesn't open all the way, which is a bit weird. Fold the back seats back up, and good luck fitting much behind them besides hopes and dreams, potentially some well-packed thoughts and prayers. Nothing tangible, basically. I doubt you'd fit a pram, which could be a deal-breaker for young families.
Otherwise, the interior is a nice place to be. Simple, well laid-out and definitely not a cheap feel. I'm still not sure why the switches for the electronic windows are mounted in the dash Jeep Wrangler-style – perhaps Suzuki want us to take the doors off and just aren't telling us.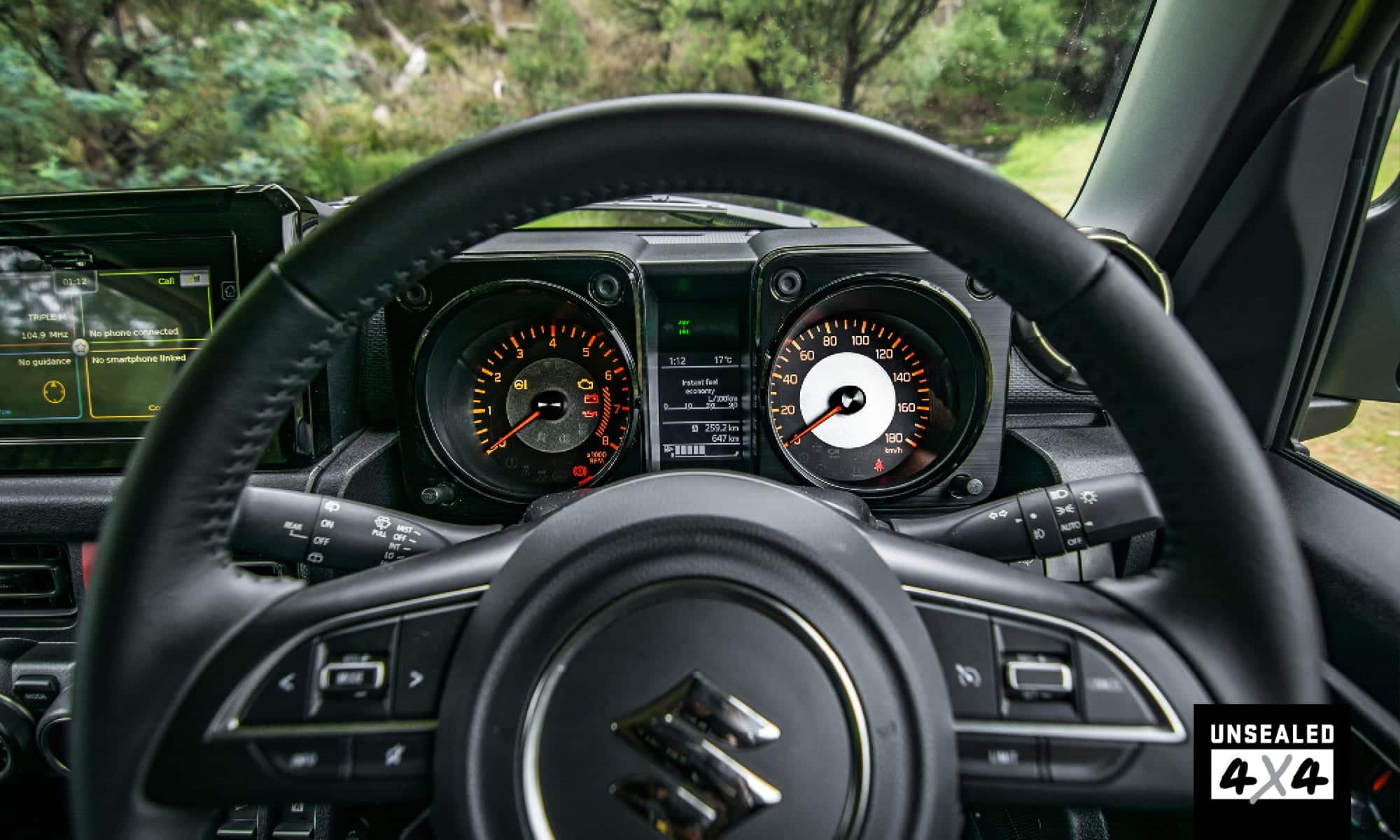 ON-ROAD PERFORMANCE
This is one vehicle that we were actually looking forward to driving on-road nearly as much as off it. As you were too, judging by the amount of questions we received on social media. This thing is very softly sprung; if you move to tuck your shirt in parked at traffic lights, the whole vehicle moves side-to-side with you. With a larger 1.5-litre engine over the previous generation 1.3, you have more power – not enough power – but more nonetheless. I would love to see a turbo-charged model, and I've heard rumours that there is a supercharger kit being developed in the aftermarket world. That would be nuts!
At highway speeds, the Jimny was as good as you could expect … actually, I think it's better, and miles ahead of the previous generation. Revs at 110km/h were around 3400rpm, which is acceptable considering the Jimny didn't feel like it was alive until it hit 4000rpm (which is where it makes peak torque). Gear noise from the transmission/transfer case is definitely apparent, wind noise is acceptable, as is occupant space … even though you will be holding your front-seat passenger's hand most of the time.
Pushed through corners, the Zook has body roll for days. It adds to the fun more than anything, as it approaches the limit of tyre grip and predictable understeer. Really push it, and it will lift a back wheel off the ground … or so our photographer Harry tells me. Super lightweight steering feel doesn't help here; luckily the brakes are more than adequate, even though we would have loved to see disc brakes on all four corners. Basically, you need to drive this thing; it needs constant steering input, and having so little power made high in the rev range, you will be changing gears often. Good fun, in other words.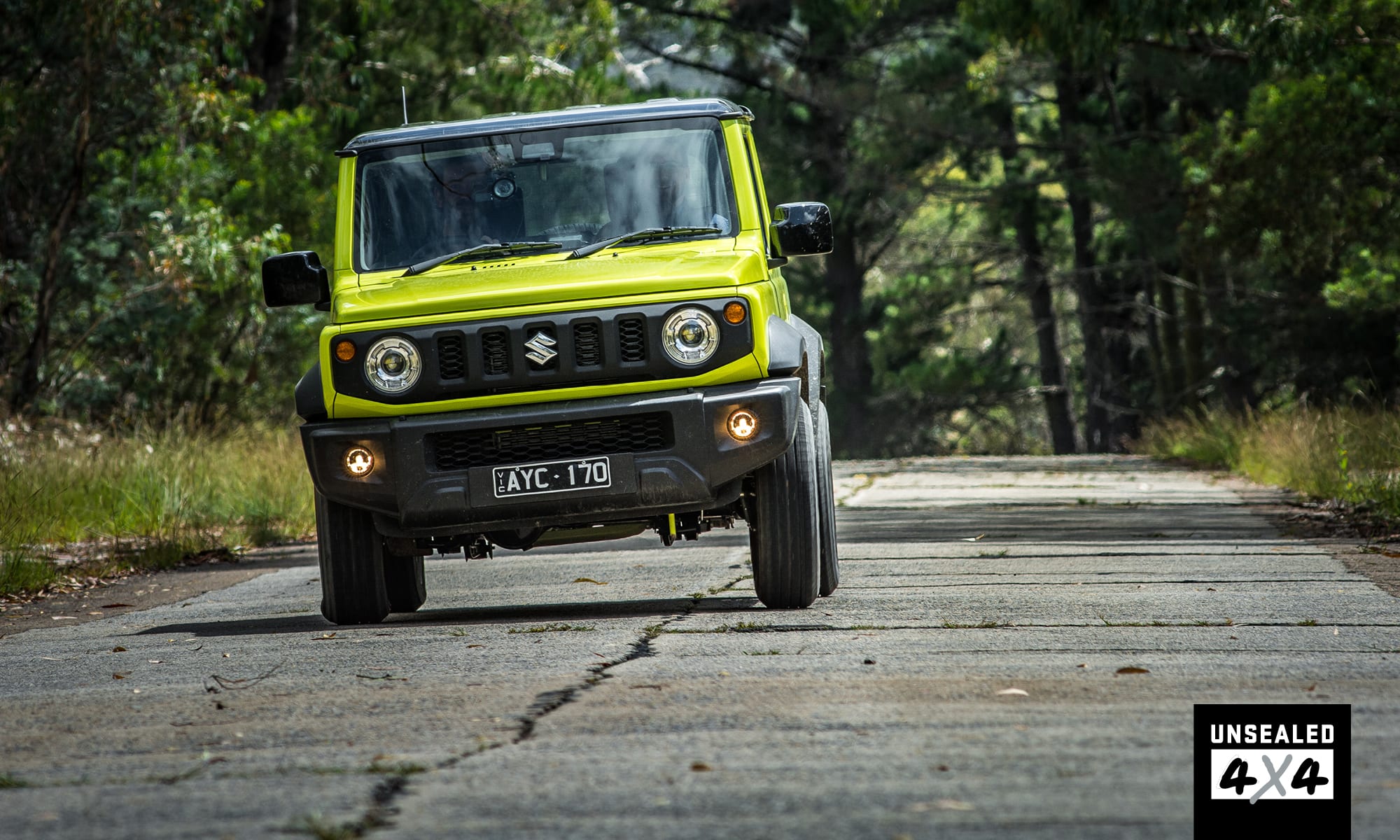 OFF-ROAD PERFORMANCE
Clearance is the biggest let down here, with the front tie-down point and the radius arms (which are mounted directly under the chassis rails) being the key areas of limitation. Both were hit several times on our test loops, which saw us push the Jimny to its limits. Being such a SWB, lifting a front wheel while climbing is easier than not and adds to the fun. The previous generation Jimny had traction control, but it was rubbish off-road. It is refreshing to see what Suzuki dub 'brake LSD traction control' fitted now. And while it is limited when pushed hard, and has no terrain response modes, for most off-road use it is a huge improvement. Rumour has it that ARB Air Lockers will be available to suit the 2019 Jimny very soon, which would make the Jimny damn near unstoppable off-road without hampering on-road dynamics. Well, once you get a lift kit and some (for example) 235x75R15 tyres under the guards.
Having solid axles front-and-rear, as well as a traditional ladder frame chassis, might sound like something you'd read in a GQ Patrol catalogue from 1988 – there aren't too many 4X4s with this sort of engineering pedigree these days. While we know traction control trumps suspension travel in many cases, what this traditional set-up offers is ease. Ease of modification, ease of servicing and ease of trackside repairs should they be required. Kind of what you want to see in an off-roader, and we are thrilled to see Suzuki staying true to its 4X4 heritage. It even has an OH SH!T bar for the passenger. Suspension travel isn't great, but it's not bad. Besides, there will be options available soon to turn them into flex machines if that's your deal.
One non-traditional inclusion (for a Zook) is hill descent control, which I've never been a fan of in any 4WD. But if you like this technology, this one still isn't particularly excellent at slowing the Jimny down, with Suzuki telling us 5km/h in low range and 10km/h in high range is what it is capable of. It would be cool to slow this down, or even have more control over speed settings. So what would we like to see improved? The front tie-down point needs to be moved. I'd love to see the radius arms mounted outboard of the chassis rails rather than underneath. I'd love to see locking differentials, at least one. Basically, if Suzuki was to do what Jeep does with their Rubicon models, I'd buy one tomorrow.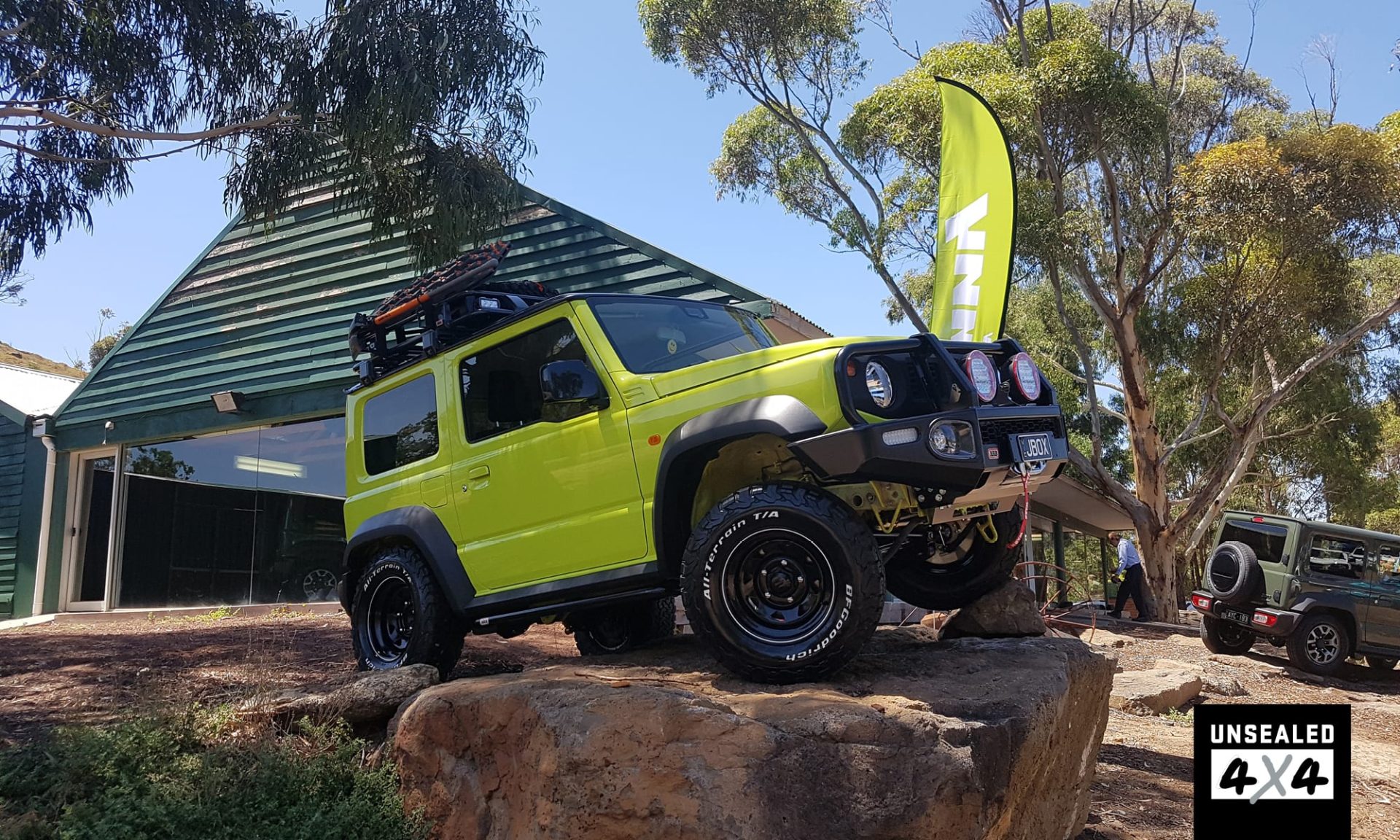 FUEL ECONOMY
This was an interesting one to test, as with a 40-litre fuel tank there isn't much room to play with. During our time driving the Jimny, we drove on highways, inner-city traffic jams, shocking rural roads, high-speed dirt and naturally low-range off-roading, including a stint on private property. At no stage were we driving with fuel economy in mind, and the air-conditioning was on all the time basically. The claimed fuel figures from Suzuki are 6.4L/100km in the five-speed manual and 6.8L/100km in the four-speed auto. We have only driven the manual at this stage, and it is safe to say we didn't achieve the figures claimed by Suzuki. And the tally is (drum roll please) 7.5L/100km. Now, that is not bad at all considering we were not driving sympathetically. So with that out there, the 2019 Suzuki Jimny should get you 533km from a full tank running it bone dry. A more reasonable amount is 500km maximum to a tank. Load it up with accessories and camping gear, and that figure will be far less, naturally.
CAN YOU TOUR IN IT?
Yes and no … I mean, you can certainly have a crack, but the biggest issue is weight. You can only carry 360kg in the manual, and even less in the auto, coming in at 345kg. Add a tank of fuel, put in two passengers and you are down to, say, 145kg. Put on a bull bar and a winch, you have less than 100kg for camping equipment … see where I'm going with this? A slight GVM upgrade of 50kg or so would help so much here, but I'm not holding my breath. There is a distinct lack of storage inside the Jimny too, with some tiny door pockets, and a glovebox big enough to fit the owner's manual. The storage bin behind the rear seats is a nice touch, but I'm not sure what you'd fit in there considering the shape and size. Maybe a snatch strap? Even the cup holders are in an awful spot behind the front seats, a hangover from the previous Jimny.
Space wise, the Jimny is a small vehicle, there is no debating that. With the back seats up, you can barely fit a case of cans. If you were serious about touring in a Jimny, the back seats would be the first thing I'd put in the garage, however you'd need to look into the legalities in your state first to see if this is hunky dory. It's refreshing to see gutters on the roof to mount roof racks too. I've never been a fan of track mount systems, where you need to drill through the roof and pop-rivet a track in place. And the factory roof rails on the previous generation Jimny were prone to snapping really easily, so this is a step in the right direction. Sadly, the recommended roof load capacity remains at 30kg. Some Jimny roof racks weighs up to 26kg, so you could legally carry two bottles of milk. Yay.
By now you would have seen that ARB have modified a Jimny already, with their Project JBOX featuring a bull bar, side rails, roof rack and suspension lift. It's freaking mint too! It goes to show, that there will be gear available for the new Jimny, and I foresee the 2019 (and above) Jimny will be a popular sight at 4WD locations across the country very soon (well, when they get some stock). Just remember you don't have much room to play with, and be mindful of how much your accessories weigh, and you'll have a fun time guaranteed.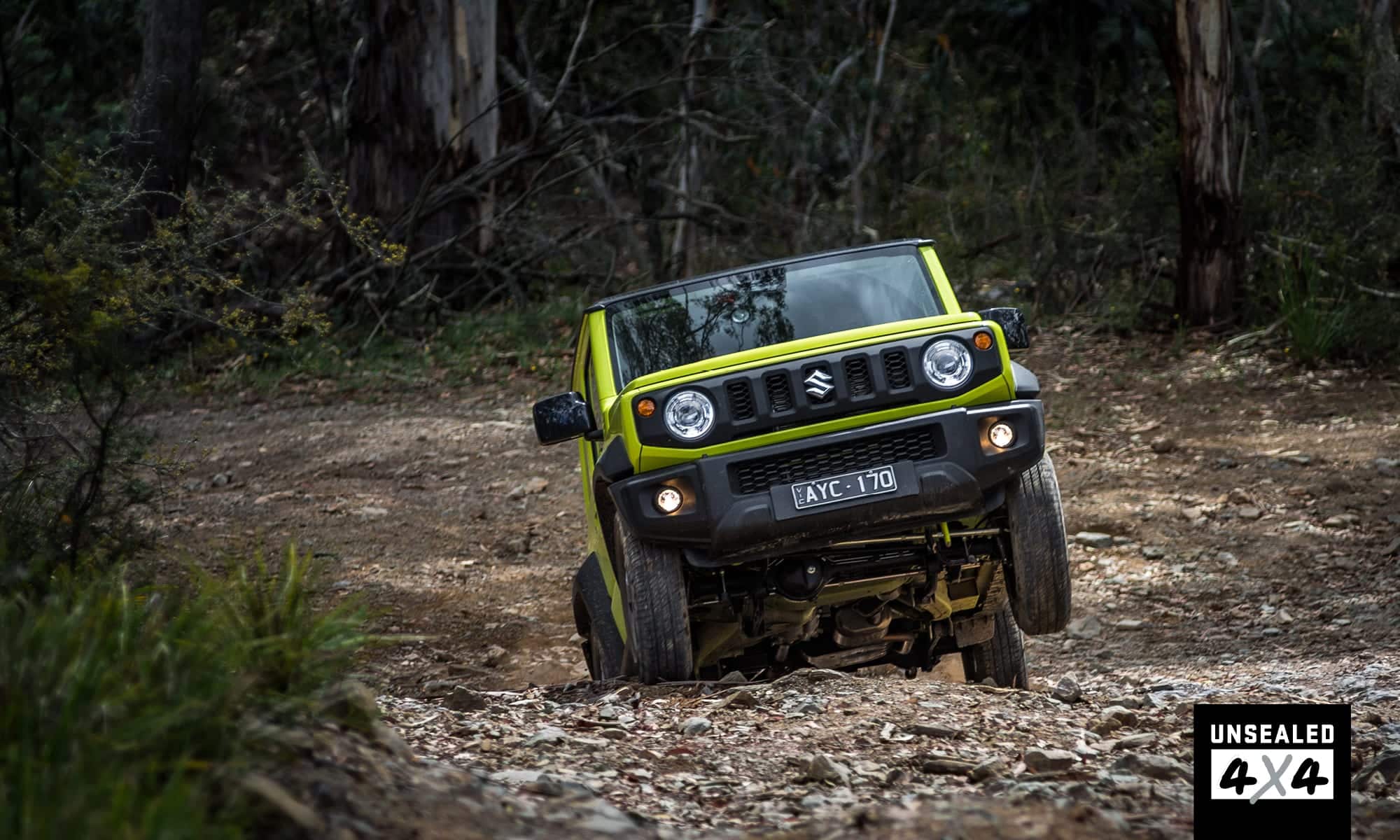 CAN YOU TOW WITH IT? (OR TOW IT…)
Nope. The new Suzuki Jimny really isn't designed to tow a heavy load, that's pretty obvious. Sure, it has a braked tow capacity of 1300kg, and 350kg unbraked, but I wouldn't want to tow anything remotely close to that with the Jimny. It's fine for a box trailer, maybe with a small rooftop tent on it. Fine for a small boat. Fine for a jet ski (if that's your thing). Interestingly, Suzuki has really missed an opportunity here as there is no neutral mode in the transfer case. Why go to the effort of re-engineering the transfer case lever back to an actual lever, but not include neutral? This rules out a huge potential market with the motorhome crowd that would tow the Jimny behind their house-on-wheels. There are expensive or time-consuming ways around this, but it is something I would have liked to see included from the factory.
SAFETY
Hill Hold Control
Hill Descent Control
Emergency Stop Signal
ESC
TECT Impact Absorbing Body
Six SRS Airbags
Pedestrian Injury Mitigation Body
Dual Sensor Brake Support
Lane Departure Warning
High Beam Assist
Autonomous Emergency Braking
STANDARD EQUIPMENT
Selectable 4WD – high/low range
Dual Sensor Brake Support
Seven-inch multimedia unit (with sat-nav, reverse camera, Apple CarPlay and Android Auto)
Digital climate control
Air-conditioning
Bluetooth connectivity
Cruise control
Front fog lamps
15-inch alloy wheels
LED headlights
Rear privacy glass
Body-coloured door handles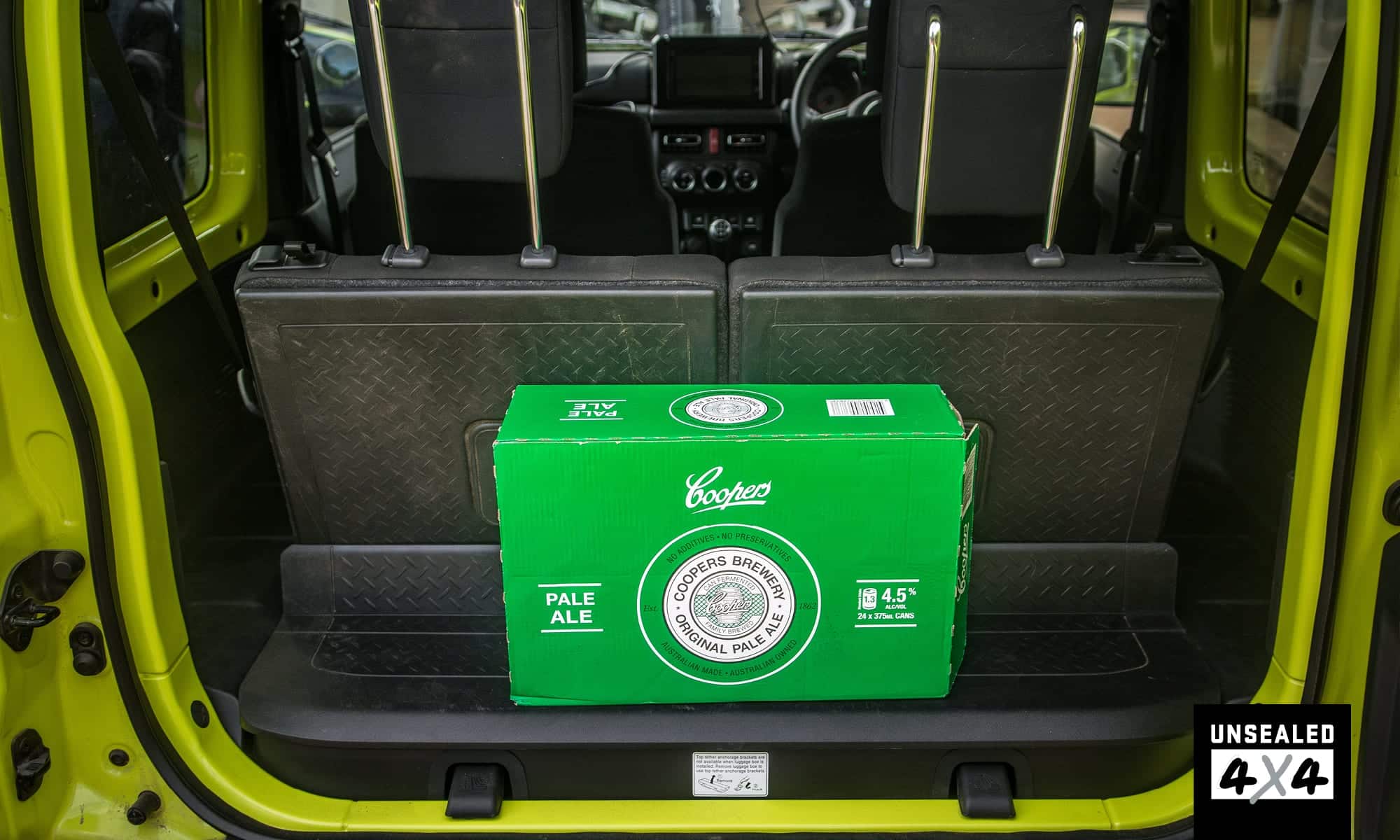 CONCLUSION
This is the most fun you can have driving a new four-wheel drive, hands down. At the same time, when people stopped me in the streets to ask about the Jimny, I'd find myself saying "well … it is what it is". And I think that sums it up. This isn't a large 4WD, a ute, a people-mover, a rock-crawler or a long-distance desert tourer. It's a small 4WD that is built well and is cooler than a polar bear's nose. It's cheap to run, easy to work on, capable enough on and off-road and is just plain fun to drive. If you want to make it something else, you've bought the wrong vehicle. If you want a four-wheel drive to commute to work in, or take to the shops during the week, and hit the beach or tracks on weekends (and there's only two of you, preferably) then congratulations, I've just found your next 4X4. So the big question … is this the best Suzuki 4X4 ever made? I really think so, it's a brilliant little machine. Would I buy one? Not for $30,000, sorry. If Suzuki were to shave $5000 off the drive-away price though…