We have three months with the 2019 Suzuki Jimny to work out whether tiny-tot, retro-looking off-roader can cut it as a daily-driver and weekend warrior.
What are we testing? 2019 Suzuki Jimny (automatic)
Who's running it? The whole team
Why are we running it? To find out just how far we can go with a stock Jimny
What it needs to do? It needs to be able to handle the daily commute, weekend work, off-road trips from the mountains to the desert and just about everything in between.
Suzuki Jimny 2019 Specifications
Price $25,490 (auto – as tested)Warranty three-years, 100,000 kilometres Safety 3-star ANCAP rating Engines 1.5-litre four-cylinder petrol Power 75kW at 6000rpm Torque 130Nm at 4000rpm Transmission four-speed automatic Drive part-time 4WD with low range Dimensions 3645mm long (inc spare), 3480mm (exc spare) 1645mm high; 1720mm wide (mirrors included); 2250mm wheelbase Turning Circle 9.8m Ground Clearance 210mm claimed; 200mm (measured to bottom off diff pumpkin but control arms are lower at a measured 190mm) Angles 37-degrees approach, 28-degrees rampover, 49 degrees departure Wading depth 300mm Max braked towing 1300kg Max towball mass 75kg Fuel Tank 40 litres Thirst 6.4L/100km (manual)
11 November 2019: The first couple of updates on our 2019 Suzuki Jimny have focused on its on-road performance. After all, unless you're going to trailer your 4X4 around driving on-road is unavoidable. However, for this update, we got away off-road to give the Jimny a good run. Due to the terrible drought the country is gripped by, everywhere we went was dry and dusty. Even our usual water crossing was low but still high enough to test out the Jimny's pathetic 300mm wading depth.
Taking the Jimny off-road, the first thing you notice is the tiny wheels and tyres. While they may be proportional to the rest of the car, we reckon larger tyres should be one of the first things on the list of changes. However, the cookie cutters did add a bit of 'fun' to the day, allowing some controlled sliding around corners. The Jimny doesn't have a lot of wheel travel, but the standard suspension surprised me, handling massively rutted sections with relative ease. Handling is one thing, doing it in comfort is another, as we found out when driving along a stone covered track alongside a river. It felt more like I was riding a pogo stick than a 4X4.
This was also the first time I had experienced the automatic Jimny properly off-road, and it was clear the gearbox was much happier at low speeds in tougher terrain than at 110km/h on the highway.
The primary aim of our drive was to test out the Jimny's traction control system. We put this to the test by pointing it up a slippery, rocky hill with massive wheel ruts to see if the traction control system was smart enough to pull itself up while multiple wheels were spinning – some in the air. The Jimny has 'Brake LSD' which means brake-traction control, so, if one wheel is spinning freely, it will apply the brake so the wheel with traction can continue driving.
The traction control system is nowhere near as smooth or as quick as other systems we've experienced. The Jimny would bog down with wheel(s) spinning before the brakes would snatch. You needed to really keep your foot in the thing. Indeed, slow and steady, is not the way to get a Jimny up a rutted hill…you need to keep your right foot into it and provoke wheel spin to get the traction control to work to keep you climbing. Let the revs drop and the Jimny will just bog down.
With plenty of right foot the Jimny will drive across pretty much anything in front of it. And the good thing is if you do get stuck on something, the Jimny is so small you can just reverse back and take a different line.
The Suzuki Jimny brings a smile to my face off-road. While it may prove to cause serious back problems going forward, the joy it brings me climbing mountains, navigating water crossings, or even just skipping across gravel roads outweigh it…for now.
---
28 October 2019: Last month Isaac took the reins of the Jimny and went about his best to upset people, calling it a toy and that it wasn't for him because he had a "family" and needed a vehicle with more room. So instead of him receiving more hate mail, I took the reins of the Jimny. See, I'm a single male, who likes the outdoors and to get off-road, so it should be perfect for me, or so the theory goes.
Despite wanting to get off-road as often as possible, I am inconveniently required to turn up for work five days a week, which is an hour-long commute on some of Sydney's 'best' motorways. I was under no illusion the Jimny wouldn't be comfortable being driven at 110km/h alongside semi-trailers, but the experience was eye-opening. Instead of just sitting happily on the speed limit trundling along the Jimny was like walking a hyped-up puppy dog. The steering felt loose and required constant correction. It certainly kept me on my toes. Then when truck drivers became tired of sitting behind a lane-wandering Jimny that was doing its best to stay at the speed limit and overtook I thought the thing would be blown off the road, with what felt like a cyclone rocking and rolling the Jimny.
Our long-termer Jimny is an automatic, which for off-road driving is excellent, but on-road it can be quite frustrating. With the power, or lack thereof, you would hope for a gearbox that's able to try and get the best from the engine: unfortunately, the four-speed auto is not that transmission. Hills are the biggest nightmare, with momentum needed otherwise the gearbox will swap between gears, none of which will help you get anywhere quickly. When I tested the manual variant on-road, it was the way to go; however, off-road the automatic is the best choice.
After using it as a daily commuter, I was finally tasked to take it down to help out on a custom shoot, stay tuned for that one. Being able to get out into the bush with the Jimny had me excited. But my excitement soon turned to dread at the thought of a two-hour motorway slog. The Jimny messes with your emotions, one minute you love it, and the next you loathe it.
I'm glad I persevered with the Jimny, instead of taking what would've been the more comfortable option of unicycling to the shoot location, because once off-road it came to life. It wasn't just in the slow, tough stuff either; this thing is a hoot to drive on a dirt road.
Let's face it the Jimny isn't made for commuting, or long-distance touring, it was made for fun. From following a four-inch lifted Patrol with 35s through rutted tracks, to tiptoeing through water crossings, the Jimny did it all. If it couldn't do something, you just backed out and took another line, because when you're in something so small, there are so many other lines you can use that other 4X4s can't.
Unfortunately as the day of shooting was coming to a close dread set back in, the same feeling you get on Sunday afternoon when you realise the alarm is set tomorrow for work. The return journey was long and tedious. The Jimny isn't a family vehicle (unless your family consists of you, your partner, and a tiny dog), it isn't designed for long-distance touring either, but it's still a whole heap of fun to drive. If the furthest I had to drive on-road was to the local shops, and then head out onto some tracks on the weekend, it would be great. Maybe the boss was right after all? Cue the hate mail.
---
UPDATE ONE: Okay, our resident Zook lover has flown the coop, and that means the Jimny is here with a mountain to climb. See, while I get the cute-as-a-button looks, the retro nods to rough-road Suzuki's past, this thing, when you boil it all down, is a bit of a toy. Yep, start sending the hate mail.
We've got just over three months with the Jimny and, in addition to these monthly updates in the magazine, we'll have regular weekly updates online. To make things fair for the Jimny, it won't just be me driving it. The keys will be handed around the office for others to pass judgement on the tiny-tot off-roader but, until then, here are my initial thoughts.
The Jimny and I didn't get off to a great start with, ahem, someone in the office stealing the keys from my desk to go in search of every single puddle they could find. The thing was filthy. And running on fumes. Okay, so, not the Jimny's fault…
With the tank brimmed and the shifter in D for Drive, I went and collected my kids from school thinking they'd love this thing. I mean, their current favourite vehicle is a Defender Heritage edition which I tested years ago…so, surely the Jimny would be right up their alley. Nope.
Both kids laughed. But, secretly, I think they might love it because they didn't stop smiling until we got home. And they asked me to drive them to school in it this morning, so… Me, I'm still not won over by it. Not yet, anyway. But that's because I'm judging it based on my lifestyle. See, I've got a wife, kids and a dog and the Jimny doesn't allow all of us to travel in it at the same time. With just the human members of my family in the thing, there's no room for anything else. No bags. Nothing. So, forget about using it for a grocery run on the weekend.
But, the Jimny isn't intended for people like me. With a family. Who go places together in a vehicle. Nope, it's for singles or a couple. And, even then you'll need to pack lightly. See, the Jimny automatic that we've got has a payload of just 345kg. And that's without a driver, passenger or a tank of fuel, let alone gear for a weekend camping, or a bull bar, or roof racks, or…see where I'm going. Without a GVM upgrade, you'll need to be very careful how you pack the thing.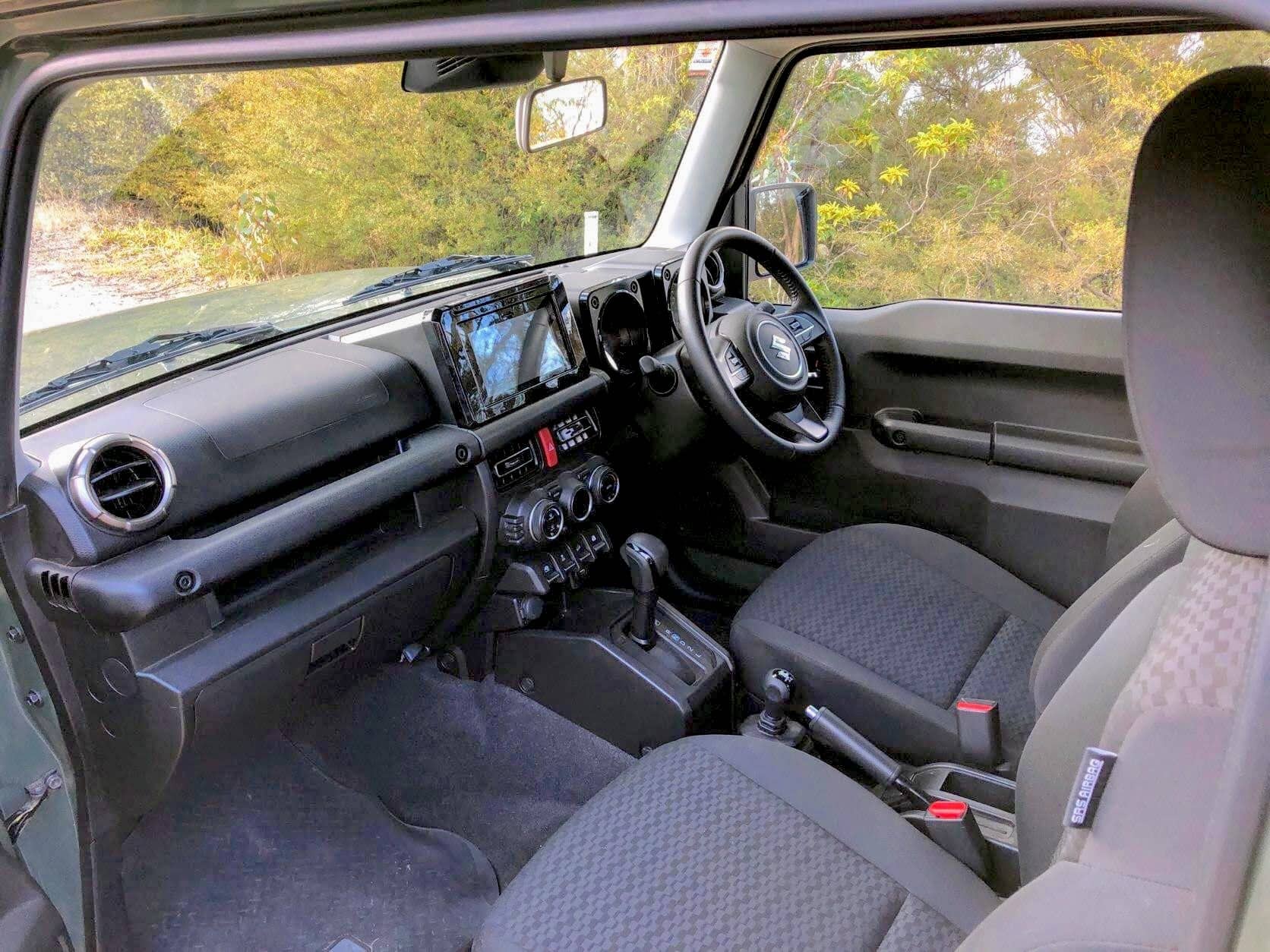 If you're travelling solo then the Jimny feels quite roomy, well, you can't ever call a vehicle where you can almost reach every corner from the driver's seat spacious, but you know what I mean. The back seats fold down easily and are hard-backed, which means they won't get damaged by stuff stacked on them. But it does mean they're slippery, so, make sure things are secured if you don't want them flying through the cabin and using the back of your head as a stopper.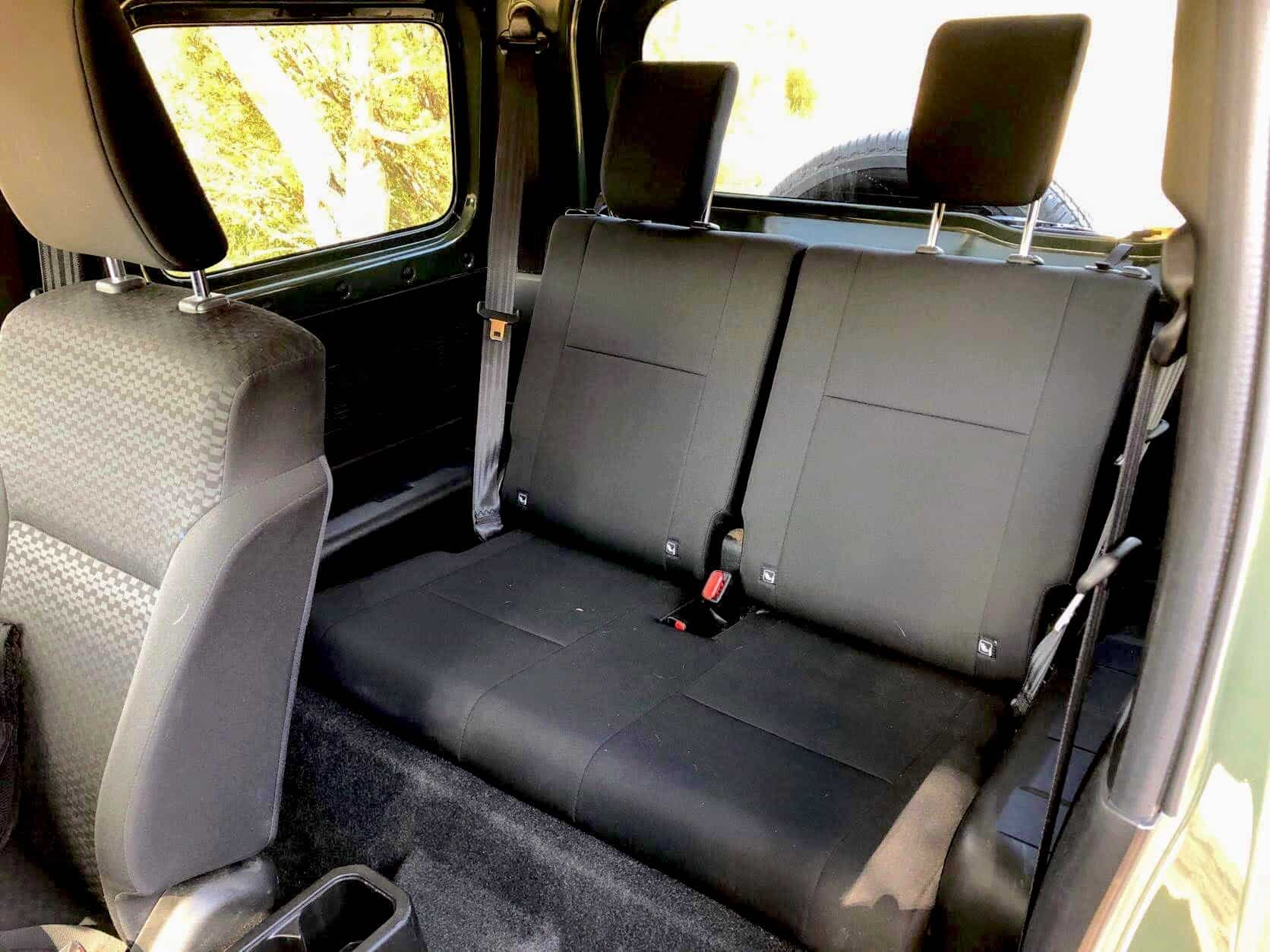 Getting into the back is easy enough, you pull the lever forward and slide the front seat which leaves a large opening for an adult to climb through. Just don't try and use the seat you've just pushed out of the way as a grab handle… there's okay head and legroom for two adults in the back. The Jimny is only a four-seater.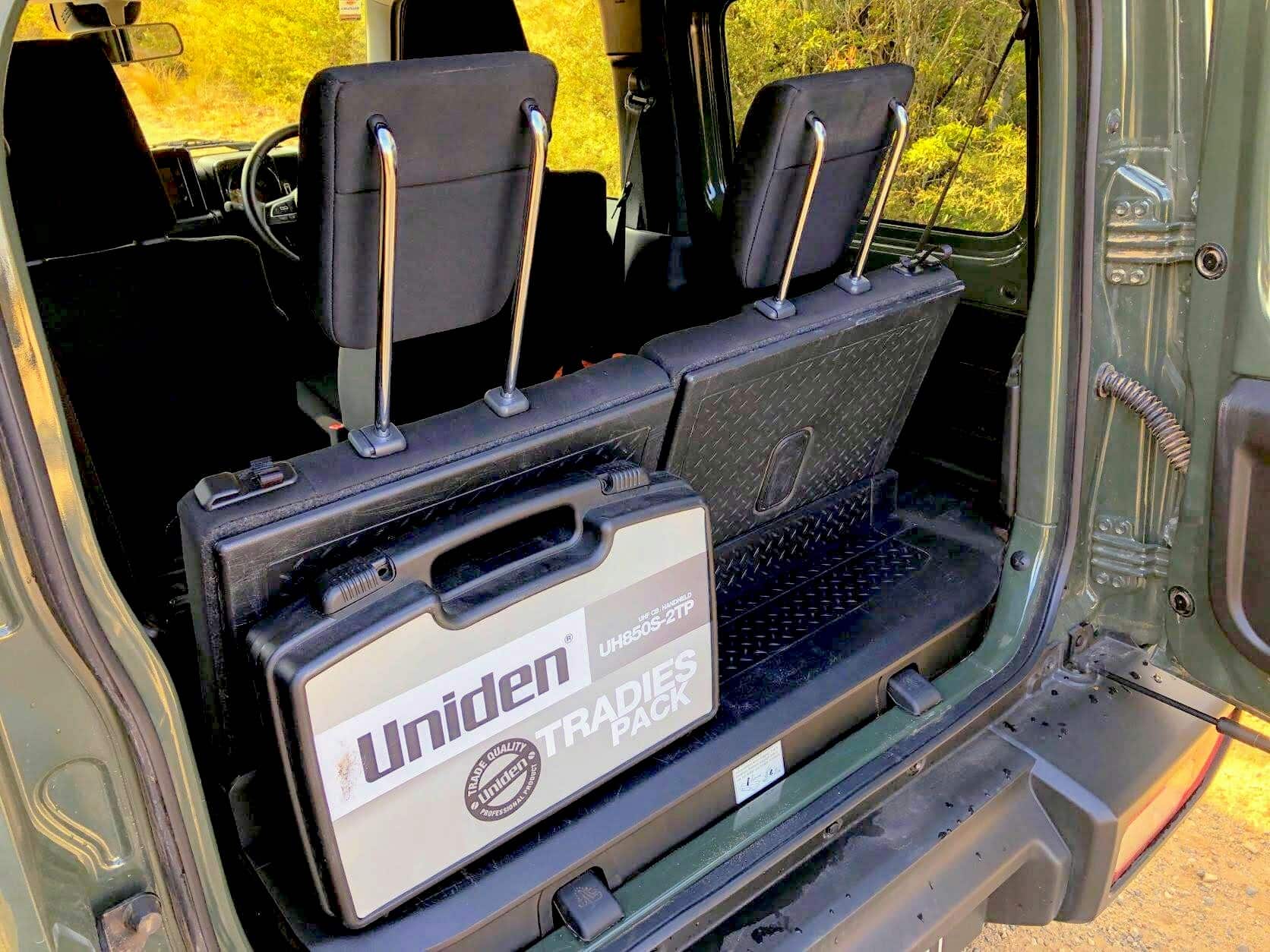 So, what's it like on the road? Briefly, because we'll delve into more detail as we go along, the Jimny's 1.5-litre four-cylinder petrol engine is for those who like the journey rather than the destination because you'll never get anywhere very quickly in the thing. There's 75kW and 130Nm of torque, and you'll use every single one of them when it comes time to tackle a hill with momentum being your friend. If you have to lift off the throttle for anything when you're driving up a long hill at, say, 80-100km/h it'll be as if you've thrown an anchor out the window.
The steering is pretty slow but then with solid axles front and rear and a traditional ladder frame; the Jimny is not intended as a road rocket. But nor is it that much better on fast dirt where, in 2WD, at least, it'll try and fling you into the scenery at every corner.
But, slow down and engage low-range and point the Jimny at something gnarly and the thing starts to make sense. What you can drive it up or around is impressive, and over the next few months, we'll show you just far you can take a stock Jimny. But don't go thinking it's a baby Wrangler Rubicon because it isn't, but there are now plenty of modifications hitting the market to transform the Jimny. Need proof, then check out our video comparison of a stock Jimny with two flavours of modified ones.
---
WELCOME: You love the new Suzuki Jimny, and we love it too. In fact, anytime we post a video or an image of the Jimny, it goes absolutely mental on social media and YouTube. So we thought it was about time we try and live with the 2019 Suzuki Jimny for a longer period of time, to see how it performs as a daily driver/weekend explorer.
To that end, Suzuki has graciously handed us the keys to this Jungle Green Zook, with more than 6500km on the clock already. It's an auto model as well, and we are keenly monitoring fuel consumption to see just how much more it uses compared to the manual. It only arrived this week, so we've had a chance to run it to and from work but that's about it. It doesn't feel super healthy and we're thinking the air filter could be clogged, so, we'll be checking that out first thing Monday morning. Stay tuned.
The most important thing now, is to see what you think we should do with it? Should we try to take it across the desert, or are you moe interested in seeing it do weekend camping trips or runs on the highway? Let us know what we should get up to in this amazing little vehicle. Stay tuned for regular updates, as we continue to see just what is capable in a stock standard 2019 Suzuki Jimny.