Researched and developed in their Sydney-based headquarters here in Australia, Tough Dog have released their new upper control arms.
Why do I need upper control arms?
These Tough Dog upper control arms are designed to restore the original equipment manufacturer (OEM) alignment geometry after a suspension lift. When a vehicle with Independent Front Suspension (IFS) has been lifted, the original caster and camber specifications get pushed outside the acceptable limits. This causes vague steering and wears your tyres out unevenly and quicker. Even after adjusting using the factory wheel alignment adjustment points, the suspension geometry is not quite the same as the OEM.
This is where the upper control arms come in!
When you're driving off-road, the upper control arms will help to align your vehicle's suspension geometry. The slim-line tubular design also creates the maximum possible clearance, helping to rid clearance problems between the strut and upper control arm on down travel.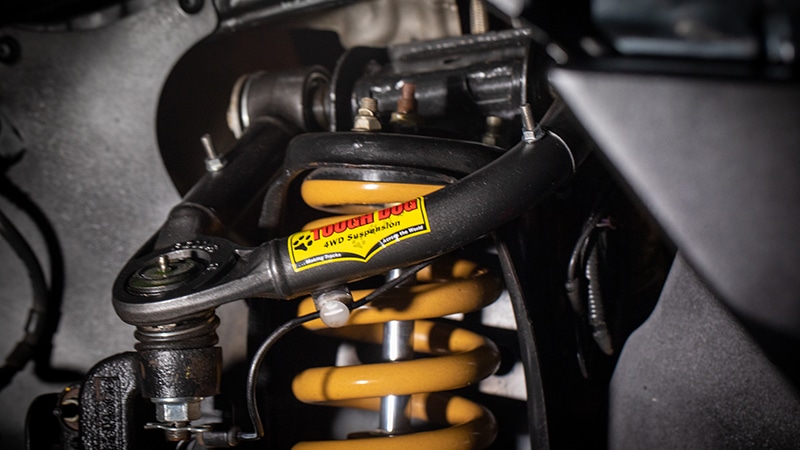 Tough Dog upper control arms are built tough
These upper control arms have been designed to increase the performance and lifespan of your suspension and steering components. As a result, they are built tough! The end and ball joint housings are forged from 1020 grade steel and the heavy-duty bushings feature a high flex design that requires no lubrication. The ball joint itself is constructed of high strength chromoly steel.
To make things easier, all Tough Dog upper control arms accept original equipment ball joints as spares should you ever need to. They are backed by a four-year unlimited-kilometre recreation warranty or a three-year unlimited-kilometre commercial warranty (conditions apply).
Currently available for:
Ford

Ranger PXI, II, III – 2011 onwards
Everest UA1, UA2 – 2015 onwards

Nissan

Navara NP300/D23
Navara D40

Toyota

Fortuner 2015 onwards
Hilux KUN, GGN – 2005 onwards
Landcruiser 200 Series
Landcruiser Prado 120, 150 Series – 2003 onwards
FJ Cruiser 2006 onwards

Mazda BT-50 UR – 2011 onwards
Mercedes-Benz X-Class
For more information, head to the Tough Dog website.