As cliché as it sounds, modifying a 4X4 is almost an extension of the owner's personality. Big lifted late model utes on fancy alloy wheels will typically have very different owners to an old 75 Series Troopy with weathered barwork and a hand-built camping setup in the back. While most modifications come down to the owner's wants or needs, the humble 12V winch is a universal necessity. An absolute must-have; a bonafide get-out-of-gaol-free card if there ever was one. We've collated the best winches of 2022 in this easy to digest winch buyer's guide, to make your life easier. Take a scroll or fast track to our 2022 winch comparison table.
Runva 13XP
Price: $1045
While Brissie based Runva has a roll-call of exotic hydraulic and elaborate winches, their 13XP is their bread and butter go-to for anyone after a quality winch without spending a fortune. Featuring their 7.6hp, the 13XP can be fed either 12V or 24V for people looking for extra oomph. In 24V form, the power increased to 8.8hp making it one of the most powerful winches on the tracks. It features the usual planetary gear set and low-mount design. You'll score an IP67 rating, huge 11mm synthetic rope, and a lifetime mechanical warranty all for the reasonable sum of $1045.
Why we rate it: It's one of the strongest and most powerful low mount winches you can buy.
How it could be improved: That extra grunt means extra size so before you buy, double-check this will fit in your bull bar.
Domin8r Extreme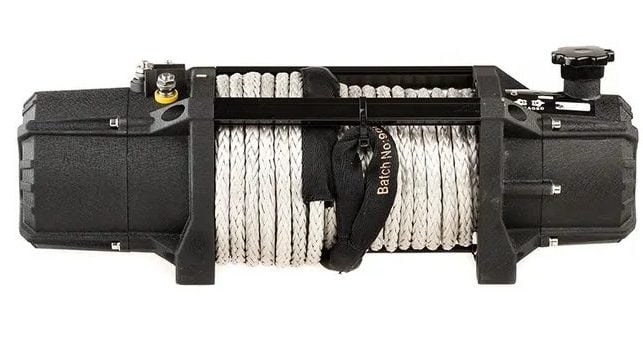 Price: $469
One of the most affordable winches on the market, 4WD Supa Centre's new Domin8r Extreme 12,000lb winch offers one hell of a compelling argument. The 7.2hp motor and 218:1 gear reduction give a reasonable line speed of 9.2 metres a minute unloaded. You'll score 26m of 9.5mm synthetic cable, a low 27kg weight, a two-year warranty and one of the lowest prices on the market at just $469. Unfortunately, they're tight-lipped about the actual dust and water sealing specifications, just saying the motor is "double sealed". Faster, stronger, and better looking than the old Domin8r X, the cheap price could well be worth rolling the dice on the unknown sealing.
Why we rate it: Bang for buck it's hard to go past 7.2HP for $469.
How it could be improved: No specs on sealing and no details on the brake makes this winch a roll of the dice.
Carbon Scout Pro 15K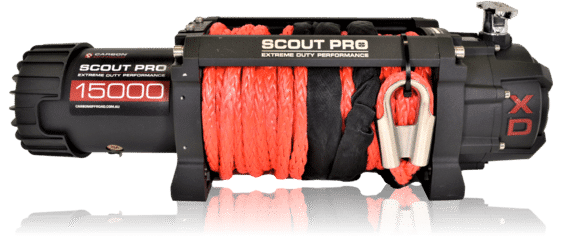 Price: $1495
The Carbon Scout Pro 15K is Carbon Winches heavy hitter. Based on their super popular CW-12K chassis, the Scout Pro 15K sports all the typical features people flock to Carbon for. That includes full IP68 sealing against dust and water ingress, a clever brake design to reduce heat build-up, extensive design elements throughout such as zinc plating to ensure longevity, and multiple mounting options for the control box. The 15K steps things up a notch again though, the 7hp motor gives an additional 1400kg of pulling power over the 6.2hp in the 12K offering. It also picks up 12mm synthetic rope over the standard 10mm, a multi-fit fairlead, and a variety of Carbon's trick accessories in the box. Expect to pay up to $1495 for the 15k, or $1099 for the slightly smaller 12K.
Why we rate it: Designed for longevity, the Scout Pro will pull hard, and do it forever.
How it could be improved: At a 50 per cent premium over most of its competitors this winch sells off specs, not budget.
Drivetech4x4 Dual Speed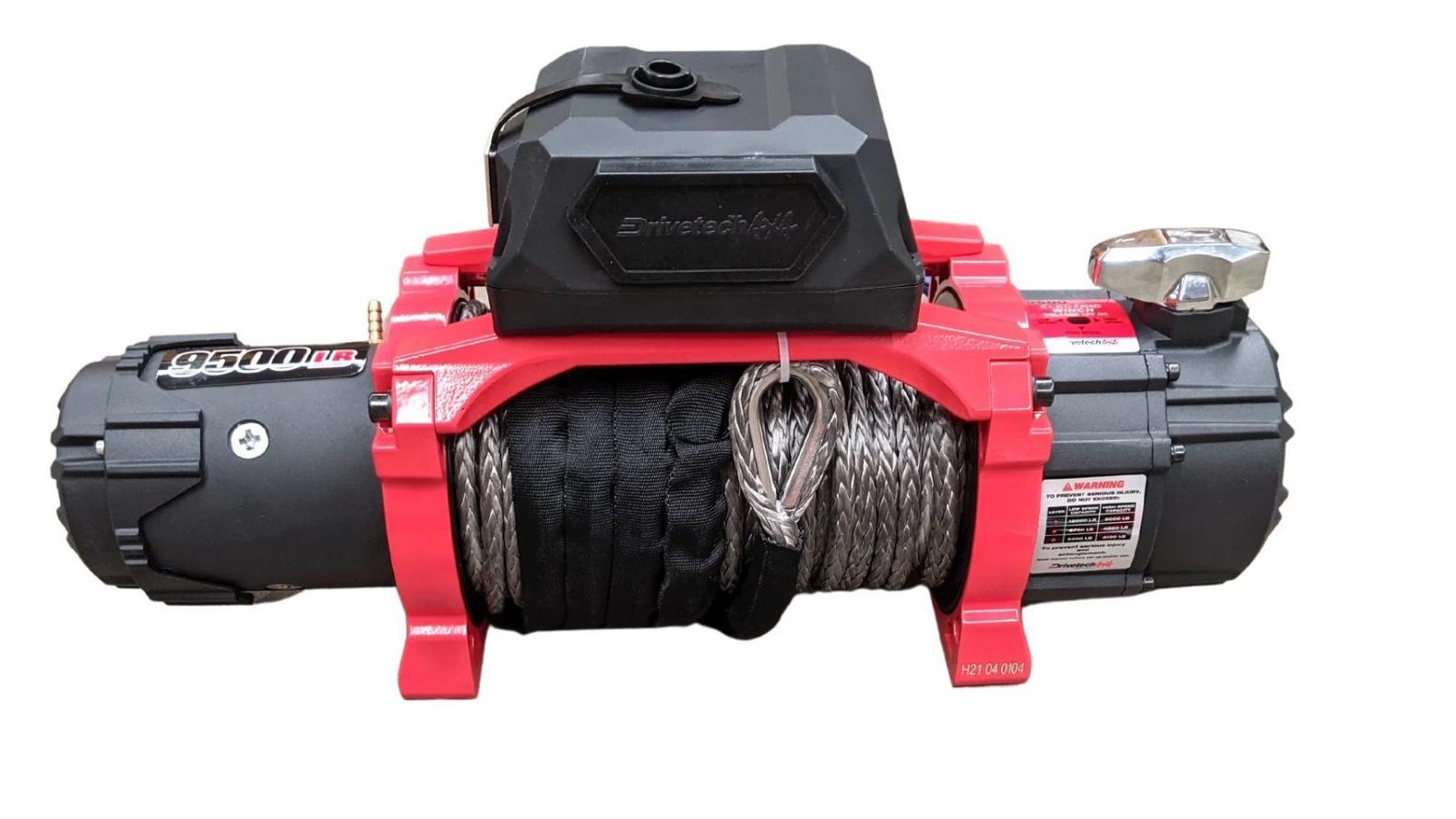 Price: $1250
A relative newcomer to the winch game, Drivetech 4×4 has the backing of some of the biggest companies in aftermarket accessories. It's no surprise that their D1200SR and D9500SR winches are some of the smartest on the market. Featuring both high and low-speed gearing, the dual-speed winches are able to roll up their sleeves when serious work needs to be done, while offering up to 19 metres a minute line speed for lighter work. The 12000lbs version offers a 6hp motor and 9.5mm synthetic rope, while the 9500lbs version drops down to a 5.5hp motor and 9mm rope. Both punch in just a little over 30kgs. Expect to pay $1250 for the 12,000lbs and $1050 for the 10,000lbs version.
Why we rate it: High-speed or big torque, the Drivetech 4×4 winch lets you choose.
How it could be improved: More power and lower weight would make these perfect.
Runva EWS10000
Price: $2000
Perhaps one of the most interesting winches on our hit list, the EWS10000 is unlike anything you've seen before. The lower half is a typical Runva low-mount winch complete with planetary gears, an internal brake, and a free-spool. The top, however, is a twin motor beast designed for all-out speed. It should bolt into most standard low-mount bars (as long as there's room) and get you out of trouble fast. The twin motors punch out an impressive 13-metre per minute line speed which is over double most of their competitors. They sport all of the usual specs like an IP67 rating and a five-year electrical and lifetime mechanical warranty and are rated to a maximum of 10,000lbs. Don't expect much change from $2,000 and they weigh around 60kg so aren't for the weight or budget conscious.
Why we rate it: Nearly 15hp will recover you before you know you're stuck.
How it could be improved: The planetary gearbox is not as stout as the Warn's Spur Gear.
VRS V12500S
Price: $1155
A solid old school 12V winch, the VRS range is a favourite for outback tourers and grey nomads alike for their dependability. Powered by a 5.3hp Series Wound motor, a huge 273:1 gear reduction in the planetary gear set means recoveries will be slow and steady but 500lbs more capacity than most of their competitors. They're IP68 rated so you'll have no concerns about dust or water finding their way inside your escape plan no matter how bad the track deteriorates. Wrapped in 11mm thick synthetic rope, the V12500S weighs in around the 34kg mark and comes with a two-year electrical warranty and lifetime mechanical warranty. As reliable as clockwork, you can expect to pay $1155 to land yourself one.
Why we rate it: Low current draw is good for basic setups.
How it could be improved: More power, less weight, cheaper price, and a better brake.
Warn Zeon Platinum 12-S
Price: $3749
Unarguably one of the most advanced winches money can buy, Warn's Zeon Platinum range make the competition look like Datsun 180Bs, although the price does match the tech. The 'advanced wireless remote' controls not only the winches motor, but the free-spool as well. There's no clutch lever to try and find hidden deep inside modern bars. It'll also wirelessly control up to two accessories like LED lighting or fridge isolators so you don't have to run cabling through the firewall. The winch itself is designed with durability in mind. No clutch lever means groundbreaking dust and waterproofing (even the controller is waterproof and USB chargeable).
Warn's premium Spydura mounts with a unique design to the drum giving you peace of mind it won't slip out should you unspool too far. Warn boasts 400hrs of salt spray testing as well as various heat-treated and coated components throughout for maximum durability. You'll also score a seven-year electrical warranty and lifetime mechanical warranty. Of course, all that tech and quality construction doesn't come cheap. Expect to pay $3749 if you like the sound of it.
Why we rate it: Clever remote means no drilling through the firewall, for winch or light controls.
How it could be improved: It's an eye watering amount to pay for a low-mount winch.
Sherpa Steed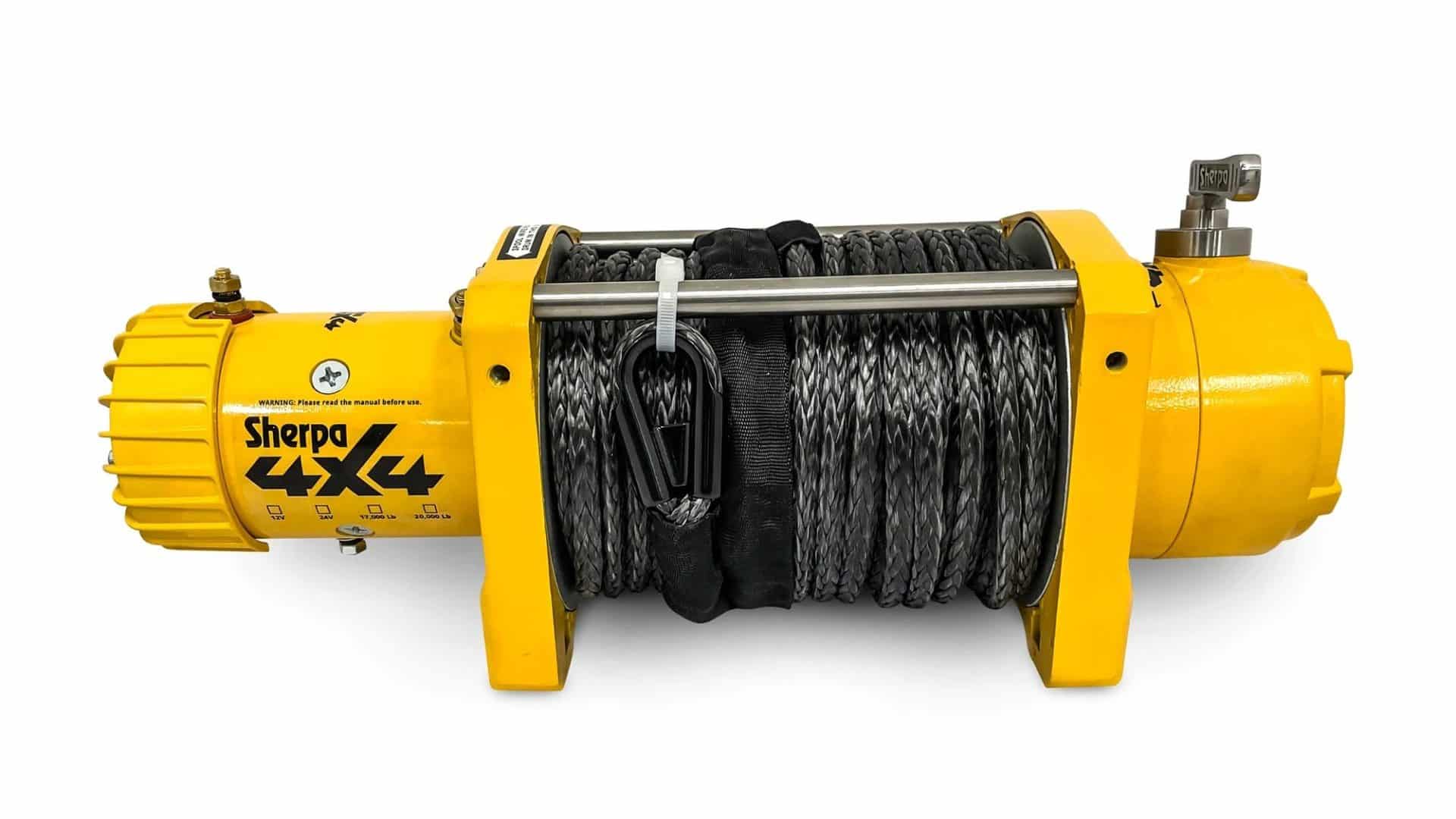 Price: $1649
One of the most exciting companies in the winch game, Sherpa prides itself on innovation and reliability. The Steed is unarguably their most popular offering, at just 26kg loaded with 45mm of 10mm synthetic rope. The Steed is rated at a huge 17,000lbs and bolts into a standard low-mount space, although there is a smaller version with 28m of rope weighing just 23kg. At 7.2 metres per minute line speeds aren't anything to write home about, but with 40 per cent more pulling power, 50 per cent more rope length, and 13 per cent less weight than its competitors, we can forgive it. Expect to pay $1649 for the 17000lbs version with 45m of synthetic rope.
Why we rate it: Big pulling power, heaps of rope, and low weight. What more could you want?
How it could be improved: Not everyone wants a banana coloured winch hanging out up front.
Ironman Monster 12000lb
Price: $1223
Sporting a redesigned motor and internals, Ironman's Monster range of winches look every bit as well as they go. The 12,000lb offering weighs in at a typical 29kg, sports a typical 28m of typical 9mm synthetic winch rope, and punches out a typical 6.4hp from a typical series wound motor. What's a-typical though is the IP69 rating which offers the same dust protection as IP68. The IP69 rating means the Monster range of winch can protect against powerful high-temperature water jets for up to three minutes. That's due in part to the clever external breather Ironman saw fit to include in the design. Expect to pay $1223 for the 12000lbs version, and $1112 for the 9500lbs offering. Knock $2-300 off for steel cable versions.
Why we rate it: IP69 rating thanks to the motor breather is a clever addition.
How it could be improved: Other winches offer better specs for similar money.
TJM Torq 12000lb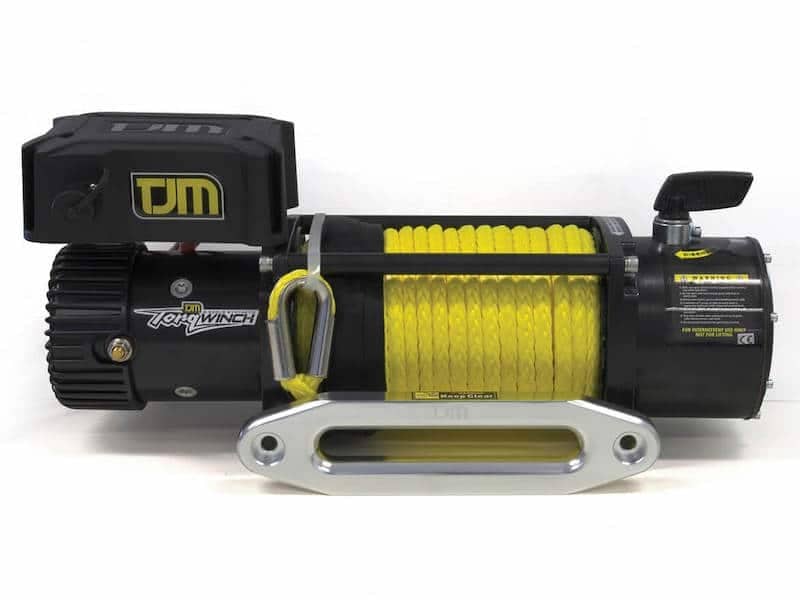 Price: $1499
Industry Stalwart TJM have been fighting hard the last few years to compete with all the various up-starts. Their new Torq range of winches are a large part of that push. Featuring 4.9hp motors in both the 12000 and 9500lb versions, a 210:1 or 150:1 gear reduction through the planetary gear sets dictates the total pulling power. Up to 7.8 metres per minute of line speed is on offer, with 28 metres of 9.5mm synthetic cable wrapped around the drum. A major selling point is the incredibly low power draw under load. A maximum of 300A for the 12000lb version compared to up to 446A with some of their competitors will mean the TJM winch isn't fast, but won't bead your battery senseless getting you out of strife. Expect to pay $1499 with a two-year warranty and IP67 rating.
Why we rate it: Easy on standard electrical systems.
How it could be improved: Cheaper price, longer warranty, better sealing, more power, better brake.
Bushranger REVO 12000lb winch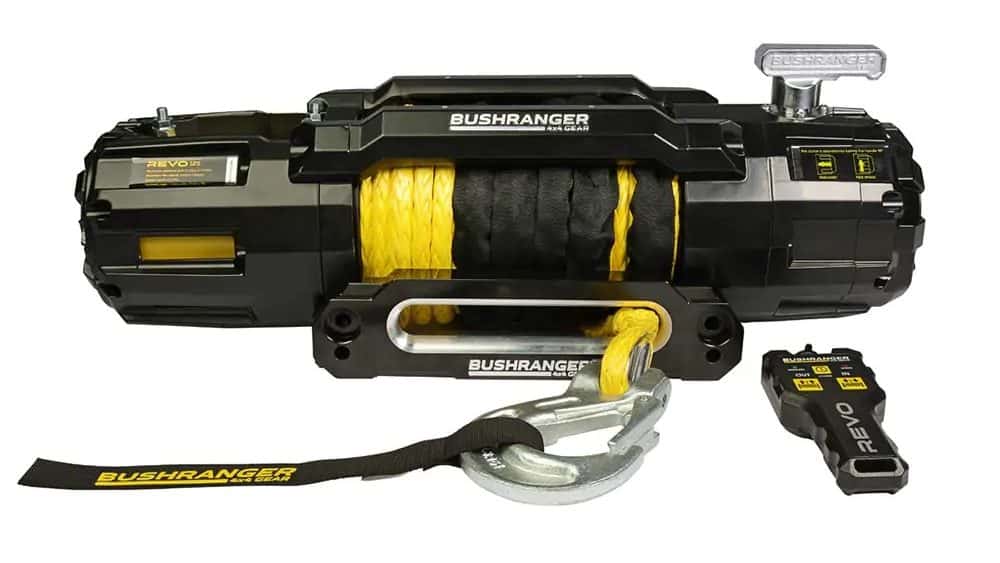 Price: $1195
40 years in the 4X4 accessory game have Bushranger well versed in what does and doesn't work off-road. It's no surprise that their Revo range of 12V winches is designed with durability in mind. Winch rope length is sacrificed down to 24m to give a thickness bump up to 11mm. A gearbox mounted brake design keeps heat out of the winch rope, with the zero drag design making unspooling light and easy. A 6.2hp series wound motor provides the grunt through a four-stage planetary gear set with a 171:1 reduction. Bushranger is tight-lipped on many of the specs around the current draw and line speed, but the seven-year electrical and lifetime mechanical warranty could be enough to sway customers their way regardless. Expect to pay $1195.
Why we rate it: Long warranty and competitive price make it a sensible purchase.
How it could be improved: More rope would be fantastic, but it would make the winch larger.
Smittybilt XRC Gen 3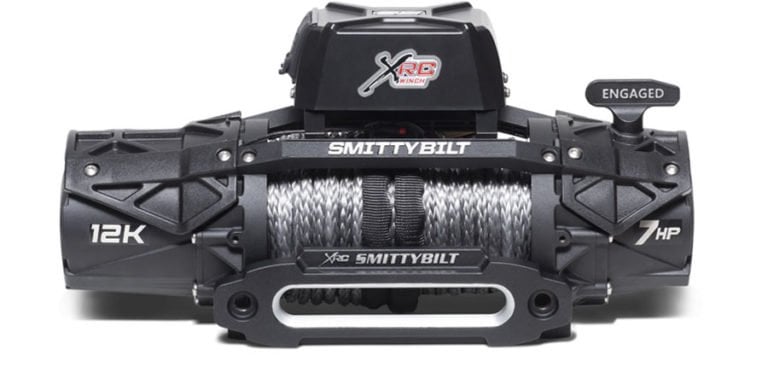 Price: $1450
U.S. based Smittybilt is a relatively unknown brand on our shores but is a near household name stateside. Their Gen 3 XRC range is available from a host of Aussie businesses so is well worth a look at. Powered by a grunty 7hp motor, the XRC range is available in both a 9500lb or 12000lb rating as well as steel or synthetic rope variations.
Smittybilt won't disclose line speeds or currant draw unfortunately but the XRC is feature packed regardless. The remote features a built-in LED light for winching in dark conditions, as does the winch's cross brace. Not that it'd help you when mounted internally like most Australian bars. The remote also features a built-in load indicator so you can tell how hard you're working your setup. Expect to pay around the $1450 mark locally, and you'll pick up a five-year electrical warranty and lifetime mechanical warranty for your troubles.
Why we rate it: The load indicator is a brilliant inclusion to let you know when to back off.
How it could be improved: Price is high for the specs you get.
Warn 8274-50 'hi mount'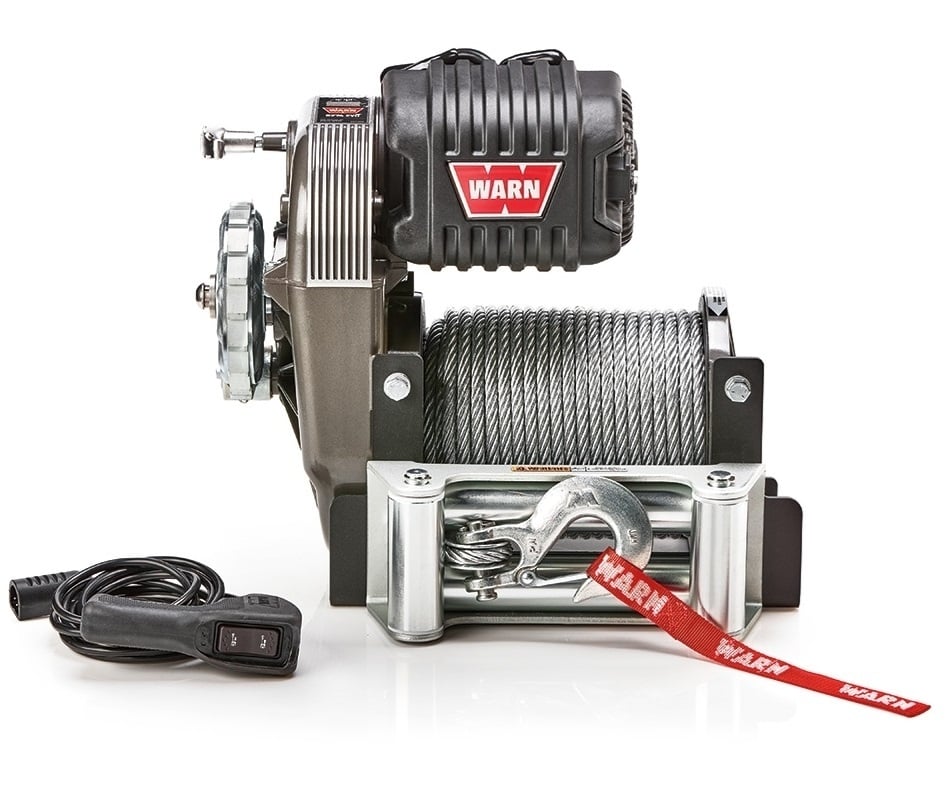 Price: $3999
If it ain't broke, don't fix it. First on the market way back in 1974, the Warn 8274 is a winch like no other. Now sporting a variety of modern upgrades, it still sports the rugged construction no other winch comes close to. The external ratcheting brake, high mounted 6hp motor, Albright solenoid, and heavy internal gear set mean this winch will last the test of time. In fact, people are still sourcing 40-year-old versions and rebuilding them with modern components. Sure, you'll only get 10000lbs of pulling power, but with thousands of dollars of upgrades available with everything from multiple motor setups to air-operated remote free spools you can customise this winch however you see fit. Don't expect any change from $4000, but you'll never need to buy another winch again.
Why we rate it: The 1955 Chev of winches. Solid. Old school. Will last forever and infinitely modifiable.
How it could be improved: At $4k it costs about as much as a classic car.
Dobinsons 12000lbs Synthetic Rope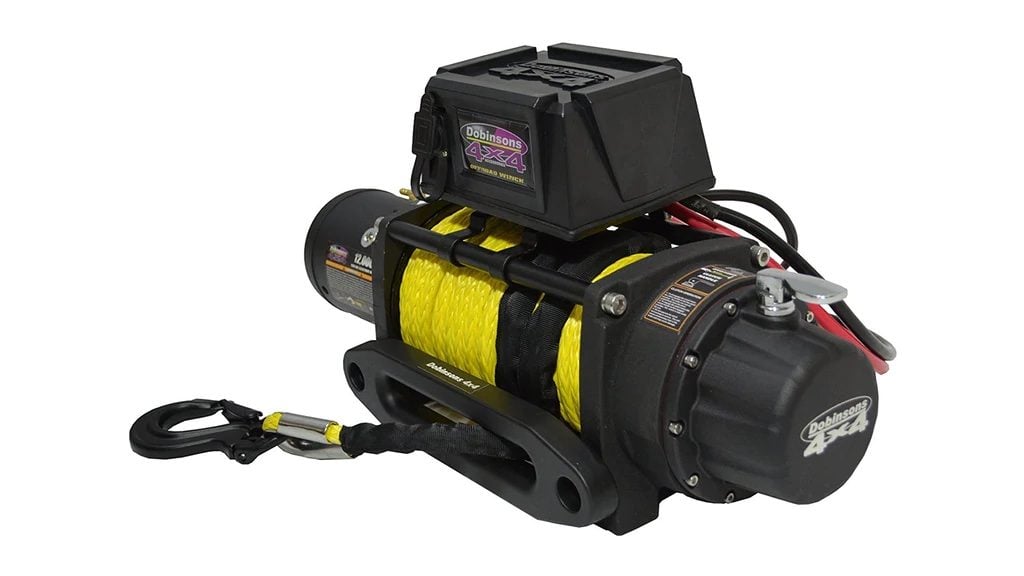 Price: $1114
As part of Dobinsons recent expansion on their suspension business, 12V winches are firmly part of their core business now. While they won't set any records, they're a decent dependable winch. Available in 9500lb and 12000lb versions, in both steel and synthetic rope, their weight fluctuates from a featherweight 25kg up to a beefy 36kg. 12000lb versions sport a 6.5hp series wound motor, while 9500lb versions make do with a 5.6hp offering. Wireless controllers and extended breathers for the motor housings pad out the spec sheets. Expect to pay around $1000 depending on size and specifications.
Why we rate it: Low weight and low price.
How it could be improved: Also low powered and low spec'd.
Mean Mother Edge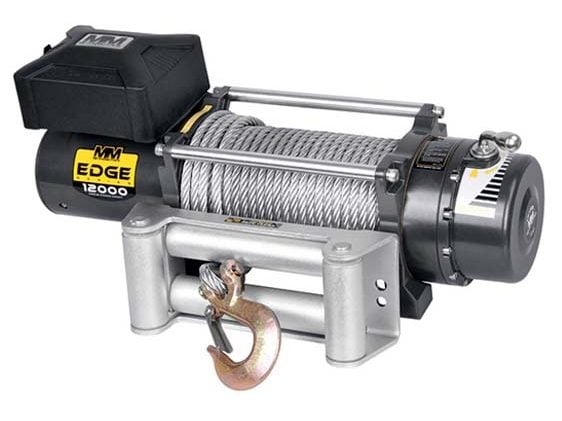 Price: $1199
Mean Mother's Edge range of winches are available in a whole host of different variants. Synthetic and steel, 9500lb and 12000lb, and even a 24V option. The 12000lb with synthetic is undoubtedly their go-to for most four-wheel drivers though. Sporting a 4.8hp motor, in drum brake, 31kg weight and a huge 295.71:1 reduction the Edge winch is a solid old school low-mount winch. Don't expect high speed or fancy features out of it. The maximum line speed is just 4.2 metres per minute, and you'll need to pay extra for the optional wireless remote. You do however score 30.5m of 9.5mm synthetic winch line and a five-year warranty. Expect to pay $1199 for the 12000lb with synthetic, down to $899 for the 9500lb with steel cable.
Why we rate it: It reminds us of the winch our dad had in the '80s.
How it could be improved: More power, better brakes, longer warranty.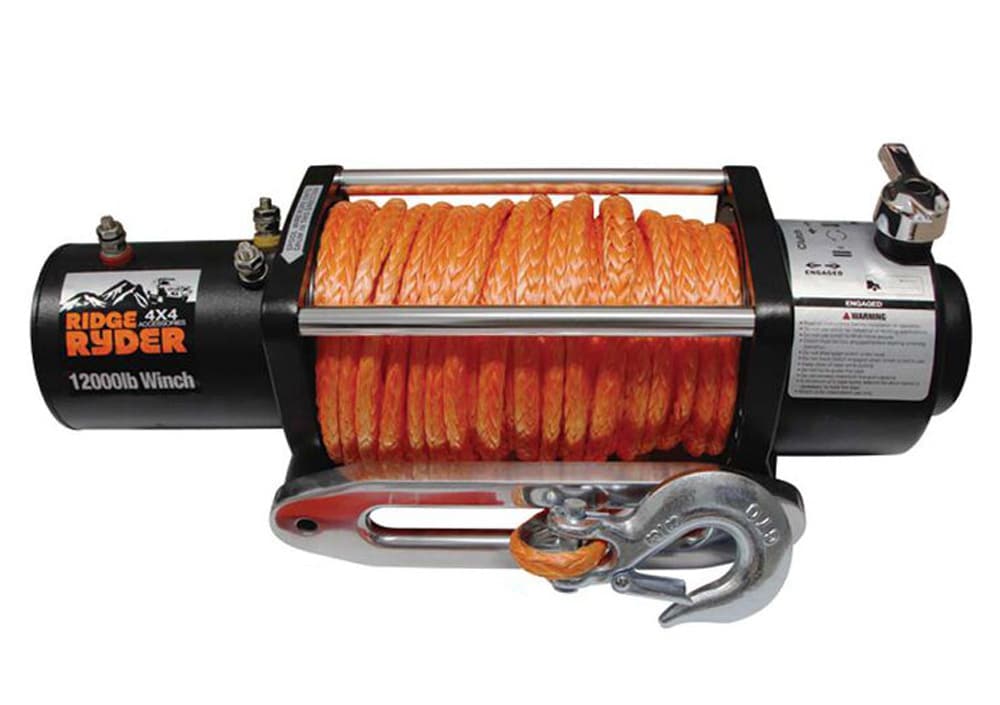 Ridge Ryder 12000lb
Price: $799
Pick one up next time you're buying a $1 degreaser and fluffy dice, Supercheap Auto's Ridge Ryder 12V winch sells with ease of access. Powered by a 6.6hp series-wound motor, a 187.1:1 3-stage planetary gear set runs up to 10.1 metres per minute and draws a maximum of 430A. Wrapped up 28m of 10mm synthetic rope on paper the Ridge Ryder punches far above many of its traditional competitors. It is unfortunately held back by a one-year warranty, and an old-school break in drum design that's prone to heating up and damaging the synthetic line. RRP is $799, or $599 on club member pricing.
Why we rate it: Budget-friendly and surprisingly good specs for this end of the market.
How it could be improved: In-drum brakes are a big no-no with synthetic cable.
Ultra Winch PDX MK2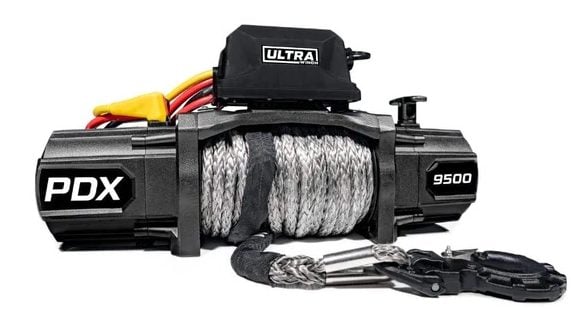 Price: $1200
The aptly named Ultra Winch put reliability above all. Not a bad attitude to have when it comes to recovery gear. Powered by a 6.5hp series-wound motor, their 12000lb PDX MK2 winch boasts a whole heap of features designed to make your investment last the distance. The remote mounted breather ensures the motor stays dust and waterproof, even through deep water crossings. A beefy top brace avoids deflection under heavy recoveries, while a heavy-duty hook and solid eyelet on the 10mm 25m long synthetic rope help keep the weight down.
Just 22.5kg all up makes it the lightest winch on the list, over 30 per cent lighter than many of its competitors which is going to help with the gross vehicle mass and front suspension options. The PDX MK2 comes with a seven-year electrical and water ingress warranty, and a lifetime mechanical warranty. Expect to pay up to $1200 to score yourself one.
Why we rate it: Light weight, built to last, and decently priced.
How it could be improved: A higher rated version would be great to see.
Need to know terms
Low Mount – The winch motors are mounted in line with the drum.
High Mount – The winch motors are mounted above the winch drum.
IP Rating – How water and dust-tight the winch is. The first number is dust, the second is water. IP68 means dust-tight and waterproof up to three metres.
Planetary Gear Set – A series of gears designed to transfer the high speed of the electric motor into low speed pulling power
Compare your options
Winch
Rated line pull
Horsepower
Gear type
Sealing
Brake
Size
Weight
Warranty
Price
Max current draw
Runva 13XP
13000lb
7.6HP
Planetary
IP67
Ratchet in gearbox
602mm X 160mm X
200mm
41kg (as shipped)
5 year electrical. Lifetime mechanical
$1045
470A
Domin8r Extreme
12000lb
7.2HP
Planetary
Not-published
Not-published
525mm X 160mm X 190mm
27kg
2 year
$469
420A
Carbon Scout Pro 15K
15000lb
7.0HP
Planetary
IP68
Full-load Automatic in motor
556mm X
158mm X
187mm
30kg (as shipped)
5 year electrical and ingress. Lifetime mechanical
$1495
380A
Drivetech 4×4 Dual Speed
12000lb
6.0HP
Planetary
IP67
Automatic Load Holding
557mm X 244mm X 164mm
32.8kg
3 year
$1250
425A
Runva EWS10000
10000lb
7.2HP x 2
Planetary
IP67
Ratchet in gearbox
470mm X 260mm X 326mm
60.2kg
5 year electrical. Lifetime mechanical
$2000
860A
VRS V12500S
12500lb
5.4HP
Planetary
IP68
Ratchet in drum
552mm X 168mm X 214mm
34kg
2 year electrical. Lifetime mechanical
$1155
340A
Warn Zeon Platinum 12-S
12000lb
Not-published
Planetary
IP68
Automatic mechanical cone
616mm X 182mm X 200mm
34kg
Lifetime
$3749
438A
Sherpa Steed
17000lb
6.6HP
Planetary
IP68
Automatic in gearbox
565mm X 196mm X 225mm
26kg
5 year
$1649
425A
Ironman Monster 12000lb
12000lb
6.4HP
Planetary
IP69
Automatic in drum
562mm X
156mm X 215mm
29kg
5 year
$1223
Not-published
TJM Torq 12000lb
12000lb
4.9HP
Planetary
IP67
Automatic in drum
540mm X 162mm X 211mm
30.5kg (as shipped)
2 year
$1449
300A
Bushranger Revo 12000lb
12000lb
6.2HP
Planetary
IP67
Automatic in gearbox
602mm X 165mm X 216mm
35kg
7 year electrical. Lifetime mechanical
$1195
420A
Smittybilt XRC Gen 3
12000lb
7.0HP
Planetary
IP67
Automatic in drum
546mm X 170mm X 210mm
32kg
5 year electrical. Lifetime mechanical
$1476
375A
Warn 8274-50
10000lbs
4.6HP
Spur Gear
Not-published
Automatic external disc
420mm X 220mm X 381mm
50kg
Lifetime
$3999
480A
Dobinsons 12000lbs
12000lb
6.5HP
Planetary
Not-published
Automatic in drum
545mm X 160mm X 210mm
26kg
2 year
$1114
Not-published
Mean Mother Edge
12000lb
4.8HP
Planetary
Not-published
Automatic in drum
570mm X 168mm X 175mm
31kg
5 year
$1199
330A
Ridge Ryder 12000lb
12000lb
6.6HP
Planetary
Not-published
Automatic in drum
537mm X 160mm X 185mm
24.5kg
1 year
$799
430A
Ultra Winch PDX MK2
12000lb
6.5HP
Planetary
IP67
Not-published
564mm X 160mm X 281mm
22.5kg
7 year electrical and ingress. Lifetime mechanical
$1199
360A