Roughly one million years ago when the GQ Patrol was king of the tracks, suspension was simple. If you wanted it higher, you put bigger springs in. And the old shocks were no longer long enough, so you put longer ones of those in too. That's about as deep as the logic needed to go. These days we're spoilt for choice. Dozens of companies with hundreds of designs and unique selling points all promise they can make your 4X4 more capable and comfortable, and perform better both on and off-road.
To help steer you in the right direction with lifting your 4X4, we've put together the hit list of who's who with this 2022 suspension buyer's guide. Know the finer points between foam cell and internal floating piston? Then read on good friend. Or if you want a crash in everything, suspension read our glovebox guide.
TJM Pace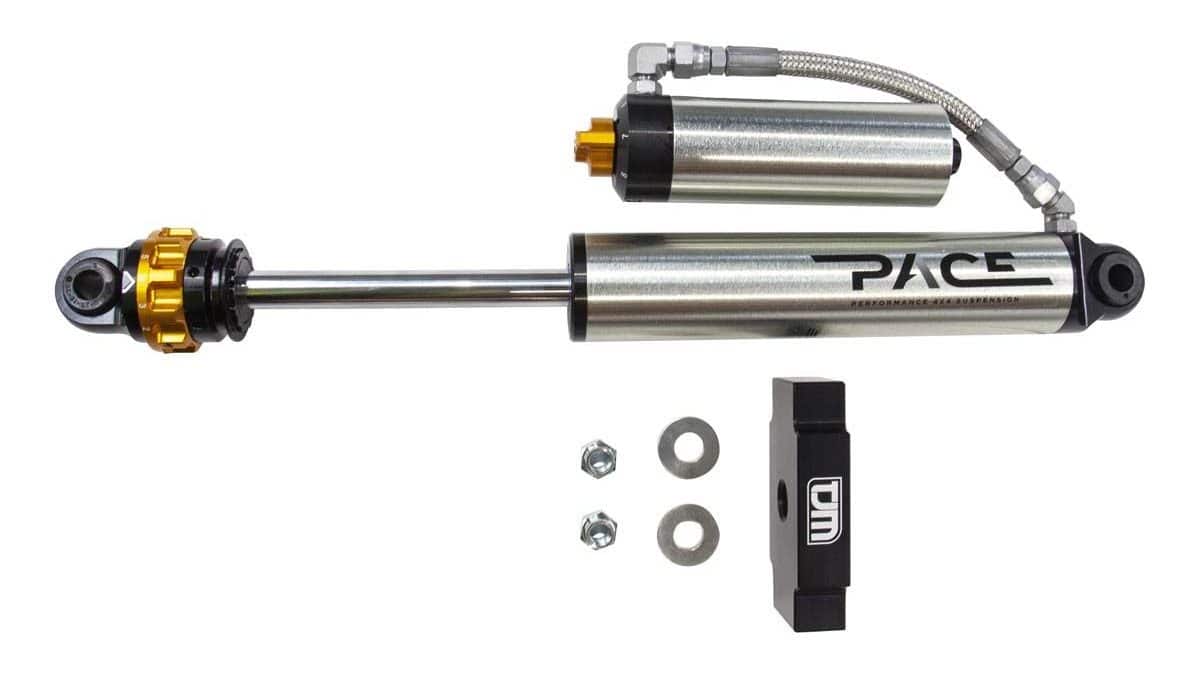 Price Range: $4000-$5000
Known for their bar work and 4X4 accessories, TJMs old XGS range of suspension was hardly inspiring. The Pace range aims to fix that. Designed in conjunction with U.S. based Fox suspension, it combines high-tech performance with a simply huge dealer network. The remote reservoirs add huge oil volume to their shocks, helping them stave off shock fade, perfect for outback corrugations. Likewise, the trick eight-stage adjusters mean you can dial in shock damping levels to suit your loads and desired ride. The Pace line can be part of Gross Vehicle Mass (GVM) upgrade packages and is available for most types of 4X4s.
Why we rate it: Aussie designed and engineered with U.S. technology.
How it could be improved: One of the best shocks on the market, TJM just don't want to tell anyone about them.
Old Man Emu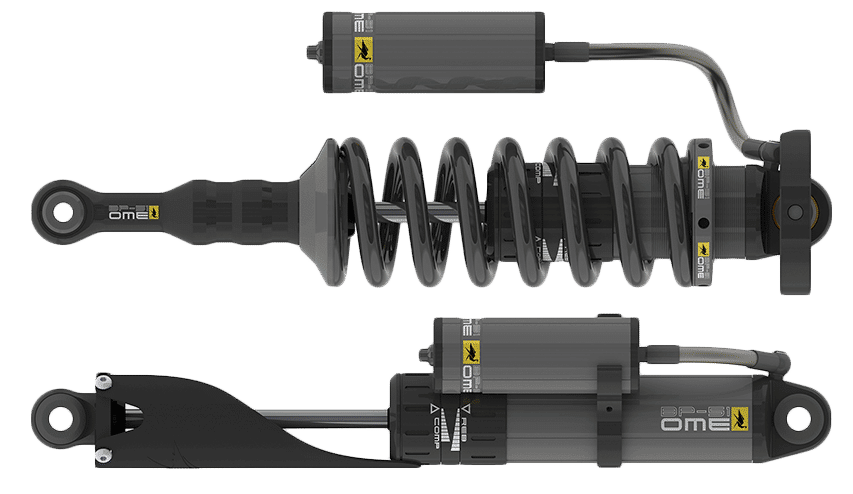 Price Range: $3000-$5000
One of the longest-running names in 4X4 suspension, Old Man Emu has been fitted to every vehicle imaginable on every continent drivable. Depending on your budget and needs, Old Man Emu should have a suspension system to suit. For the budget-conscious, their old school ruggedly simple Nitrocharger and Sport range feature classic twin-tube designs with gas charging to help fight against shock fade over corrugations and are suitable for most makes and models just looking for a dependable ride.
Stepping up into their big daddy BP-51 range is a whole different game though. Featuring internal bypasses and big 51mm pistons, they're capable of far greater control in far rougher conditions. The internal bypass tubs mean the ride quality can be dialled in not only by the speed of the piston moving, but the position of it too. That means buttery smooth landings on big whoops instead of hard bottoming.
Why we rate it: Some of the best Australia can make, and representing us on the world market.
How it could be improved: Price is up there for the high end gear and you need to go through ARB to get them.
Fox Suspension
Price Range: $3500-$4000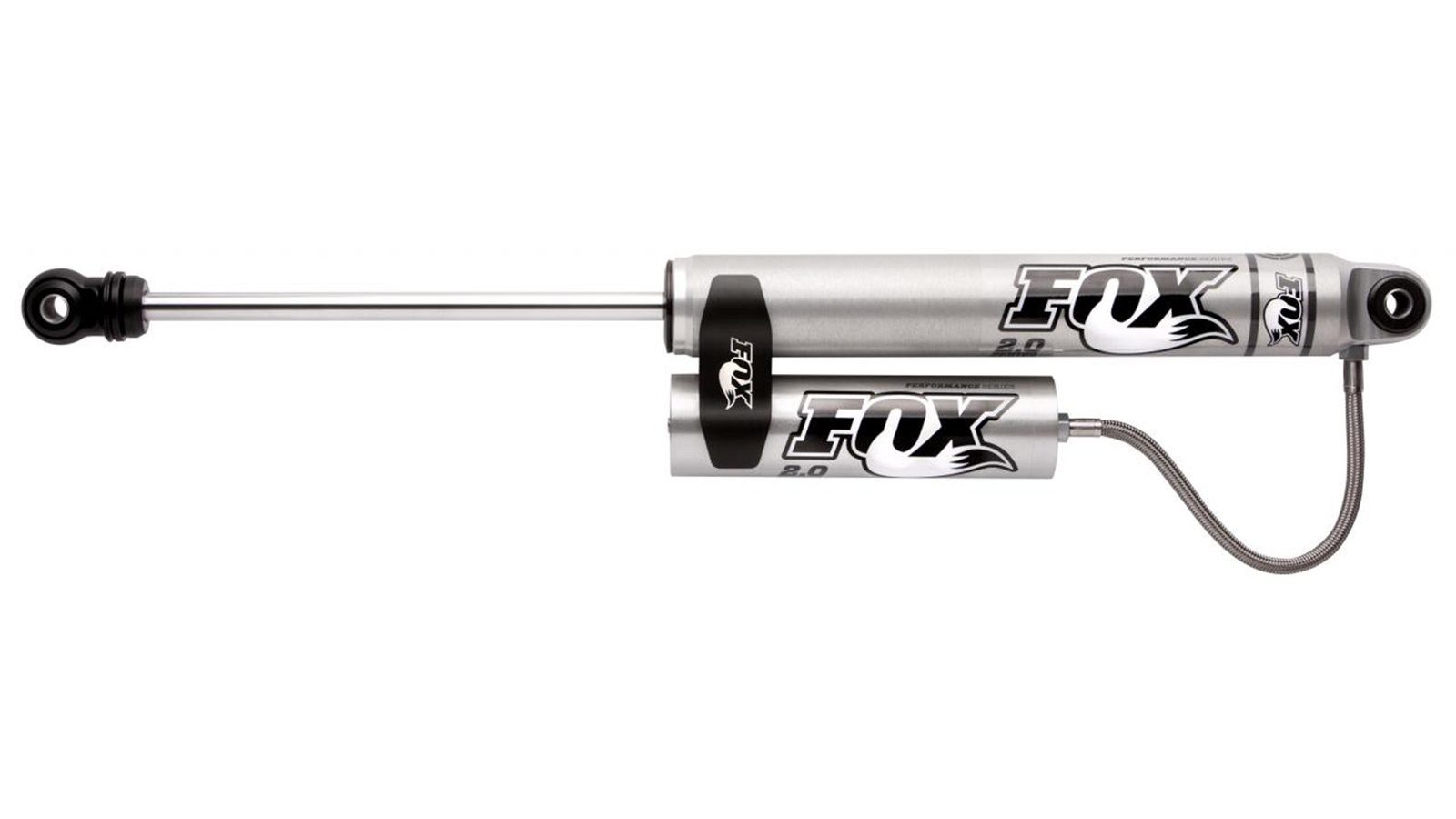 If you're after a 4X4 that'll float like a butterfly and sting like a bee then Fox Suspension should well and truly be at the pointy end of your shortlist. There's a reason so many off-road racers use it. Designed and manufactured in California, Fox Suspension is a reasonably new sight on Australian tracks. Their entry-level 2.0 IFP gas-charged shocks are a budget-friendly offering available to suit most makes and models. Locally sourced versions are spec'd to the typical weights of Australian 4X4s.
For heavier rigs or faster drivers, the 2.5 IFP range is well worth a look. Stepping up to a physically larger body gives a massive 50 per cent increase in piston size for maximum control and the smoothest possible ride. You'll also score more shock oil and the same gas-charged floating piston design so can stave off shock fade for longer.
Why we rate it: Off-road racing tech with Australian touring specifications.
How it could be improved: The sky is the limit with Fox kit. If you want bypasses and adjustability it's all available for a price.
King Shocks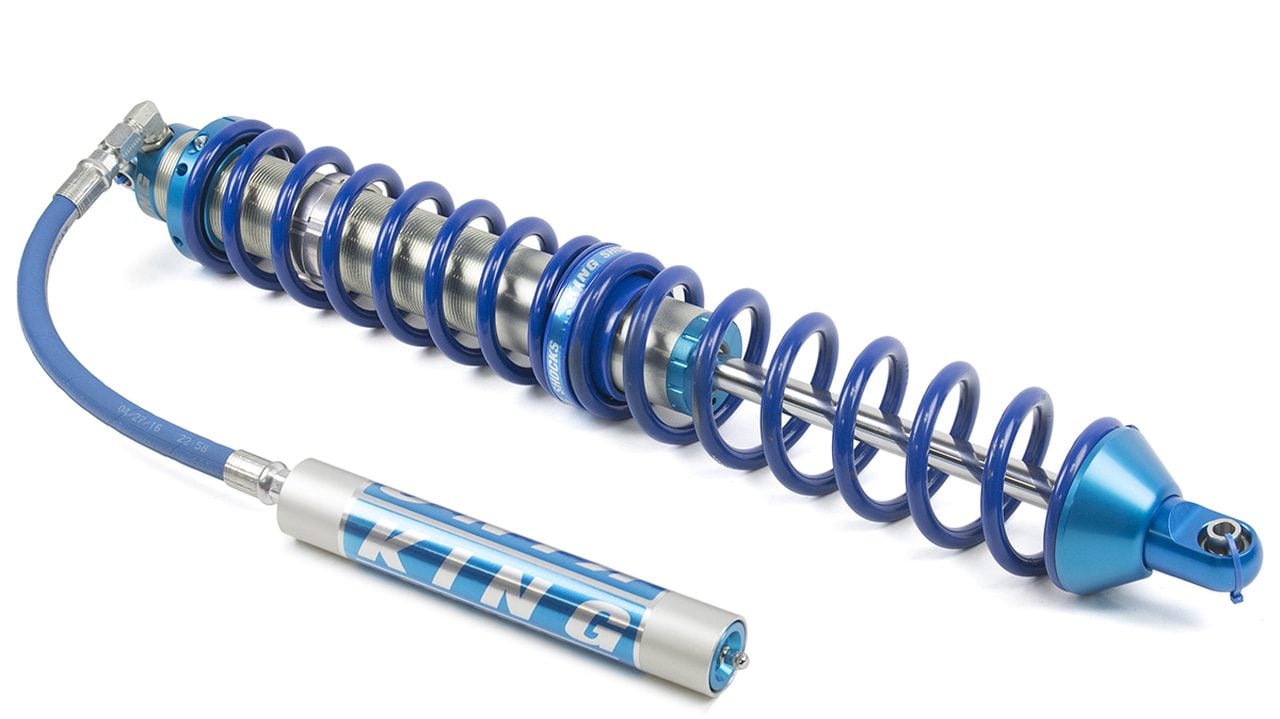 Price Range: $6000-$9000
If nothing but the best will do, have we got options for you. As long as you've got deep pockets to match. The rivalry between King and Fox is a little like Holden and Ford if Holden were still around. The two manufacturers make some of the best suspension imaginable and punish it in some of the harshest off-road races on the planet. While Fox has steered towards mid-tier shocks for near entry-level prices, if you want to sport a pair of Kings you've gotta reach straight for the top shelf. A few companies in Australia are offering bolt-in kits for popular makes and models, but it's all remote reservoir 2.5 body shocks.
Expect to pay north of $6000 for basic four coil and four shock setups like you'd find in an old school solid axle rig. It's about the same for two struts and two shocks. If you need fancy arms and leaf springs too, the bill can easily reach $9000. But it's a small price to pay to ride like a king.
Why we rate it: You can't find a better shock.
How it could be improved: It will eat into your wallet.
Fulcrum 4X4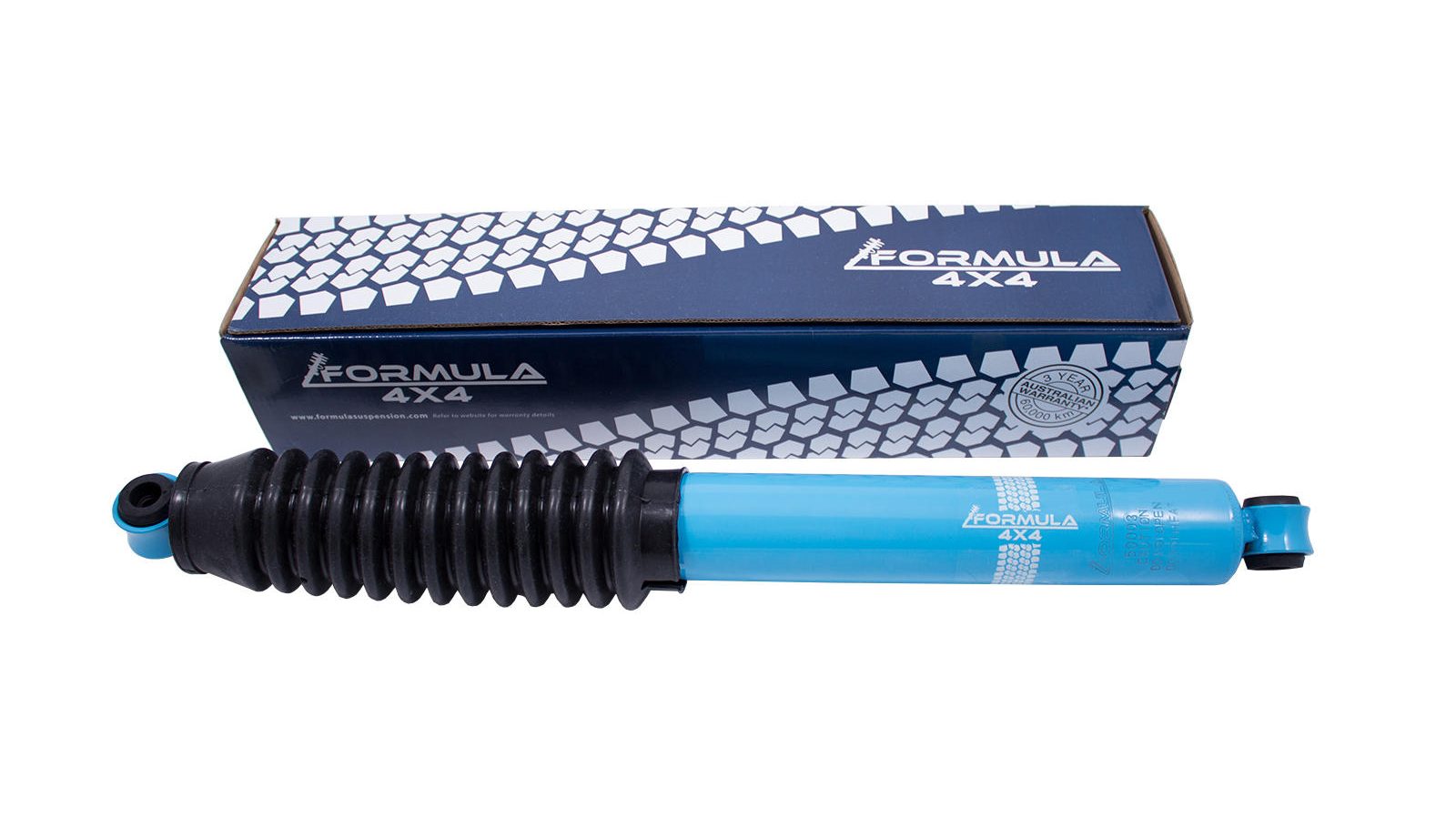 Price Range: $800-$2500
One of the quickest growing 4X4 companies in the game, Fulcrum 4X4 is earning itself a reputation for quality kit at affordable prices. For the super budget conscious they've got lift options for just a few hundred bucks. Your 4X4 won't ride any better, but with a simple strut spacer and lift block combo you'll free up space for larger tyres while you save your pennies.
On the other end of the spectrum, they've got full air ride options and a variety of GVM upgrades. They stock a host of shock brands such as RAW 4×4 and Bilstein but also manufacture their own range of Formula 4X4 shock absorbers. They have a huge range, with everything from Lada Niva lift sprints to Porsche lowering kits. Full kits for vehicles like the GWM and LDV Utes are also available.
Why we rate it: One of the biggest range of models available.
How it could be improved: More high-end kit for high-end 4X4s.
Performance Suspension Racing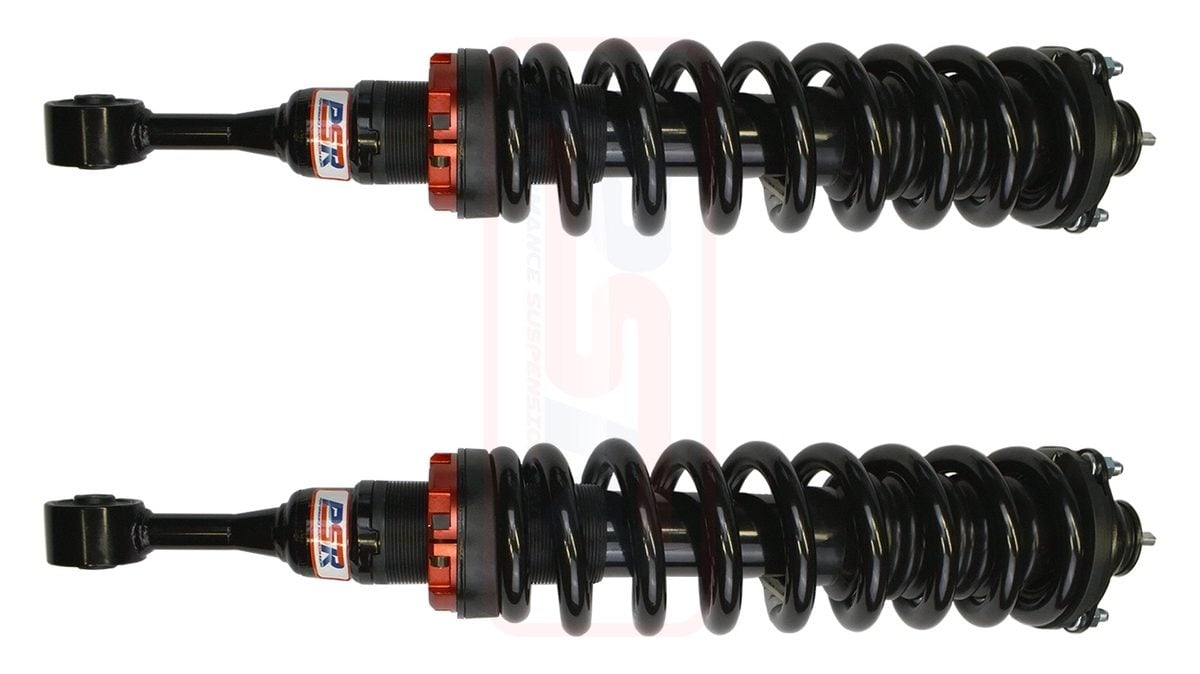 Price Range: $2000-$4000
Performance Suspension Racing, or PSR as they're more commonly known, is another local shop growing to be a national name. They kicked-off with off the shelf suspension kits based around Bilstein shocks. That range slowly fleshed out with a whole heap of their ancillary parts. You'll be hard-pressed to find a Ranger in Queensland not running their diff drop, body lifts, or control arms.
As their range increased with everything from bull bars to tub racks, they've developed their own shock absorbers too: the PSR TTG. Designed to be one of the best twin-tube shocks on the market, PSR has gone to extensive lengths with everything from high-end seals to top-tier oil. The twin-tube design may be a little old school and not ideal for fending off shock fade with corrugations, it'll provide a decent ride and give longer travel than a similar length monotube shock.
Why we rate it: Thinking outside the box with affordable options.
How it could be improved: Orientated towards weekend warriors rather than heavy tourers.
Ironman 4×4
Price Range: $2500-$3500
Industry powerhouse Ironman 4×4 is no stranger to offering complete lineups of 4X4 accessories. Their catalogues are full of everything from long-range fuel tanks to head torches and everything in between. It should come as no surprise that when it comes to 4X4 suspension they've got a laundry list of available options as well. On the hard parts front, they stock a variety of odds and ends. Adjustable Panhard rods, swaybar extension links, greaseable shackles and even trick forged aluminium upper control arms for modern independent front suspension (IFS) 4X4s.
On the shock absorber front, they've got a few low-tech options to make your 4X4 ride well for a budget. Their Nitro Gas range is a typical twin-tube arrangement, a low-pressure nitrogen gas charge in an outer compartment keeps pressure on the shock oil to stop it from aerating. Their Foam Cell and Foam Cell Pro replace that gas charge with a foam membrane. Neither style will win you a podium at Dakar but both will provide an acceptable ride for budget tourers.
Why we rate it: Forged aluminium arms will make your friends jealous.
How it could be improved: Foam cell shocks won't make anyone jealous.
Pedders Trakryder
Price Range: $1400-$4500
Imagine you're at the wheel of one of the biggest suspension companies in the country. Franchises everywhere; logos over every race car; not a Kingswood on the road without your kit in it. Somewhere between Pedders dominating the Australian suspension game and 4X4s taking over, they got overtaken in a big way. The answer? Come out swinging. Pedders TrakRyder is a range of everything off-road. From low-buck budget shocks to keep your 1985 farm truck HiLux running, to top-tier remote res struts and big brake kits. They've got it all.
If you don't mind spending serious money, Pedders TrakRyder eXtreme is a serious shock. Remote reservoirs and a monotone design mean serious fade resistance for outback corrugations. An adjustable spring seat on the strut lets you dial your ride height in. And adjustable rebound and compression allow fine-tuning of the ride to suit your weights and driving style. Pedders hasn't earned a reputation in 4X4 land yet, but these shocks go a long way towards it!
Why we rate it: It's the brand your grandad knew and loved, with the tech and performance your grandson will appreciate.
How it could be improved: On paper they're top-tier, but how many have done the Madigan line?
Dobinsons MRR
Price Range: $1500-$3500
One of the original "oh damn that's pretty cheap, and wow you get a lot" brands, Dobinsons has recently been undergoing rapid expansion of its product lineup. Sure, they've got everything from generic roof racks to generic bull bars, but dollar for dollar their suspension is about as good as it gets. Cruise straight past their twin-tube gas shocks (they're a reasonable budget option, but not overly exciting) and kick things off with their IMS range. A classic gas-charged monotube shock absorber, these bad boys prioritise strength above all. Their solid construction with beefy bush mounts means even the rowdiest send up a hill climb isn't going to see your shock fold in half like a pretzel. And with up to a 60mm bore they'll perform well above the crowd in ride and comfort.
If you can swing it, or just like showing off to your mates, their new three-way adjustable MRR range is a seriously impressive bit of kit. Based on similar high-strength bodies as the IMS range, the MRR adds external reservoirs for increased oil capacity and better resistance against shock fade. You'll also score three separate adjustments for rebound, high-speed compression, and low-speed compression giving you near-total control of how your 4X4 handles.
Why we rate it: Finish and features well above any similar priced shock absorber.
How it could be improved: Does need to be tuned to your 4X4 for maximum performance which will add cost.
Tough Dog

Price Range: $2000-$3500
Once one of the biggest names in 4X4 suspension, Tough Dog has fallen behind the crowd in terms of technology. That's not to say they don't offer a great shock; they just focus on rugged reliability rather than Cadillac-like handling through desert whoops. Kicking off their lineup of shock absorbers is a factory style replacement 35mm bore twin-tube gas-charged shock. From here you step up into a larger 41mm foam cell twin-tube design, a 40mm and 45mm foam cell offering serve up basic adjustability.
Finally, their Ralph range of shocks features larger 53mm bores with the twin-tube design having a huge 70mm outer casing for maximum oil capacity. They provide huge travel for the length, are available to suit big lifted solid axle rigs, and can handle deflecting a stray rock or two thanks to that thick outer tube. If you're a no-fuss 4WDer with a penchant for huge shocks and low budgets these are well worth a look. IFS 4WD owners should consider Tough Dog control arms too – they're some of the best on the market.
Why we rate it: Plenty of affordable options to suit different needs.
How it could be improved: Their competition are leaps and bounds ahead in tech and features.
Outback Armour
Price Range: $2000-$2500
A mid-tier product for a bottom tier price, Outback Armour has exploded onto the 4X4 accessory scene. Their no-nonsense range of suspension is designed to make life simple for customers, and more importantly, affordable. Spec up your vehicle in their product selector, choose what weight you're running and if you're after a basic weekender setup or something a little fancier.
The lower-cost 'performance' range will see you pick up a typical twin-tube gas-charged shock design. Ponying up a few hundred extra will step up into the rather unique Adjustable Bypass model. A larger bore design with an adjustable internal bypass that'll give you reasonable control over how your 4X4 rides and handles. They're not the highest tech shock absorber on the market, but at half the price of some of the fancier kit while still offering fancy features, they sure do make a compelling argument.
Why we rate it: Solid kit at a solid price. It's hard to recommend others for the money.
How it could be improved: More high-end models to suit more demanding customers.
GMF4X4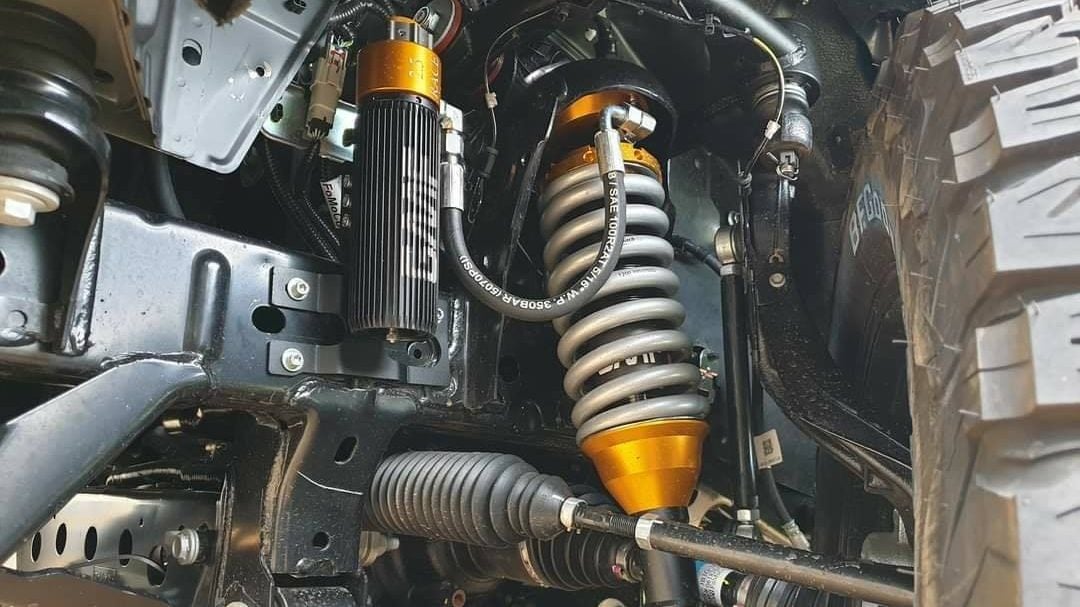 Price Range: $3000-$5000
Bucking the trend of other companies starting with suspension and ending in accessories, GMF4x4 kicked off their business building top-notch bar work and is now turning their attention to suspension. Only available for a limited range of makes and models, GMF4x4 have two distinct lines of suspension to suit varying budgets and needs. Kicking off around the $3000 mark just for shocks, their Performance range is a bonafide 2.5 body shock, putting it firmly in the big-bore category. With a one-piece design, there are no weak links to bend or break, and an internal floating piston design keeps the monotube shock fighting off shock fade. Compression, rebound and height adjustment allows you to dial it in for your needs.
Bumping up to the Race series adds a finned remote reservoir for a huge increase in shock fade protection. You'll also pick up high and low-speed compression adjustments to make your 4X4 feel like it's floating on clouds.
Why we rate it: Homegrown race spec suspension. What's not to love?
How it could be improved: Big dollar price without big dollar reputation … yet.
EFS 4X4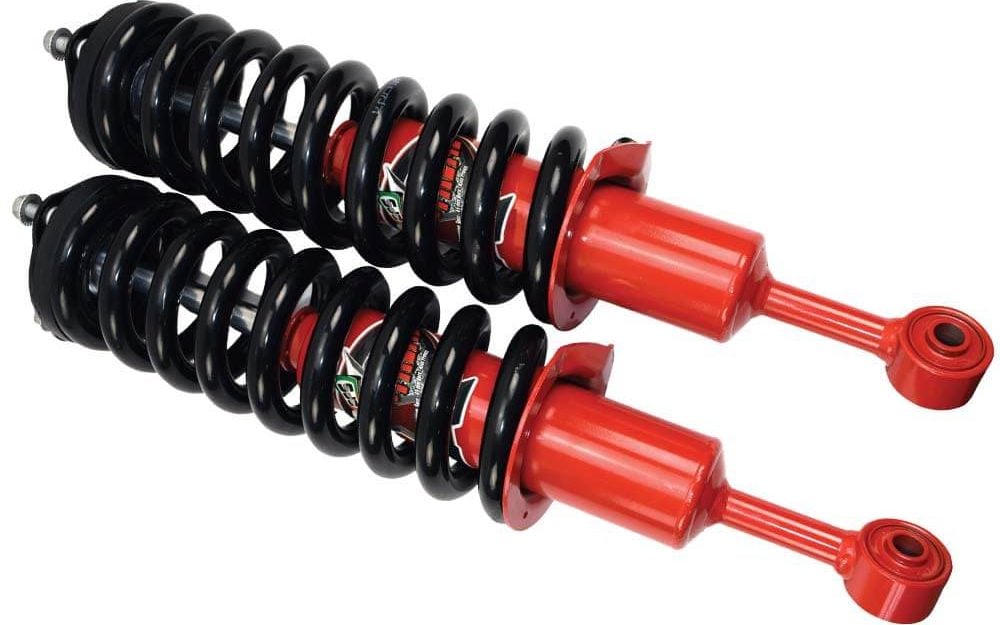 Price Range: $2000-$3000
Some 4WDers want their adventure machine to drive like a sports car, others just need it a little taller and a little heavier duty. If you're a no-fuss 4WDer and don't want to spend a fortune, EFS 4X4 is bound to be on your shortlist. They stock all the usual kit you need to round out any installation like leaf springs and shackles, caster bushes and extended brake lines. They've also got a range of individual styles of shock absorbers including the Enforcer, Elite, XTR, and X-Treme.
All four styles are a fairly standard twin-tube gas charged design with all the pros and cons of it. They'll all give longer travel for a given length compared to a monotube and will be able to handle a ding or two without issue. They'll also struggle far more with shock fade and aeration of the oil inside. The higher up you go in their range the less those cons will affect you. Bigger bores and larger oil capacities all help when the going gets tough. Just don't expect miracles for a shock 1/3rd the price of their competitors
Why we rate it: Budget-friendly options for basic lifts.
How it could be improved: Low tech equals low performance.
Drivetech4x4
Price Range: $1500-$4000
While they may still have a reasonably low-profile name in aftermarket circles, Drivetech4x4 have been plugging away for years to flesh out its product lineup. Part of the huge Genuine Parts Corporation network, they've got literally billions of dollars of backing behind them. As a result, when they turned their attention to the aftermarket upgrades rather than genuine replacements they've come out with an actually decent product.
Comprised of the Enduro, Enduro Foam Cell, and Enduro Pro range, Drivetech 4×4 has three vastly different products depending on your needs. Like most companies, their entry-level Enduro is a twin-tube budget-friendly gas-charged shock. Their Enduro Foam Cell is a similar design with a larger body and foam controlling oil aeration rather than gas. Finally, their Enduro Pro is a huge step up. A monotube design with a remote reservoir and height adjustability, it offers a decent product at a reasonable price.
Why we rate it: Huge nationwide dealer network.
How it could be improved: They're tight lipped on specs.
Superior Engineering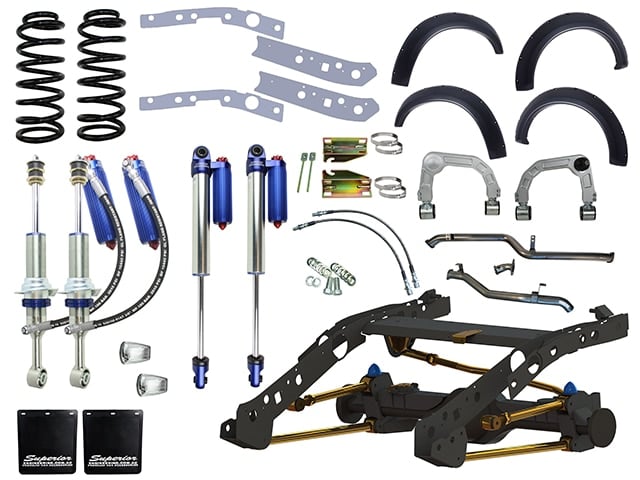 Price Range: $2400-$14,000
One of the biggest names in off-road suspension, Super Engineering have been building some of the wildest rigs on the tracks for years. The team are genuine 4X4 enthusiasts with everything from outback tourers to world-class off-road racers in the carpark, so you know they mean business. Like most shops, they offer entry-level twin-tube shocks and basic 2in lifts for those on a budget. That's where the similarities end.
Their range of suspension then climbs through the usual 2.0 monotube kit right up to big remote reservoir 2.5 body struts with finned reservoirs and adjustability. They're also the go-to people for coil conversions in leaf spring 4X4s, road-legal packages for big tyres, and GVM upgrades. Their shocks won't impress your Instagram friends but combine them with their various kits and super flexy arms and you've got a recipe for success.
Why we rate it: Their coil conversions and street legal big tyres are something few others offer.
How it could be improved: They make every conceivable upgrade so it's easy to spend a house deposit there.
Supashock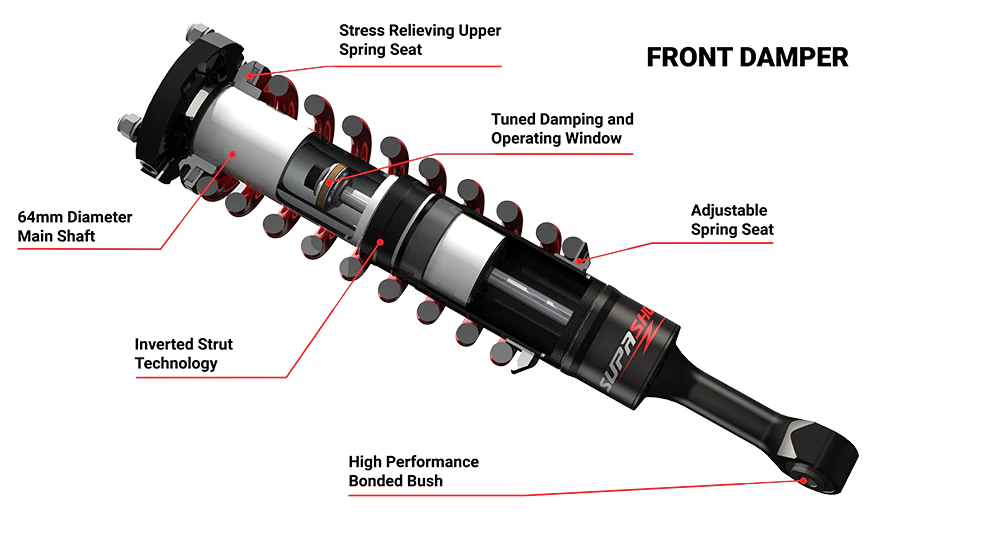 Price Range: $3000-$4000
Enjoy the stranger things in life? Have we got the suspension system for you! Nestled down in the foothills around Adelaide, Supashock has been developing high-end suspension for V8 Supercars and military vehicles alike. Their out of the box thinking gives them an edge in the market when so many others seem content to follow the pack.
They've only got the one suspension design, and it isn't cheap, but it'll transform your 4X4. They use fancy terms like "patented shell reservoir" and "inverted strut design" but all you need to know is it's essentially a top tier 2.5 external reservoir monotube shock with a unique design. By incorporating the reservoir into the main body of the shock it's got the performance benefits of an external reservoir with the packaging benefits of a twin-tube. The design also incorporates an internal pneumatic bump stop and for the money represents amazing value
Why we rate it: Aussie ingenuity and unbelievable ride quality.
How it could be improved: No DIY tuning.
RAW 4×4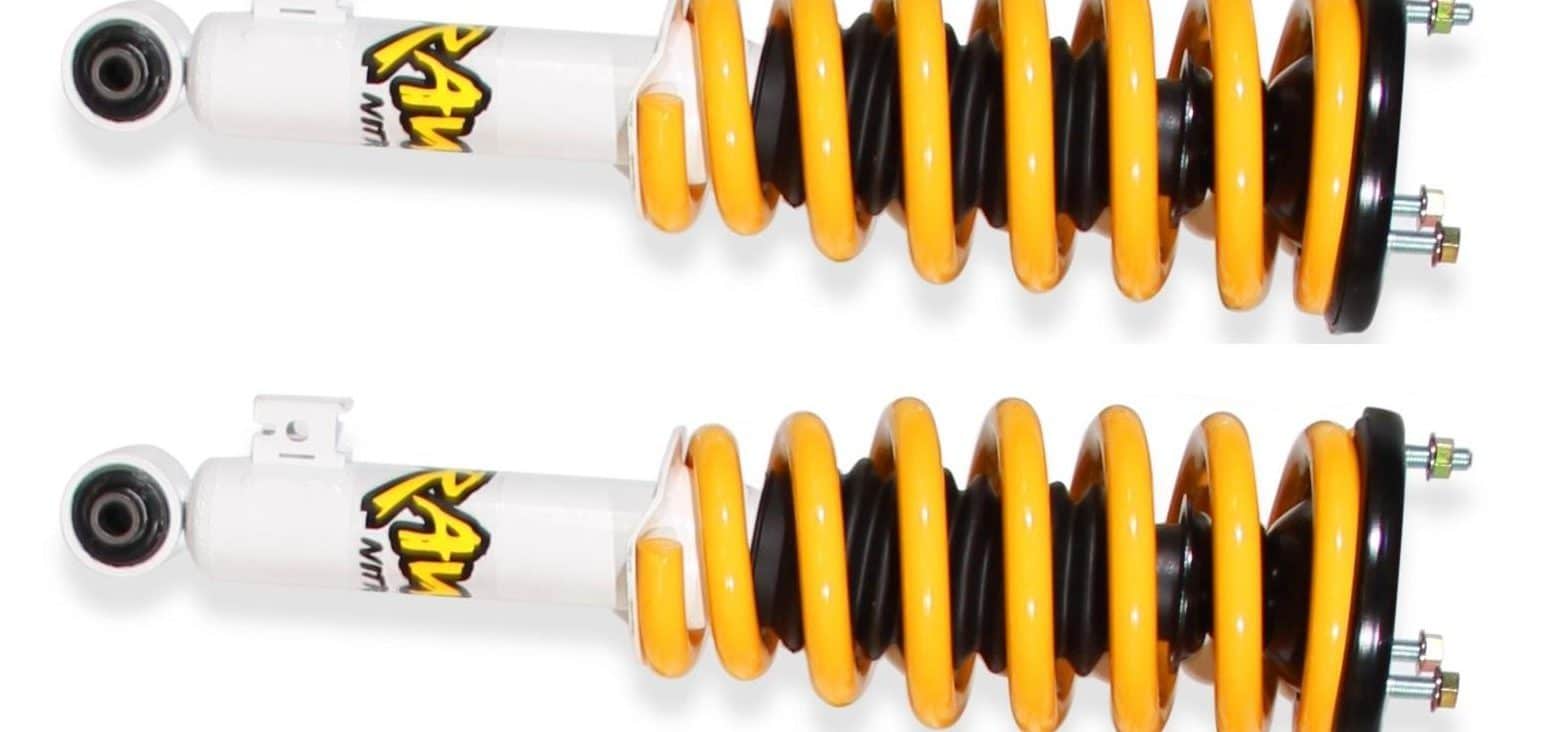 Price Range: $2000-$2500
Another contender for the budget end of the market. RAW 4×4 has a long history of building heavy-duty reliable shock absorbers for full-size semi-trailers. Their range is fleshed out with the usual kit. Leaf springs for varying loads, U-bolts, shackles, bush kits and steering dampers. 
In their shock range, they've got three tiers. Their entry-level Nitro is a typical twin-tube gas-charged shock, fit for a near-stock replacement looking for a little extra height. Their Nitro Max bumps up to a larger 45mm bore size (35mm in the Nitro) as well as increased oil capacity with a larger body. Finally their Predator tips into Monotube territory. The internal floating piston and high-pressure gas charge help stave off shock fade.  
Why we rate it: Overwhelmed by tech specs and just want a cheap lift? These will last forever.
How it could be improved: There are better spec'd kits for the cash.
Terrain Tamer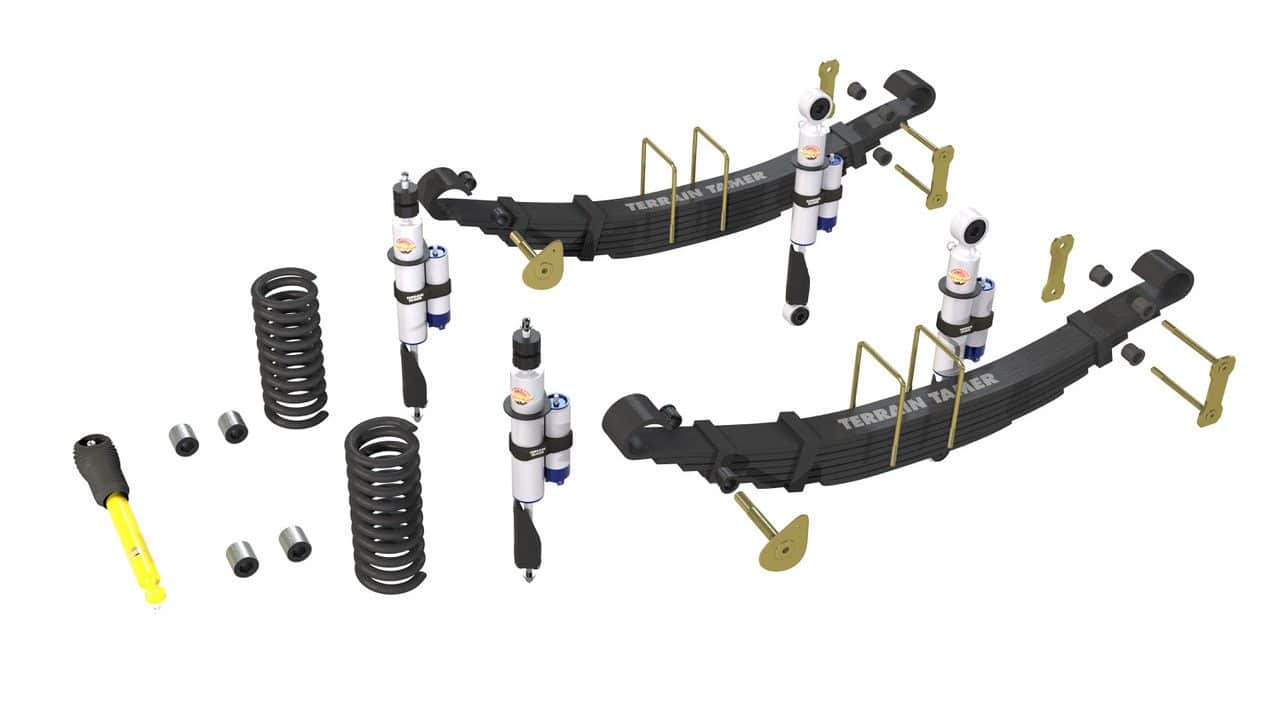 Price Range: $2500-$4000
Hard parts specialists Terrain Tamer have been keeping 4X4s on the tracks for literally decades. Their catalogues are filled with bushes and bearings to keep new and old 'Cruisers on the tracks. Slowly, they are fleshing out their catalogue to not only fit more makes and models, but kit them out with robust suspension solutions. They stock a full suite of components from leaf springs and bushes to upper control arms and swaybar upgrades.
Looking at their shocks though and they fall into three distinct categories. Their G Slimline range is a factory replacement style twin-tube gas-charged shock. A 35mm bore and small model selection will mean most customers will overlook them. Stepping up into their TGS Series bumps those specs up to a 50mm lift, a 40mm bore and a larger 60mm body for increased oil capacity. Like most typical suspension companies, their top dog is a remote reservoir monotube design. With a piggyback reservoir making for easier mounting, and adjustable compression it'll definitely attract more punters but is competing against similar priced bigger names in this game. 
Why we rate it: The only suspension shop that can sell you remote res shocks and a new bearing for your AC pump.
How it could be improved: They're asking big shock prices, without big shock reputation or features.
Lovells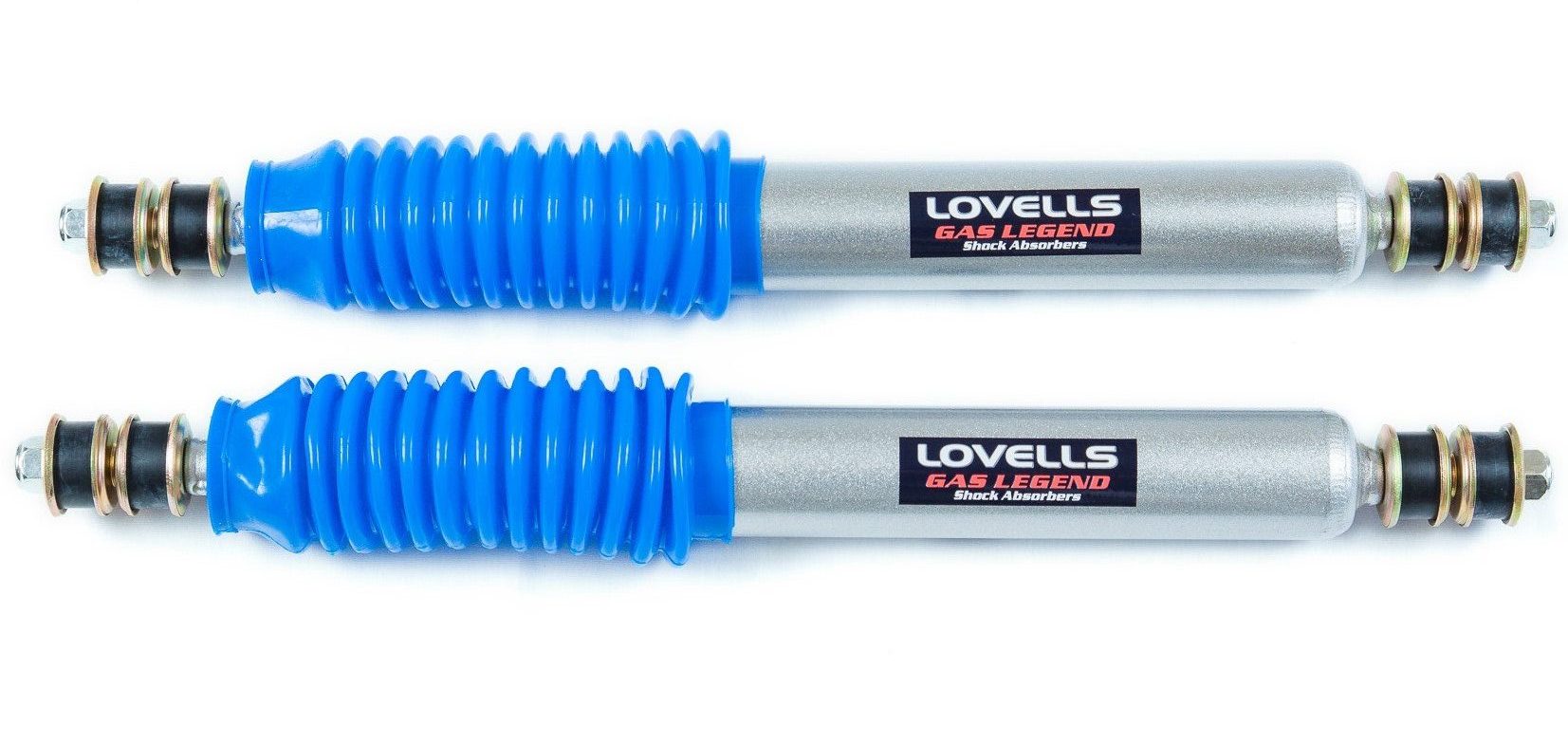 Price Range: $2000-$8000
Favour the ability to do hard work over anything else? Lovells Automotive specialises in all things supersize. Their suspension kits are not only able to increase your maximum legal GVM, but they can also increase your Braked Towing Capacity (BTC). Their kits are available for both pre and post-registration depending on your needs and replace everything from the springs to the mud flaps.
On the hard parts front, you can expect a pretty standard kit from Lovells with pretty standard prices. Their shock absorbers are classic twin-tube gas-charged units with 40mm bore and 60mm bodies. You'll score a longer travel shock than a monotube of the same length that way, and keep costs down. Maybe don't enter Finke on your way home though.
Why we rate it: GVM and BTC upgrades are an absolute must for so many tourers these days.
How it could be improved: Low-tech shocks are hard to stomach in their $8000 GVM kits.
Koni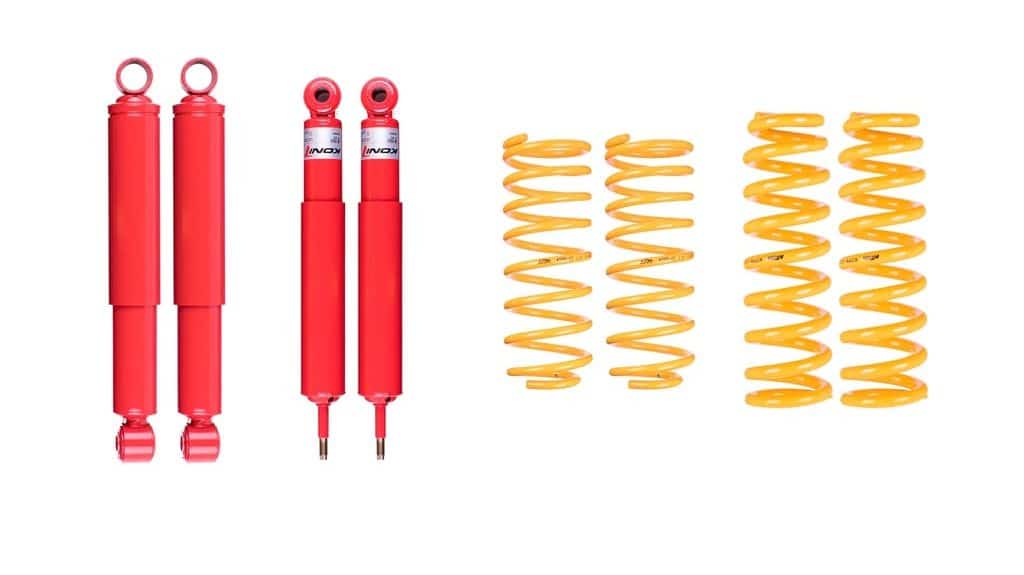 Price Range: $3000-$4000
In business for over 150 years and manufacturing shock absorbers for 90 of those, it's fair to say Koni know their way around suspension. They primarily work in the performance and racing scenes but also have a healthy sized toe in the water of 4X4 land. Their 4X4 shocks are broken up into two ranges: the Heavy Track and Raid.
The Heavy Track is their 'all round' range and consists of the 30 series monotube, 82 series twin tube, and larger 88 series twin tube. The 88 sporting a 36mm bore and 55mm body. Stepping up to their flagship Raid 90 series bumps those figures up to a 42mm piston and 70mm body for increased control and oil capacity.
Why we rate it: Anyone in business since the 1850s must be doing things right.
How it could be improved: Twin Tube shocks work, but the market demands more in 2022.
| BRAND | PRICE | WARRANTY | BORE | TUBE | ADJUSTABLE DAMPENING | OFFER GVM UPGRADE | REMOTE RES |
| --- | --- | --- | --- | --- | --- | --- | --- |
| TJM | $4-5000 | 3yr/100,000km | 52mm | Mono | Y | Y | Y |
| OME | $3-5000 | 3yr/Unlimited km | 51mm | Model dependant | Y | Y | Y |
| Fox | $3500-4000 | 1yr | 51-63mm | Mono | N | N | Y |
| King | $7-8000 | 3 Months | 63mm | Mono | Y | Y | Y |
| Fulcrum | $800-$2500 | 1yr/20,000km | 40mm | Mono | N | Y | N |
| PSR | $2-4000 | Lifetime/Unlimited km | N/A | Twin | N | N | N |
| Ironman 4X4 | $2500-3500 | 3yr/60,000km | 45mm | Twin | N | Y | N |
| Pedders | $1400-4500 | 2yr/40,000km | 35-58mm | Mono | Y | Y | Y |
| Dobinsons | $1500-3500 | 2yr | 50-60mm | Mono | Y | Y | Y |
| Tough Dog | $2000-3500 | 3/4yr/Unlimited km | 35-53mm | Model dependant | Y | Y | N |
| Outback Armour | $2000-2500 | 3yr/Unlimited km | N/A | Twin | Y | N | N |
| GMF4X4 | $3000-5500 | 1yr | 63mm | Mono | Y | N | Y |
| EFS | $2-3000 | 3yr/100,000 km | 45mm | Twin | N | Y | N |
| Drivetech 4X4 | $1500-4000 | 3yr/80,000 km | 35-52mm | Mono | N | N | Y |
| Superior Engineering | $2400-14,000 | 3yr/60,000 km | 40-60mm | Model dependant | Y | Y | Y |
| Supashock | $3-4000 | 3yr/80,000 km | 64mm | Mono | N | N | Y |
| Raw 4X4 | $2-2500 | 2yr/Unlimited km | 35-46mm | Model dependant | N | N | N |
| Terrain Tamer | $2500-4000 | 3yr/100,000 km | 35-46mm | Model dependant | Y | Y | Y |
| Lovells | $2-8000 | 3yr/70,000 km | 40mm | Twin | N | Y | N |
| KONI | $3-4000 | 3yr/Unlimited km | | Model dependant | Y | N | N |