With his Patrol set up and ready to go at a moment's notice, and a roster that lets him get out and about for weeks at a time, touring through Queensland's outback and tropical north at the drop of a hat is no worries for Shayden Sievers.
Imagine cruising through life with not a worry in the world. That's the impression you get after spending some time talking Shayden Sievers, the owner of this bush-capable no worries Nissan Patrol. And it's just as well that the Patrol is capable, and perfectly set-up for camping, because Shayden spends a hell of a lot of time travelling throughout Queensland at the drop of a hat.
Shayden is a plumber by trade and he hasn't let the current COVID-19 situation hold him back when it comes to travelling, partly through fortune (as he was already in Queensland when the pandemic hit) but also through sheer determination (to just get out there whenever he can).
"I'm in Blackwater at the moment," Shayden says. "I was meant to be in the Pilbara right now… me and a couple of mates had the big plan this year to go around Australia and do all the fun stuff, and then our mate COVID comes down and ruins it for us.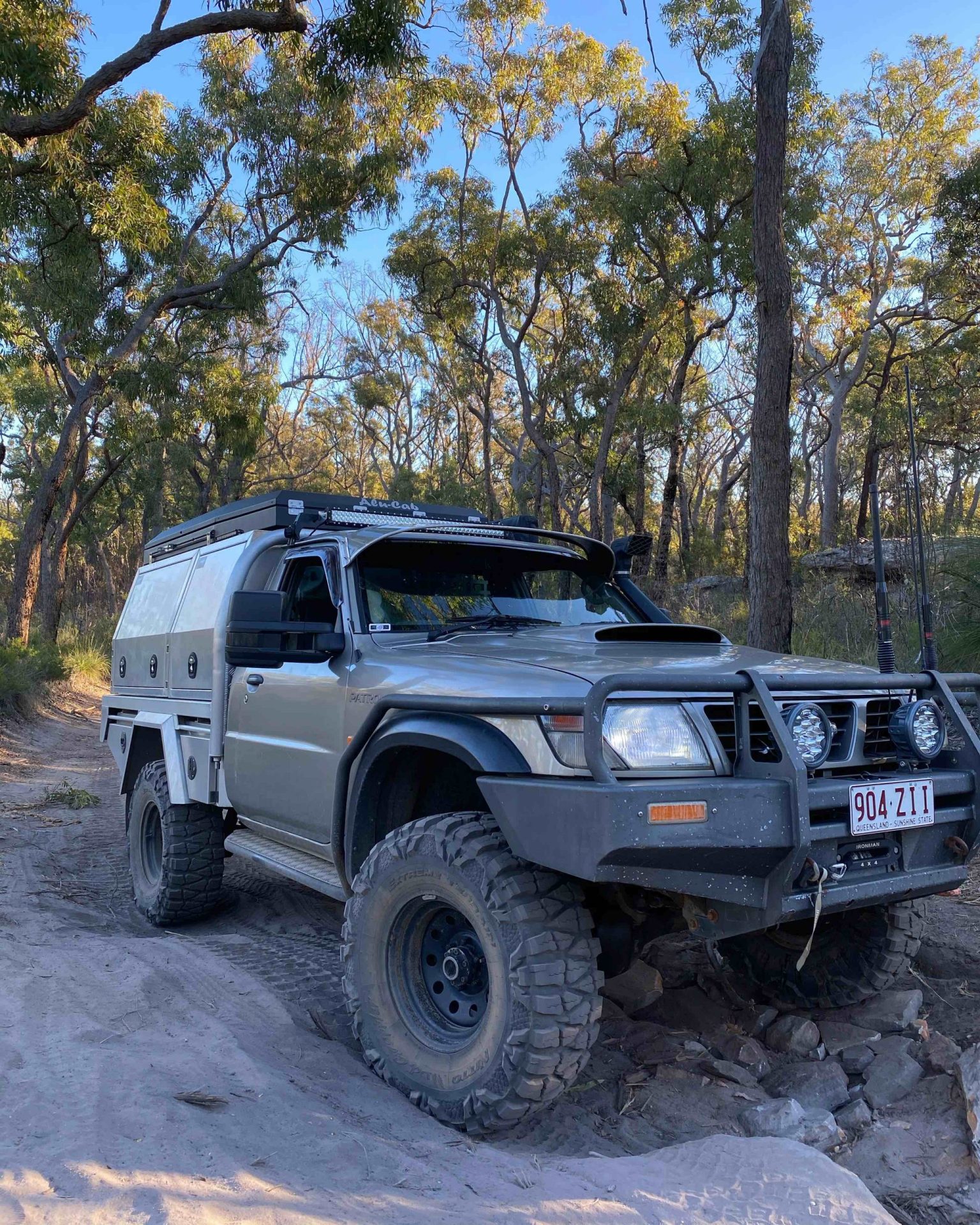 "I was pretty fortunate though," he admits. "I was up in Cape York when all the COVID stuff happened; I was working in Weipa, so I was in a pretty good area, it's bloody beautiful up there, definitely the spot to be. Then I left there to go and work on the Torres Straight Islands, and I was up there for the real bad part of COVID, and I got stuck up there for just under three months when I was only meant to be up there for six weeks at a time. We were building medical centres up there but all that got put on hold because they couldn't get material or blokes to come up there, so I was stuck there. Then, when I came back, I dropped my ute off at JC Custom Fabrication to finish off my tray."
That ute is Shayden's 2002 Nissan Patrol DX Cab Chassis, which he's owned for about the last four years. Despite being a base DX-spec, it was originally optioned with a coil spring rear-end and air conditioning, so the only difference between it and a higher-grade Patrol ST is the old-school window winders (remember them?) poking out of the door trims.
The Patrol runs a TD42 4.2-litre six-cylinder diesel engine with a Garrett turbocharger, a Cross Country 4X4 intercooler and a rebuilt 11mm injector pump, and Shayden says it's good for around 210 rear-wheel horses, or about 155kW in decimal currency. "It's comfortable; I don't have to worry about pulling out to overtake a big truck or anything. It's got pretty good power and I don't have to worry about it on the beach or anything."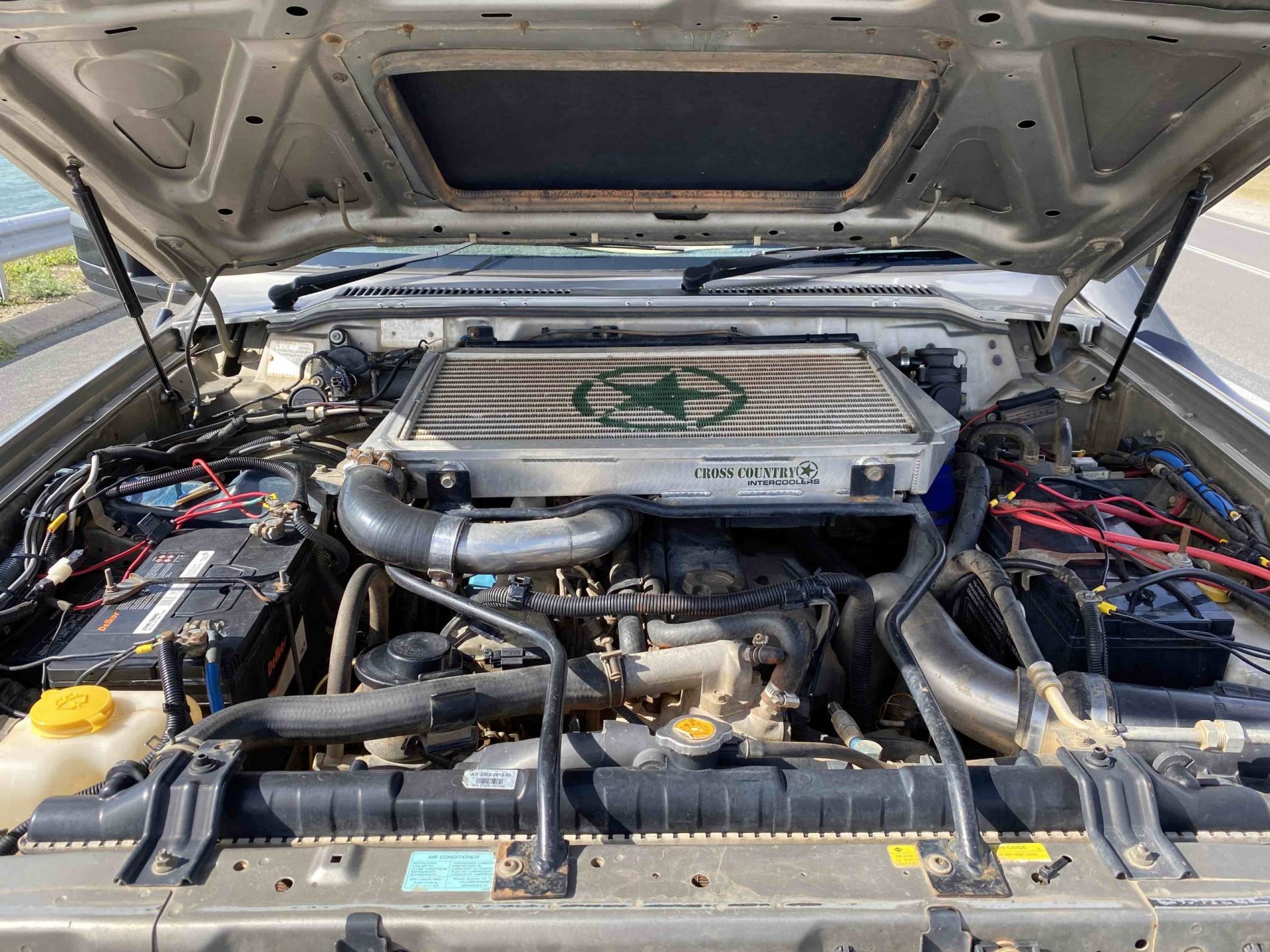 The Patrol puts its power to the ground through 35-inch (315/75R16s) Nitto Mud Grappler rubber fitted to Dynamic steelies. Ensuring the black hoops fit under the guards without rubbing on anything, the Patrol has a four-inch lift courtesy of Ironman 4X4 springs and Foam Cell Pro shock absorbers, and Shayden has also fitted Superior Engineering radius arms and Ironman rear arms. Although this set-up means the Patrol mostly keeps its wheels on the ground when crawling off-road, Shayden admits that front and rear lockers are on the shopping list. For the time being, if forward momentum comes to a stop for any reason, there's an Ironman 4X4 12,000lb winch up front to help it along.
Let's get back to that custom tray, built by JC Custom Fabrication in Innisfail, Queensland.
"When I bought the ute it came with a pretty average canopy and a pretty nice steel tray," Shayden explains, "but I wanted to redo the whole back-end, and while I had pictures and photos and notes from setups that I've seen, nothing was really what I wanted, so I decided I'd need to get everything custom-built.
"JC Custom Fabrication did all the setup inside; I drew it out for him and said this is kind of what I want, but obviously he's the expert, so I said to him you just keep on talking and tell me what you think will work and what won't work.
"I've always wanted a Weber on a slide so it always goes back in the one spot, and it's not rolling around in the canopy or anything like that, and he turned around and said, 'How about we put it on a drop slide so then you can just cook straight off it?', and so he designed it all, laser cut everything, started building it all and I dropped the ute off to him a couple of weeks ago, after six months of planning, and he bolted everything together and welded everything in and it's been absolutely unreal."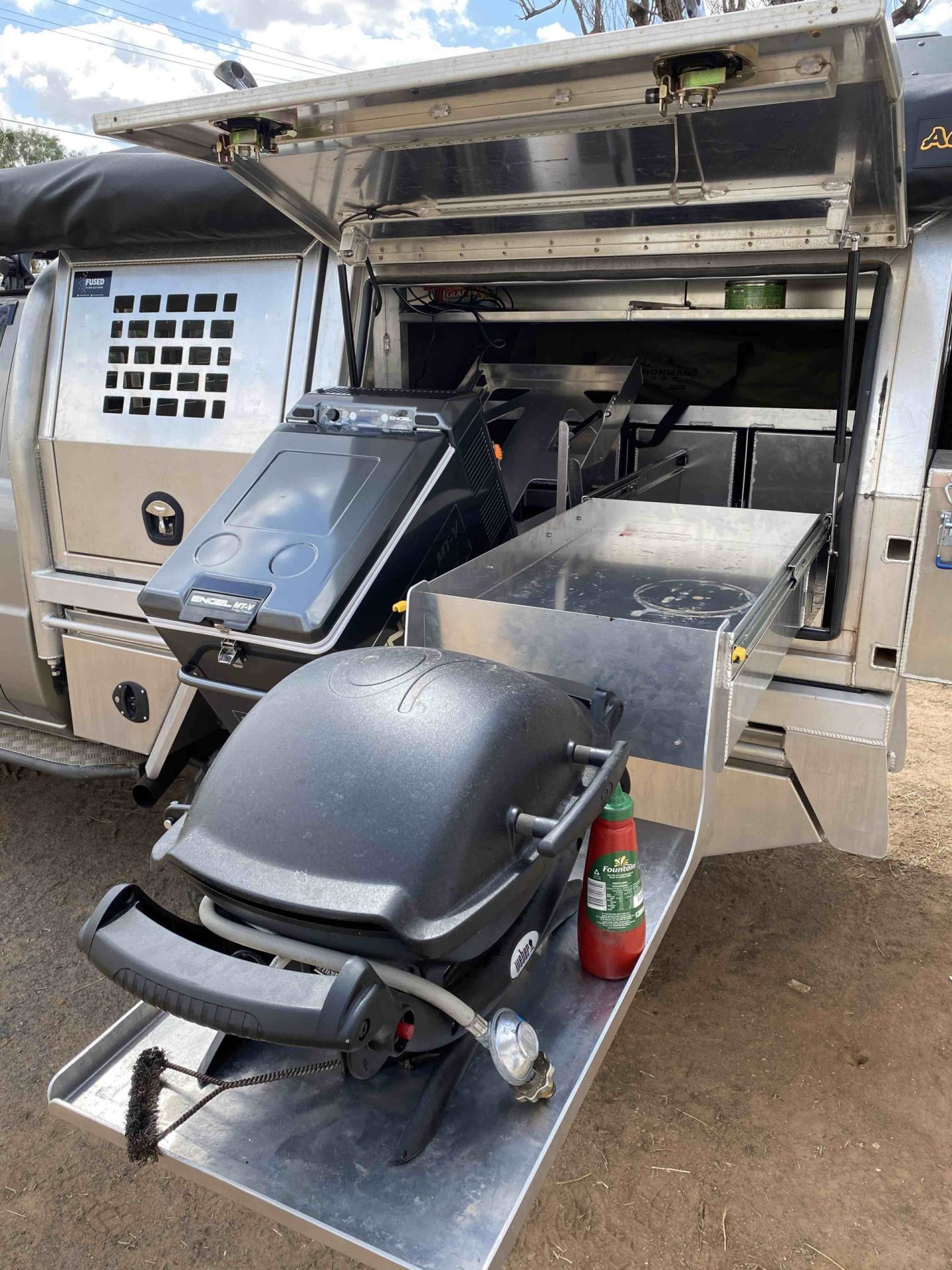 "The tilt slide is probably my favourite part," Shayden says. "He's custom-made the tilt slide… he thinks a lot about everything and nothing he does is the same, so everything in that canopy, he's never done on someone else's… he's utilised so much of the available space, it's amazing."
The toolboxes under the canopy are used to store stuff like recovery gear and spare parts, as well as lubes and oils, "Stuff that if it spills it doesn't ruin anything else," Shayden says, adding that he wanted to be able to jack the whole canopy setup off the back of the Patrol with the tent bolted to it. "If I pull up somewhere for a week, or even just a couple of days, and I want to take my ute into town or go for a beach run, I can take the whole back off."
That tent is an Alu-Cab Gen 3. It's manufactured from lightweight aluminium and features built-in cargo rails, a simple gas-strut assisted pop-up design, three-point access with a door and windows on each side, a 75mm foam mattress and internal lighting and power outlets. Yep, it's easy to set up, it's comfortable and it packs away quick.
The Patrol also sports one of Alu-Cab's 270° Shadow Awnings that provides an abundance of shade as well as wet-weather protection.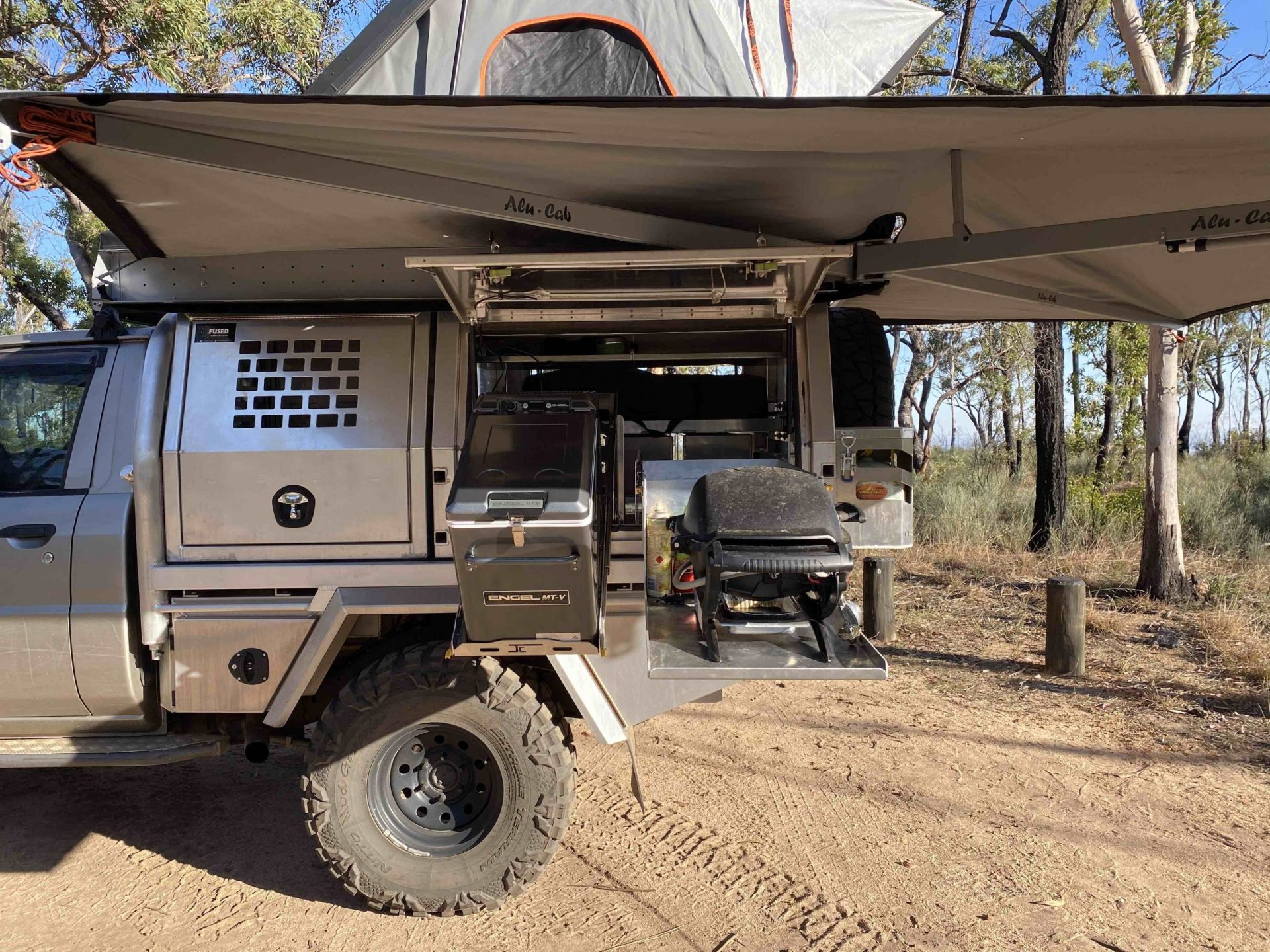 When I ask Shayden about the no worries Nissan Patrol's scruffy-looking bull bar, he laughs, "Yeah, I bought the Patrol with the bar fitted and I was looking at getting a new bar from KC Works in Brisbane, but their wait time is about nine months." S Shayden plans on cutting the bar to his liking, welding it, realigning it to suit the scrub bars and side steps and then repainting it… at least until he can find another custom bar he likes that he doesn't have to wait nine months for.
The old bull bar currently wears a pair of Ironman 7-inch LED spotties while there's a 40-inch Stedi light bar up top. "The lights saved me the other week; I nearly hit a big cow coming out of Muttaburra! It was flogging down rain and when I glanced I thought I'd seen something, and sure enough there was this big cow running across the road – I was on the anchors and into the spoon drain, and it was flogging rain," he laughs.
Shayden does a lot of mileage in the no worries Nissan Patrol and in addition to the 180-litres of diesel it could already carry, he added another 70-litre fuel tank when the canopy was being built. "It bumps me up to 250 litres and the weight is right up near the cab," he says. And despite all the gear fitted to it, the Patrol is not too heavy. "The ute weighs in at 3100kg ready to go, which is under GVM, which is what I wanted."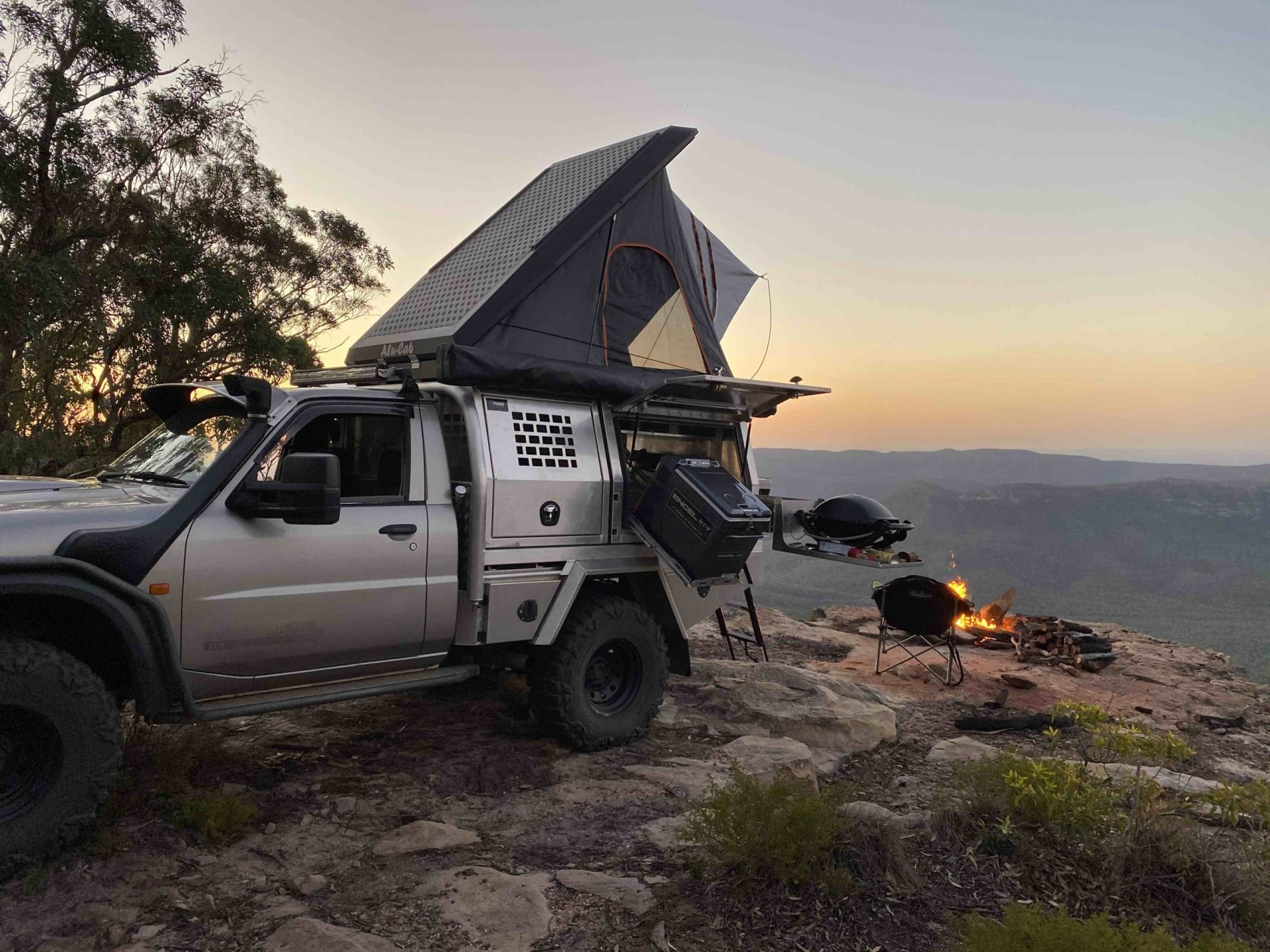 So where to now? Shayden's current job in Blackwater gives him decent stretches of rostered time off, which means plenty of time for travelling. "When I get time off I've been spending a bit of time out west in Longreach, and I went all the way up to Cooktown the other week and then back down into Undara, and from there down to Hughenden, and then we got a heap of rain there and we were planning on going to Mutaburra and then a few goat tracks from there back to Rockhampton, but we had to pull the pin on that because we got about 110mm of rain, so then we shot back down to Longreach and cruised around there and went to Lara Station Wetlands and Blackall…
And what about that awesome campsite near the cliff? Well, it's a bit of a secret, but Shayden admits it's about 200km west of Rockhampton. "It's incredible, it's amazing. I looked at it and thought 'how am I going to do this without it looking like I'm going to back off the edge'. I put a few pics up on Facebook and everyone was saying, 'geez, you wouldn't want a LandCruiser handbrake'", laughs Shayden. "It was relatively safe (with a Patrol handbrake, anyway). It was a big drop but I just stayed close to the car and stayed seated as much as I could." And not too many beers that night, we'd say.
"Most of my travelling is by myself so that's the whole reason I have so much storage and have everything on that ute, so I can just nick off for a month at a time by myself and not have to worry," Shayden says.
Yep, this is definitely a no worries Nissan Patrol.
You can check out more awesome Custom 4X4 here.