Months before it was due to be revealed at the West Virginian Farm Expo, a dodgy screen grab of the Ranger II Concept has hit the Web.
The leaked screen grab shows off the futuristic design of what Unsealed 4X4 believes could be Ford's possible answer to the Tesla Cybertruck. And with the Cybertruck racking up huge pre-orders around the world it could be a proper money-spinner for the Blue Oval if it makes it to market.
In addition to the grainy screen grab of the all-electric ute, Unsealed 4X4 has unearthed the below concept sketch from the 1960s showing that Ford is dipping into its history books for inspiration. Unsealed 4X4 has been told by its US correspondent, Ima Kidding, the futuristic Ranger II Concept offers a level of versatility not seen before with the ability to convert from two- to four-seats.
"The Ranger II converts into a four-passenger pickup at the flick of a finger. The rear portion of the cab moves 18-inches into the bed of the truck while a roof section moves up into position and two additional bucket seats fall into place," Unsealed 4X4 was told.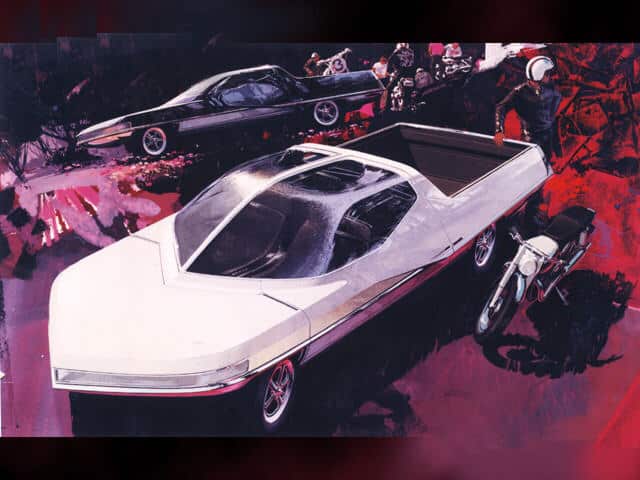 There's no word yet on what will power the Ranger II Concept but our reporter understands the powerplant of choice is nicknamed internally as, Fusion 390 which we understand is an electric powertrain offering up to 2000Nm across its four wheels.
The sketch above shows the Ranger II Concept carrying motorbikes in the tray suggesting it will be intended for use as a work-and-play machine. So, what else do we know? A little bit, for instance, the curved, two-piece windscreen with integrated doors lifts and tilts forward at the press of a button, allowing the driver and passenger to step straight into the cabin. We don't know if, like the Cybertruck, the glass is bulletproof.
Insofar as the video screen grab is concerned, we've learnt that it was taken by spy camera that was embedded in the rim of set of reading glasses of an attendee of the Ford Motor Corp Dealer Convention held in Vladivostok, Russia, so we apologise for the quality of the Cold War/Soviet/VHS-vintage quality of image. Suffice to say the Ranger II was tested on the same track, it would seem, as the Tesla Cybertruck.
If you've made it this far…
Maybe check the date, it was the least we could do while the world is going to hell in a handbasket. We hope you got a bit of a giggle out of this one, and hats off to Ford from the 60's for this actually pretty epic looking ute. Happy April Fools day!