How to poo when there's no loo, all you need to know about camping toilets
Not everyone has inbuilt toilets in their camping or caravan set up and let's face it, some of the best camping spots in Australia are far from a thunderbox. Additionally, sometimes the facilities that are on offer are too gross to even think about.
We all have to go at some point and holding it in is not a comfortable option. So in the absence of a usable dunny, how do you poo when there's no loo? Well, I'm going to show you …um … I mean tell you.
Keep reading to learn about the different toilets for camping, their pros and cons, how to find a public toilet when travelling in Australia, how to make your toilet private and how to decide who disposes of the toilet waste.
The different toilets for camping
Chemical toilets for camping
Chemical toilets for camping are the closest thing you will get to a real toilet when you're on the road. They have a holding tank for the poop and a flush tank that is usually pumped by hand. There is both a top lid (like at home) and a slide valve which you must pull out to do your business. The slide valve seals off the waste when not in use and when pulled out, ensures a swift passage from your nether regions straight down to the holding tank.
Pros
Closest thing to a real toilet
Can't see whats in there
Easy to use
Masks odours
Sturdy and can usually handle a bit of weight
Cons
Need to find an official dumping station to empty it
Need to buy the chemicals
Takes up more room than other options
BCF stocks the affordable Wanderer Portable Toilet seen in the picture below. There are a number of different chemical toilets on the market but this one is easy on the wallet and does the job it's supposed to do. The only slight downside to the Wanderer is that the handle is in an awkward spot when it comes time to empty it.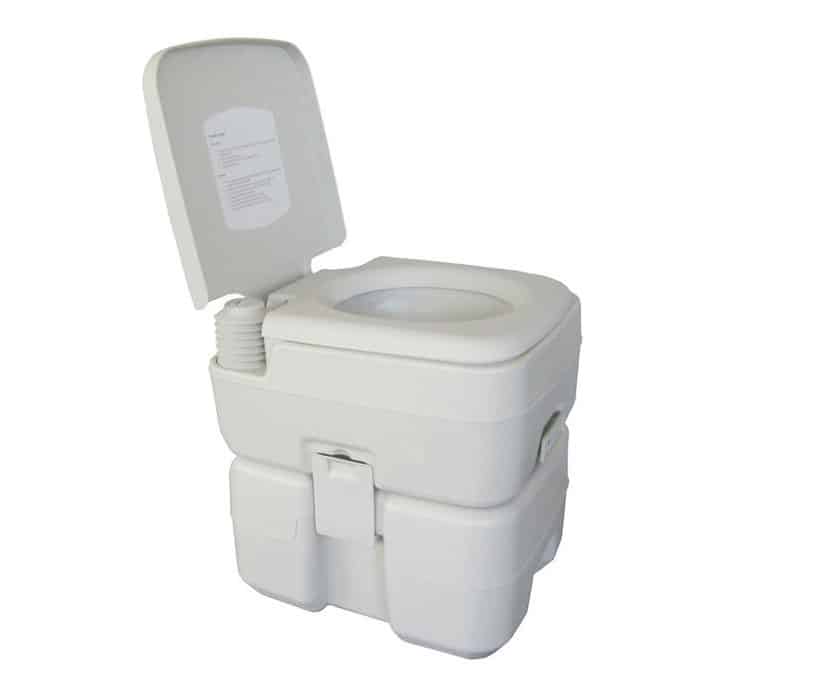 Foldable toilets for camping
Foldable toilets for camping do not use chemicals, rather your "deposits" drop down into a bag for easy removal later. They have a seat like a normal toilet but may or may not have a top lid.
Pros
Doesn't take up much room when folded up in storage
Easy to dispose of the contents
Usually affordable
Cons
Some are not very sturdy (read the reviews before buying)
Some do not feature top lids and therefore attract flys
Need to buy bags to catch the waste.
Snowys has a fantastic option in Jimmy's Thunderbox, which has great features such as an ability to fold nearly flat and a height that matches the throne at home. It can even handle body weight up to 230kg! A more cost-effective option is the Wanderer Foldable Camp Toilet at BCF. It does the job well but one important downside is that it's not very stable on soft ground where the weight of an adult tends to make the feet sink in.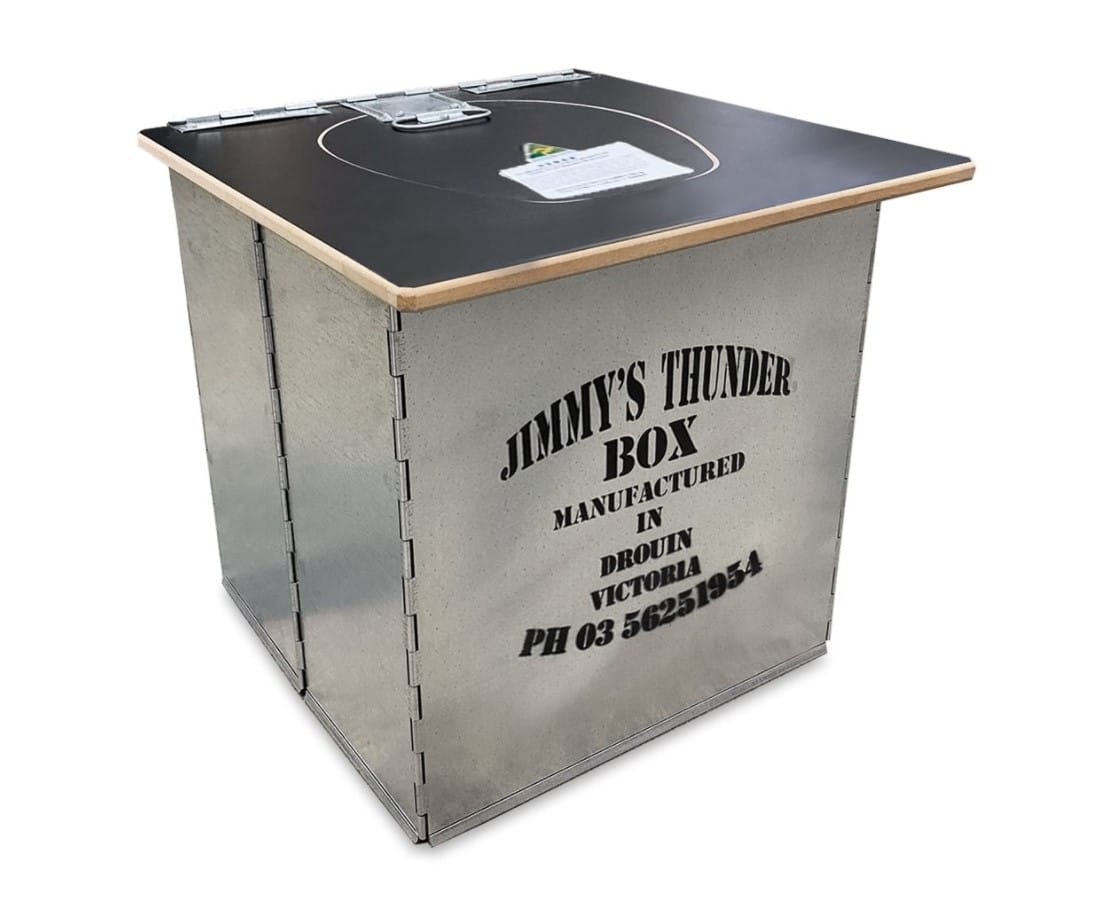 Bucket toilets for camping
Bucket toilets are exactly as they sound. It's basically a no-nonsense large bucket with a toilet seat type lid on top. The bucket is lined with a toilet bag to catch the waste which can then be easily disposed of later.
Pros
Affordable
Light weight
Easy to remove the waste afterwards
Cons
Not the most comfortable option (but it could be worse!)
Need to purchase toilet beags
The well known Thunder Down Under bucket toilet pictured below can be found at tentworld.com.au.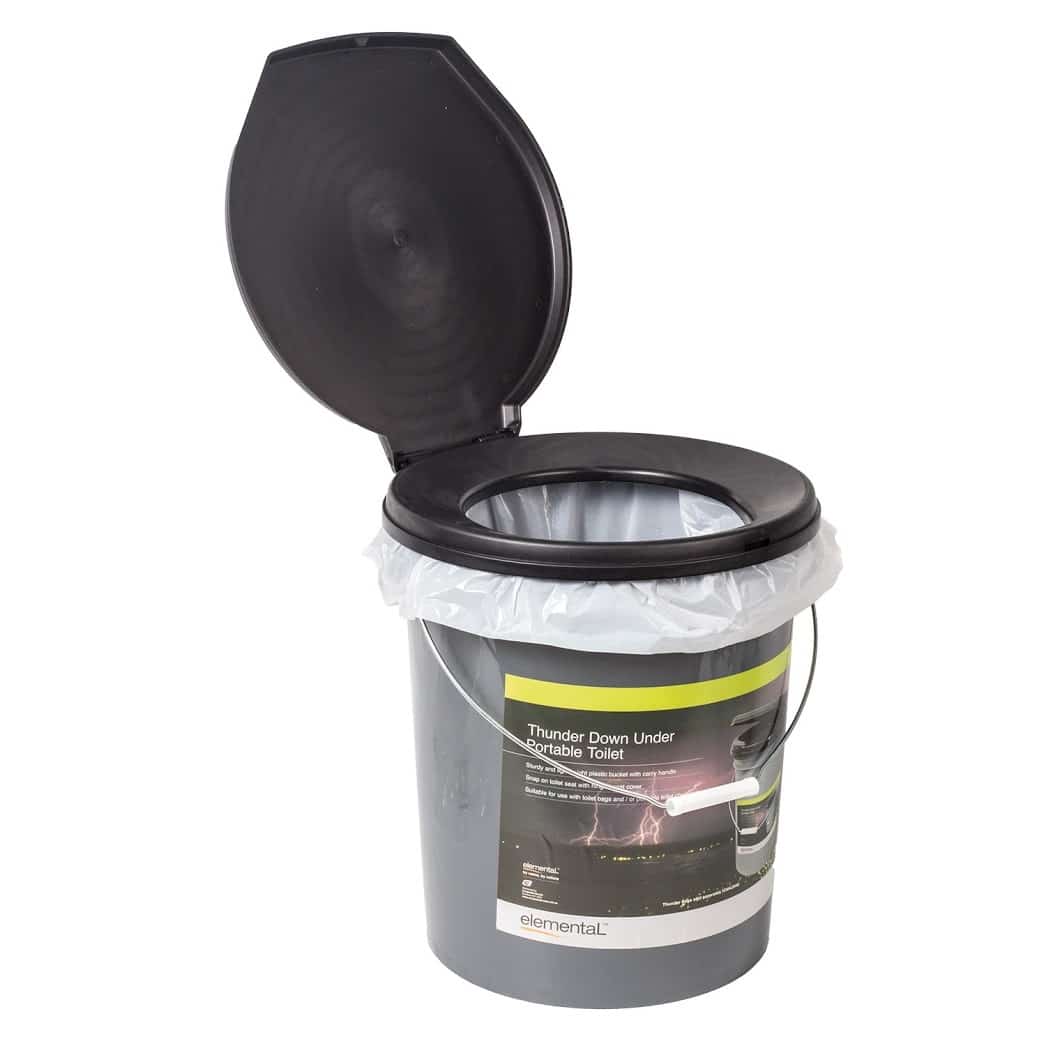 Doing it the old fashioned way
When all else fails (like when you forget to pack the toilet), you can always do it the "old fashioned way" by digging a cat hole aka poop hole. However, if you are going to do it the old fashioned way, make sure to follow the rules for outdoor pooping etiquette listed below. There is nothing worse than arriving at a campsite to find crap stained toilet paper littering the ground. Ewwwwwww …don't be that person!
Five simple rules for digging camping toilets:
You hole should be at least 150 metres from camps, trails and water sources. If you're in croc-country, be extra careful. Check out our article on camping in croc country for a few extra pointers on being safe. Nothing like spotting a croc to help move things along!
It should be at least 30cm deep.
It should be wide enough to account for bad aim.
Burn your toilet paper or pack it back out with you.
Fill the hole back in when you're done!
If you can't find suitable poop real estate to dig your hole you should consider packing it out with you. Which in some cases, can be even easier than digging a hole in super hard ground. Try these wag bags for those times when you need to pack it back out. They come preloaded with toilet paper, hand sanitiser and a biodegradable solution that apparently breaks down the waste inside the bag. You awkwardly do your business, zip it up and put it somewhere safe until you can find a bin…
…or someone's doorstep. Just kidding!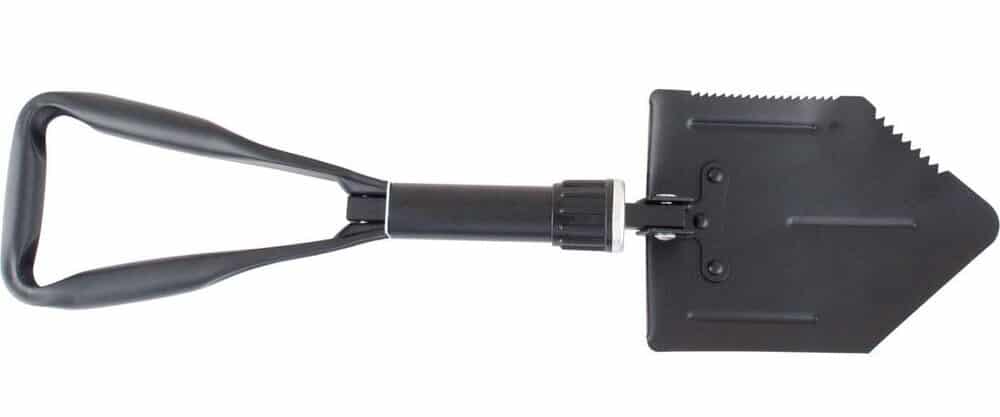 How to make camping toilets private
With the exception of small children, nobody likes eye contact when pooping. Here's how to improve your privacy while doing your business when you're on the road.
Find a temporary spot in your existing set up
If you have a camper or caravan set up and it's only you and one other, you can drag the toilet in, kick your other half out, do your business and pack it away again. Travelling families will find this tiresome as they'll be dragging the damn thing in and out every 20 minutes.
Invest in an ensuite tent
Ensuite tents are a dime a dozen and are sold at most camping stores. They are usually sold as pop up tents or poled tents. Just remember to peg it down to save you the embarrassment of it blowing over while you going number two.
Hide it behind some bushes
For more remote camping locations, find a nice set of bushes with a great view and go for it.
Hook up an ensuite awning
The 4WDSupasecentre has brought out an instant ensuite awning and I think it's just the bee's knees. With an open floor, it can easily be used as a shower screen as well. I haven't had a chance to get my hands on one of these yet but the only downside I see to this is that if your car has a lift kit and bigger tyres like mine, then people will see your ankles while sitting on the toilet and will know what you're doing in there. Does it matter? Not really.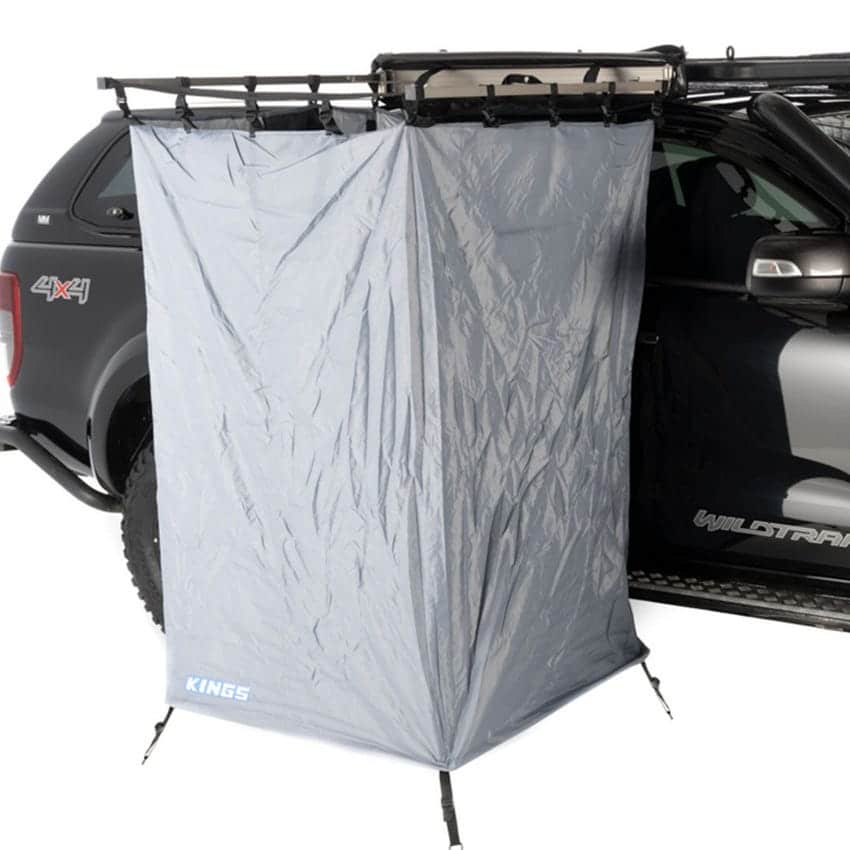 How to find public toilets in Australia
Some clever people at the Australian Government Department of Health set to work creating a National Public Toilet Register Map app for your phone. The app provides info on over 19,000 public toilets across Australia and even includes information on accessibility, opening hours and whether there are showers, baby change tables and sharps disposal.
It's smart enough to find nearby toilets, search for toilets in a place you plan to visit and can even give you directions on how to get there. Get the app from the official National Public Toilet information site.
How to decide whose job it is to dispose of the waste
Well, the general rule is that whoever uses it first has to empty it out. This usually works well in my favour because as a mother, I have become somewhat of an expert at going to the toilet when I can and not when I need to. I know, I know, that doesn't sound healthy, right? However, if you have young kids then you know exactly how hard it is to poop when a little person is making eye contact with you from less than a metre away so you just learn to go when the opportunity arises for five minutes to yourself. My husband on the other hand, has trained his body into clockwork perfection (I suspect this is to avoid portaloos on job sites) and must go at the same time every day. So, all I need to do is hold out until 3 pm.
I usually win.
Of course, you could always play "rock, paper, scissors", be the first to yell, "I dibs not" at the top of your lungs, or even resort to outrageous bribery.