A mate recently asked me which swag he should buy. It got me thinking. I've spent a lot of nights under canvas and I reckon I've worked out what the most important considerations are when forking out your hard-earned cash. Having a swag that suits you really does make for a great night's sleep, which can make the difference between a great trip that makes you feel like a million bucks and arriving home feeling like you've just gone a few rounds with an MMA champion. So here are seven tips for making sure you invest in the right swag for your needs.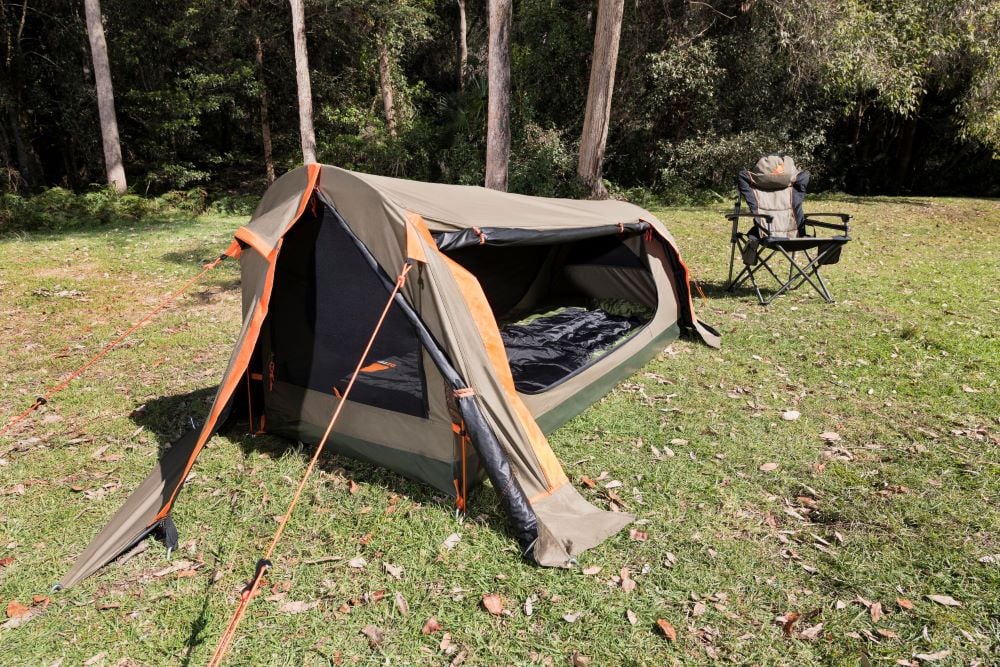 1. You get what you pay for
In so many situations this rings true when you're travelling. When you're retiring from a long day on the road, you want to look forward to your sleeping arrangements. Is that $100 swag from the local disposal store going to keep you comfortable when you need it most? Probably not. Make sure you set your budget appropriately. Single swags range from around $100 to more than $600 for a high-quality Australian-made swag and doubles will go for a little more. A swag is something that, treated right, will last you for decades. It pays to spend a little bit more.
2. Style
Are you happy to rough it or do you like a bit of space? If it's the former, you'll benefit from a quicker set-up time, but you'll lose out on head and foot room. There has been a big movement towards dome swags of late – with a similar set-up to dome tents, they give you more space inside than a conventional swag. Brands like Darche even do an inflatable swag. Other options include an 'apex' style that uses a single-pole to support the head end of the swag; this can be a little claustrophobic for some people. Or there is the traditional style that has a single eyelet at the head end to string the swag to a tree.
3. Size does matter
Is it going to be just you sleeping in the swag, or are you sharing with a loved one? Double swags (190-230cm long and 110-130cm wide) are great for couples, but remember you have to transport the swag, and starting at 1.9m long this can be a little difficult; a roof rack is required in most cases. Single swags (180-230cm and 60-90cm wide) are much easier to transport. Then there are King Single Swags (190-230cm long and 90-115cm wide). The next dimension to consider is the headroom. More is always better, it allows you to get better organised and feel a little less restricted. Somewhere around 70cm head height is quite comfortable.
4. Construction
It gets very confusing when trying to compare materials that swags are made of. The most important things to consider are the material (cotton or synthetic), and the weight of the canvas – measured in GSM (grams per square metre) or ounces. The thicker the canvas the more weight you are carrying, but the better the insulation and waterproofing – it'll likely last longer. The other consideration around construction is the floor; this becomes a personal preference. The options are PVC (doesn't last as long, but is completely waterproof) or a heavy canvas (will be waterproof to a point but lasts longer than PVC). If the swag you are looking at uses Australian rip-stop cotton canvas at around 15 ounces, you are good to go; but the choice between canvas and PVC floors is largely a personal one. And then there are the zippers. 10 heavy-duty YKK spiral or coil zips are the best.
5. Going for that million-star experience?
There is nothing better than going to sleep under a clear, starry sky without getting eaten by bugs of all shapes and sizes. It's important to consider the layer arrangement. Typically, the outer layer is canvas and the inner layer is a fly screen. How these are brought together is the important part. There is nothing worse than fumbling through a million zippers in the middle of the night when you're busting for a little relief. If you can, try a few different models and see what works for you. The simpler the better.
6. Mattress
Swag mattresses typically come in a 50mm or 70mm thickness. This will affect the size the swag rolls up to and, more importantly, the quality of sleep you will have. There are some manufacturer-specific styles of foam, such as eggshell or ripple. For us, the 70mm is a must, but the ripple foam is also quite nice. Another thing to consider is a swag that uses a thinner foam at the foot's end. This allows for a smaller roll-up and provides almost as much comfort.
7. Transport and storage
How are you going to move your swag around? Is it going inside or is it going on a roof rack? This is important because you may need to consider a little extra protection from dust and rain if it's going on the roof. Check to see if the swag you are buying comes with a 'swag bag', or if the manufacturer makes a suitable one. This could save you from a wet night's sleep.