The Camp King Tub Topper has been on-sale in the US since 2018 and is now available Down Under for the Ford Ranger and Toyota HiLux from $5000.
After wowing visitors to SEMA in 2018, the Camp King Tub Topper has been selling like hot cakes in the USA. It's now finally available Down Under with the Ford Ranger and Toyota HiLux the first vehicles to benefit – this is the only Australian-designed and made tub topper on the market. It lists from $5000.
And there are more vehicles in the pipeline. Camp King told Unsealed 4X4 it's working on tub toppers for the Holden Colorado, Nissan Navara NP300, Volkswagen Amarok, Mazda BT-50 and Dodge Ram 1500.
"Each topper is handmade on site by our qualified tradesman. We have sourced the highest quality fittings and fixtures to ensure product longevity and functionality, Camp King said. "Our toppers are the perfect addition to your touring vehicle and are compatible with our Camp King Industries Roof Top Tent."
The Camp King Tub Topper features three gull-wing style doors that are powder-coated for protection (you can have powder-coated in either black or white, or cost-optional two-pac to match your vehicle), all cuts are CNC Laser Cut and Folded for accuracy with all joins TIG welded inside and out. The tub topper is constructed from 3mm aluminium and weighs 70kg with a static weight limit of 300kg. In terms of size, it measures 1600mm wide and 1550mm long for the Ford Ranger and 1585mm long for the HiLux.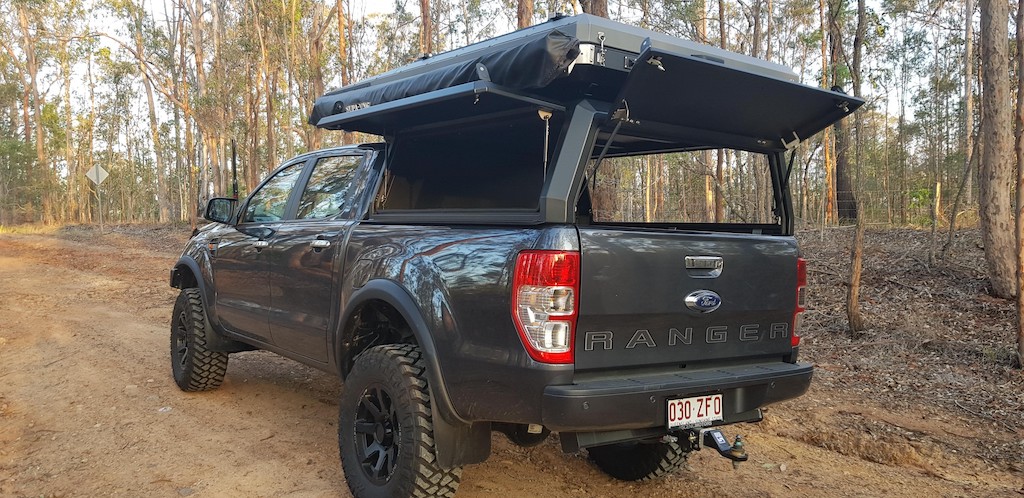 The Camp King Tub Topper comes with a five-year warranty and unlimited aftercare support and is available with a range of cost-options like the two-pac paint, Camp King top rail kit, windows with or without screens, internal drawer units, rear brake light and even a Camp King roof top tent (as per the picture hereabouts).
As far as installation goes, the Topper can be installed at home and comes complete with all the seals, latches and bolts (and instructions) to mount the thing. Or if you're in Brisbane, they'll install the thing at their head office in Crestmead. Check out the video from Camp King showing off its new Tub Topper.
Get articles like this and more delivered to you every week. Simply join our Facebook page to talk about this article and subscribe to our newsletter for weekly updates (it's free and filled with 4X4 goodness).