Just launched onto the Australian market, Unsealed 4X4 has been running a set of Firestone Destination M/T2 mud-terrain tyres. Here's what we think so far (5000km).
Firestone (a subsidiary of Bridgestone) quietly launched its Destination M/T2 in Australia at the very end of last year, and they just happened to hand the very first set that landed in the country (in 265/70R17LT flavour) to Unsealed 4X4 for a flogging. If you want to know the specs, they're all at the bottom; the next part is our initial impressions of what they have been like across the first 5000km.
First thoughts – Design
The Firestone Destination M/T2 are aggressive. And, based on first appearances, you could be forgiven for thinking there's no real technology, design or development gone into the things; just gigantic tread blocks to grab whatever they can to help grip and go. But, once you start looking closer you notice there's actually a hell of a lot going on. There are offset shoulder blocks, rather aggressive sidewall lugs for gripping against ruts, the blocks are cut at 23-degrees to give the best slip resistance while still maintaining a semblance of on-road behaviour, and the whole tyre looks like it's been designed to bite no matter where it's pointing. Then there are the water ejecting sipes, mud ejecting ridges/ribs to throw the mud and stones out of the tread blocks; nope, technology is absolutely not lacking, despite those monstrous tread blocks adorning the face.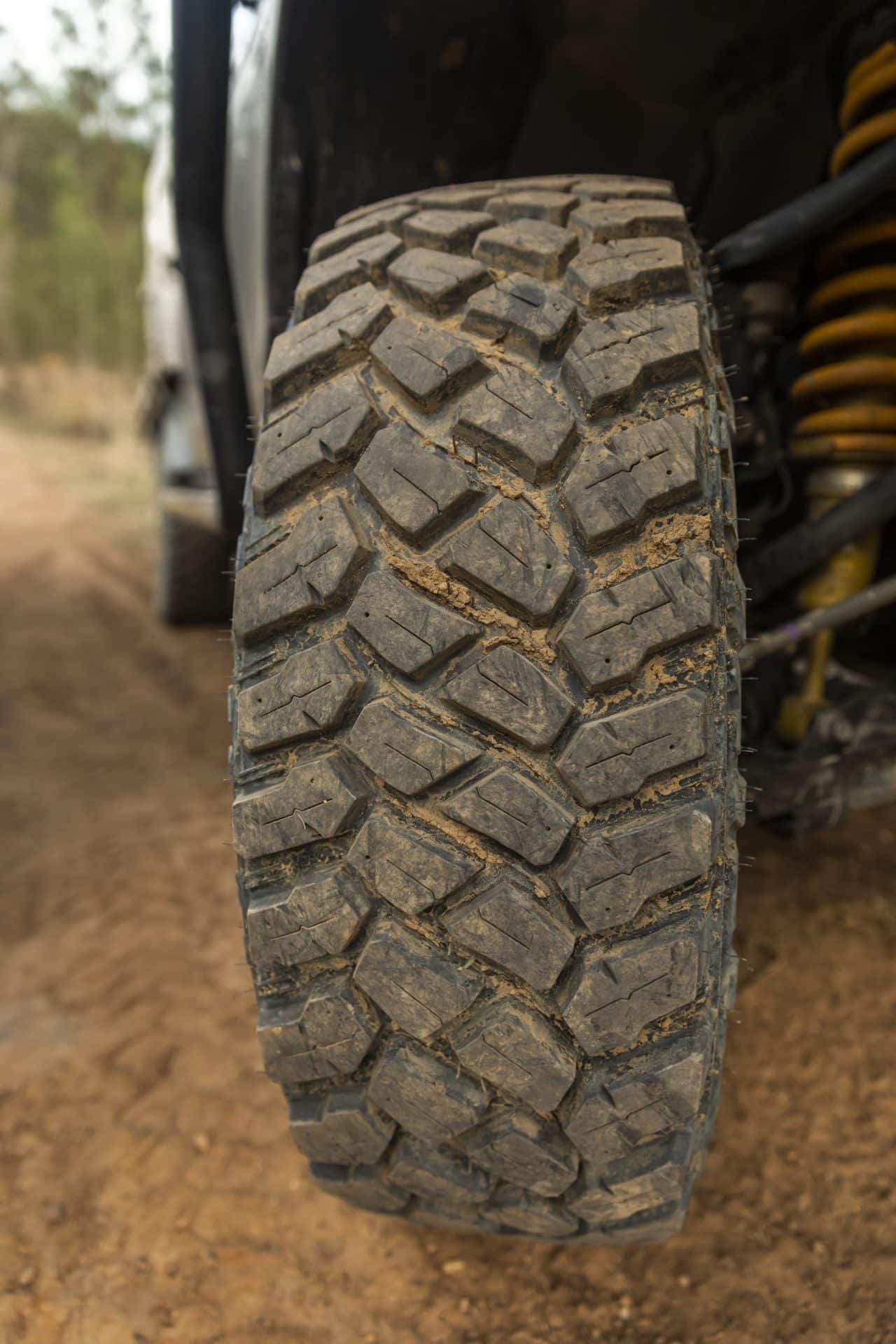 Driving: Bitumen
The Firestone Destination M/T2 got put on at the Bridgestone Service Centre just down the road from work, in the guts of Sydney. I live out the back of Newcastle; so it was a solid 150-kilometre drive home after fitment. And that first 150km was interesting, especially considering I was replacing a set of Highway-Terrain tyres on the HiLux (OEM Dunlops). For the first 50 kilometres, they were a bit wandery on the blacktop, with the tread a touch 'squishy', as you'd expect from a mud-terrain with tread blocks as big, aggressive and deep as these are. But, after that, they settled down, found their 'groove' and behave better than most muddies I've run over the years, but let's face it, we don't run muddies for their on-road performance, right?
As for the road noise, they're a little noisy, but certainly not a deal-breaker for me. As comes with the territory, muddies are inherently noise on the road, due to the gappy tread blocks; all the things that make them amazing for traction, make them horrid for road noise. They're not nearly as bad as they could be, and with 5000km on them now, they're not nearly as loud as the old Coopers I have on my 80 Series that howl their head off, to the point of making me wonder if I've got a wheel bearing three-parts through collapsing. Can't talk about their wet road performance just yet because it's been so, so dry around the country. But, stay tuned.
Driving: Off-road
This is where these things absolutely killed it. Even on my independent front-ended HiLux 'Dusty', the Firestones did well. Everything I pointed it at that was entirely down to traction; they ate it up. No slip, no slide, and they clawed quite happily out of muddy ruts, too. They dragged Dusty up the rock shelves I've pointed it at, and despite needing the factory locker from time to time, they've not torn up the tread at all; which was rather impressive considering I was often dragging the inside wheel around corners on the tougher bits.
On sand is a different story, however, but we all know that muddies aren't the greatest in sand simply due to wanting to claw the sand out, rather than roll over the top. That said, once they were deflated down to 14psi, they elongated their tread nicely, and rolled over everything I pointed them at on Stockton Beach.
On the typical dirt roads I drove on to and from the harder tracks, they held on well to the gravel and took quite a bit of pushing to lose lateral traction. When they did end up hitting the limits of their sideward traction, it was gentle and progressive, not breaking traction, kicking sidewards and the rest being up to the gods. The 3-ply sidewall gives a solid amount of puncture resistance, and rigidity to the tyre, but allows it to flex nicely over rocks, tree roots, and small boulders.
Final thoughts
With just over 5000km on them, I'm impressed with the Firestone Destination M/T2 (the M/T stands for Maximum Traction too). These tyres have been around for some time in the US where they seem to stand up well against key competitors in some of the tyre tests I've seen. We've got plenty planned with these tyres including a comparison test (can't say too much more or else the boss will kill me) but I'll be back with another update after we hit 10,000km on the Firestones. Stay tuned.
The Tech Specs
Sizes Available:
32X11.5 R15 LT
33×12.5 R15 LT
235/85 R16 LT
245/75 R16 LT
285/75 R16 LT
315/75 R16 LT
265/70 R17 LT – These are the ones on Dusty the HiLux.
285/65 R18 LT
Key Features:
3-ply sidewall;
Sidewall upper lugs;
Staggered shoulder tread blocks;
23-degree tread angles to improve biting;
Increased biting edges;
Water sipes; and
Mud and stone ejector ribs.
Get articles like this and more delivered to you every week. Simply join our Facebook page to talk about this article and subscribe to our newsletter for weekly updates (it's free and filled with 4X4 goodness).