Your guide to bull bars
You want your vehicle to look good, right? Me too. But for the love of all things 4WD, do NOT base your bull bar buying decision solely on aesthetics! It's far more important to choose a bull bar for its intended usage.
The main purpose of a bull bar is to provide a layer of defence in a front-on collision. Skippy can do a hell of a lot of damage to your front end if he jumps in front of your vehicle. However, bull bars are also used to mount driving lights, winches and other necessities.
There is a range of important factors to consider when choosing your bull bar, from your intended type of driving to what you need to fit on the bar and your vehicle's existing safety system. To make things easy, we've compiled it all below. Read on to discover everything you need to consider when purchasing a new bull bar.
What to consider when getting a new bull bar
Materials: pros and cons
The majority of bull bars are made from steel, aluminium or plastic.
In general, steel is the superman of bull bars and is your best protection on outback roads against kangaroo collisions and other mishaps. The major downside to steel is that it's really heavy and can unduly affect your suspension and weight. This is where aluminium bull bars come in. Alloy is strong but is much lighter than steel, therefore providing less wear and tear on suspension and tyres. Plastic is another alternative but it doesn't have the clout of alloy and steel when it comes to a collision. The benefit of plastic bars is that they are corrosion-resistant and can often return to their original shape after a minor collision.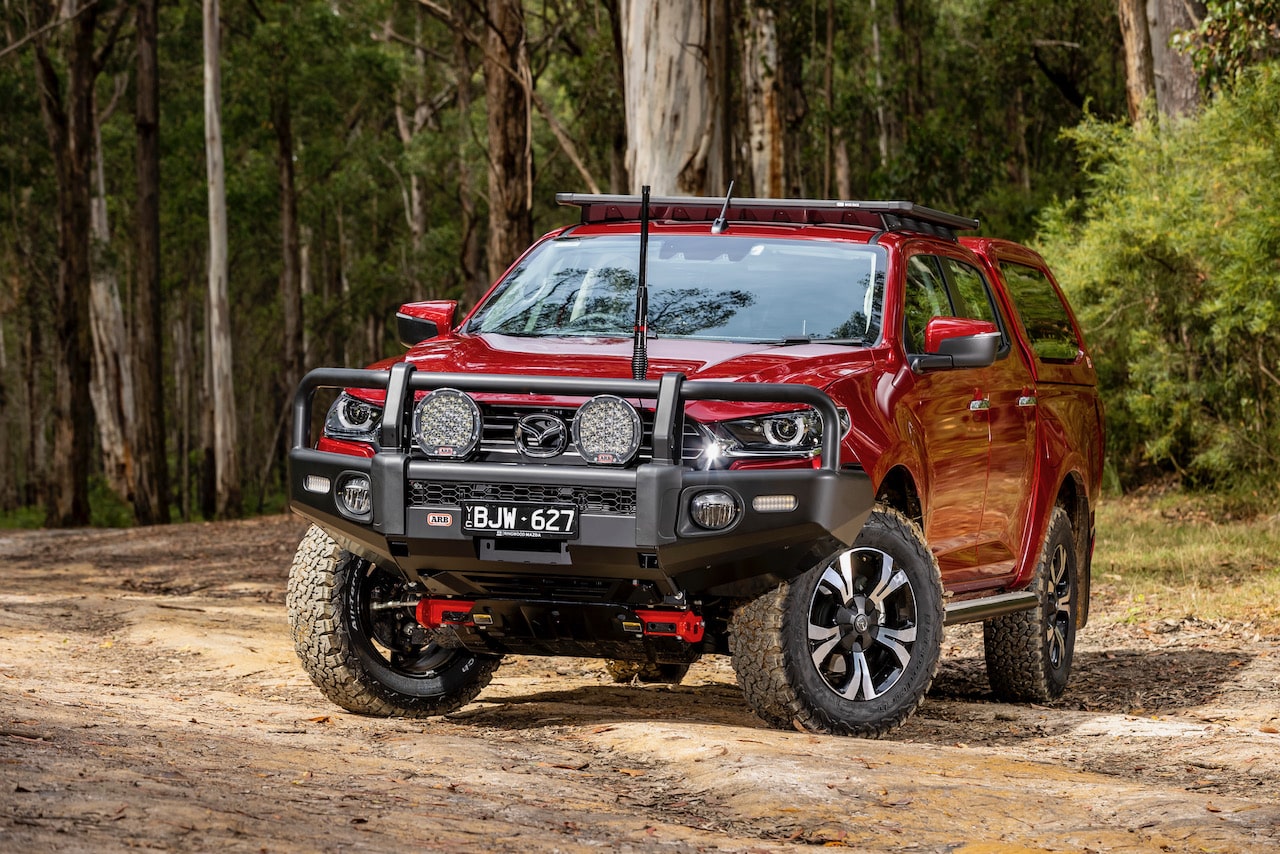 Steel bull bars
Pros
Strongest bull bar material
Offers the best protection against larger animals
Reasonably priced
Requires little maintenance
Cons
May need to upgrade your suspension
Aluminium bull bars
Pros
Lightweight so less wear and tear on your vehicle
Doesn't rust
Good strength
Cons
Expensive
Requires extra cleaning and polishing to look good
Plastic bull bars
Pros
Light
Cheap
Can push it back into shape after a light impact
Cons
Weakest of all the materials
Good for debris and light brushing only
Prone to sun damage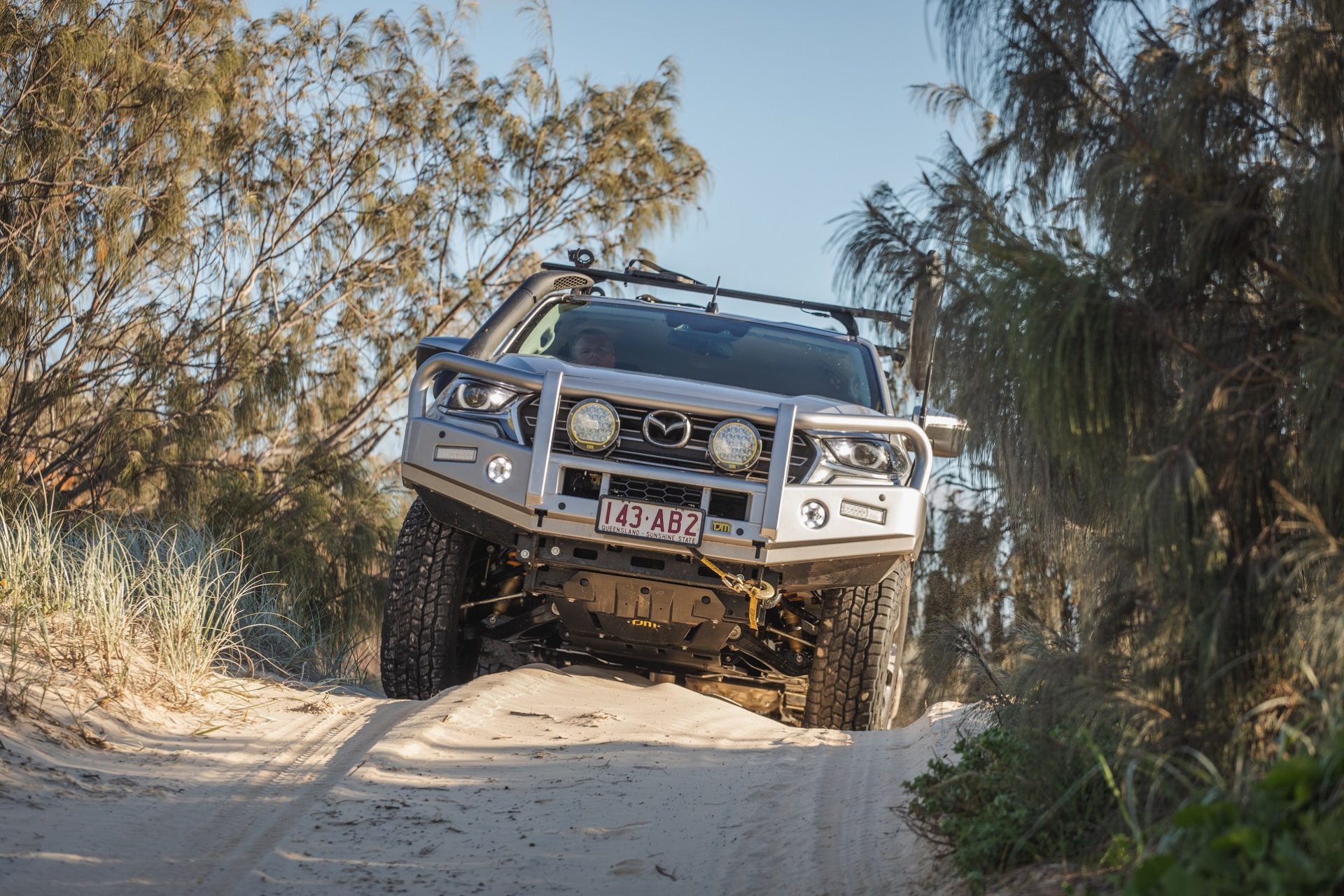 Which bull bar materials should you choose?
Well, ultimately this is a personal choice. Most 4WD enthusiasts still go for steel, with the advantage of strength and affordability outweighing the downside of increased weight. However, if you only venture onto rural roads every now and then or rarely manage to get off-road, an aluminium bar is a great option. Plastic is really only suited to city drivers.
Choosing the right style of bull bars
Although there are a few different bull bar styles, the same style can look vastly different when fitted on various vehicle models. In general, there are six different styles of bull bars: single hoop, triple hoop, bumper bar, nudge bar, competition bars and baja bars. Triple hoop and single hoop are the most popular with regular 4WD enthusiasts.
Single hoop
Single hoop bull bars provide a compromise between protection of your front-end and weight. They feature just a single hoop over the grill to protect your radiator.
Triple hoop
Triple hoop bars weigh the most but offer the maximum amount of protection. They are best suited for roads where animal collisions occur frequently.
Bumper bar
A bumper bar is a basic type of bull bar and although it's better than relying on your fender to save itself, it's not as useful as a triple or single hoop.
Nudge bar
A nudge bar is fairly useless when it comes to a substantial kangaroo hit. It's designed for light impact such as navigating through foliage and debris. I suspect some people get them for looks rather than function.
Competition bar
Competition bars are generally used for off-road competitions. They are easily removed but when it comes to animal protection, they lack protection.
Baja bar
Baja bars are similar to a bumper however, they have the added bonus of extra reinforcement in the chassis so they can be used with winches. They were designed for off-road competition and are not recommended for general road use.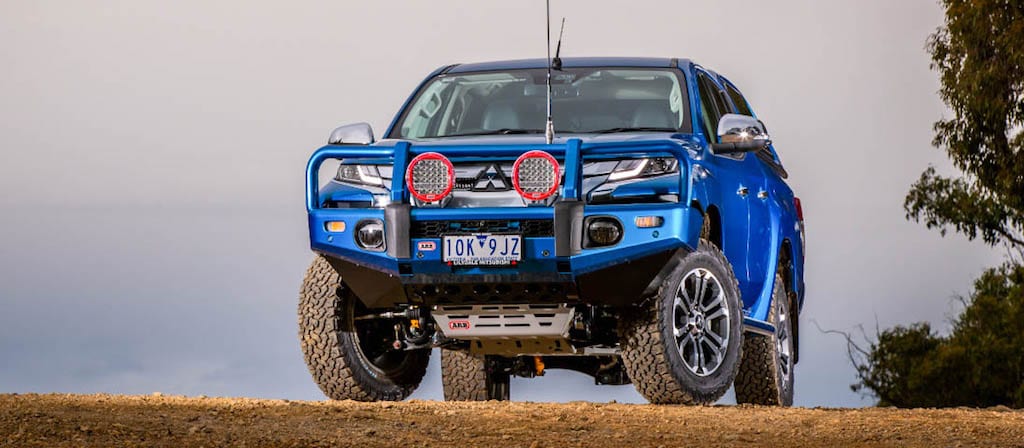 What style should I get?
Well, again it's a personal choice depending on where you intend to drive your vehicle. If you plan to head off-road a lot then I recommend a single hoop. For long-distance driving, the triple hoop offers the best protection against animal collisions. If you plan to do crazy four-wheel-driving (up and down near-vertical drops), then a competition bar will probably be for you.
Regardless of which design you go for, make sure to get one that is specific to your vehicle model as this means the contours of the bull bar will match your vehicle.
Accessories and safety
Bull bar decisions don't end with material and style, you also need to think about winches, airbags, accessories and more. Here's what else you need to consider before committing to a bull bar.
State rules
Bull bar rules and regulations can change depending on where you live in Australia. Before you start kitting out your vehicle, be sure to read up on your state's laws (or any state you intend to travel through).
Winch
Not all bull bars can have a winch mounted on them so you need to specifically ask for a winch bar. A winch bar has the strength to mount a winch but it doesn't rip it off when put to use. Many four-wheel drivers prefer steel when it comes to winch bars as it provides peace of mind that it will have all the strength required. However, it's important to note that not all steel bull bars are winch bars.
Airbags and other safety equipment
If your vehicle has airbags (which all new vehicles do) you will need to make sure your bull bar has a mounting system suitable for your airbags. Safety features that rely on sensors and cameras such as lane departure warnings, emergency braking and parking sensors can be adversely impacted by the wrong bull bar so you need to make sure it's compatible with them also.
Accessories
If you plan on adding driving lights, antennas, light bars and other accessories, you will need to make sure there is room for it. Many bull bars have holes pre-drilled specifically for driving lights.
Bull bar brands
Below is a list of Australia's top-quality brands to shop from. ARB, TJM and ECB all have great, easy-to-use websites. All you need to do is select your vehicle model and you'll be directed to the relevant products suited to your needs.
ARB – ARB has been around since the 70's and today, is Australia's largest manufacturer and distributor of 4×4 accessories.
ECB

–

East Coast Bullbars are the oldest bull bar manufacturer in Australia and have always been 100% Australian manufactured.
Psssst – Now that your bull bar is sorted, it's time to hit up some outback roads. Try the Plenty Highway or Diamantina National Park.