Shorty wars: Suzuki Jimny vs. Jeep Wrangler
There was a time when shorties were thick on the ground but these days there are only two options for those who prefer a fun-size fourby over a family tourer. Here they are in Unsealed 4X4's latest head to head: Suzuki Jimny vs. Jeep Wrangler.
Why are we comparing them?
The Suzuki Jimny and Jeep Wrangler are currently the only two-door, short-wheelbase new 4x4s on the Aussie market. This will change with the launch of the two-door Defender but, until then, these two are it.
The long-awaited new-look Jimny arrived in Australia at the start of 2019 and proved a sales success from the get-go, selling at a rate of around 120 units a month ever since. That number could have been higher had it not been for worldwide demand outstripping supply, and many Jimnys were sold way above the official list price of $23,990 in 2019. In fact, drive-away pricing on a new Jimny manual is around $30K while an auto variant will set you back almost $33K.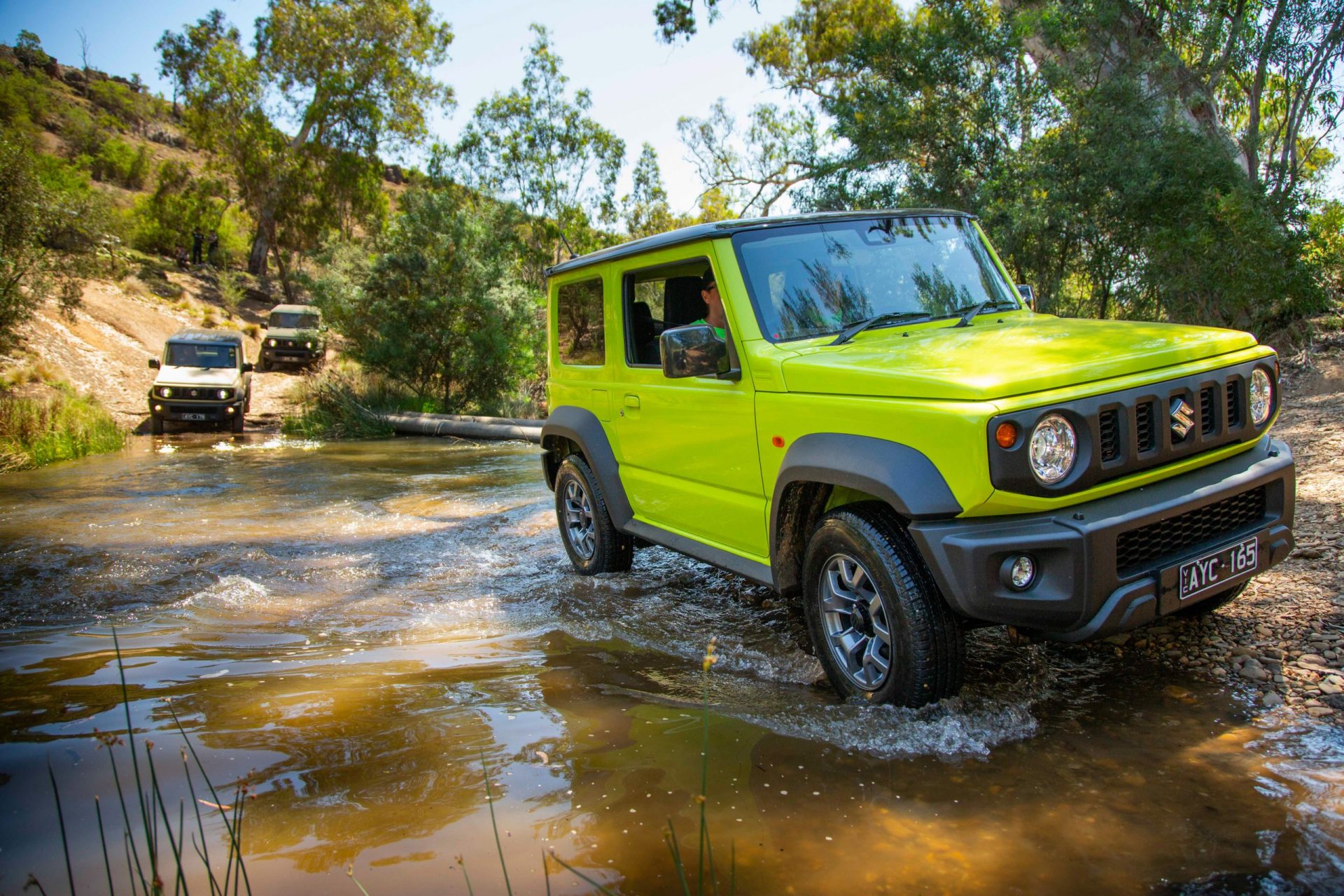 As with the previous-generation Jimny, and Sierra before that, the new model is ripe for modification and a number of aftermarket accessory manufacturers have developed equipment to suit it including suspension kits, bar work roof racks and more.
The new JL Wrangler also arrived in Australia in 2019 and despite obvious styling similarities and some mechanical carry-overs with its predecessor Jeep referred to it as a new vehicle.
In two-door guise, the Jeep Wrangler Sport S costs $48,950 and the Overland costs $59,450; which equates to around $52K and $60-62K drive-away respectively.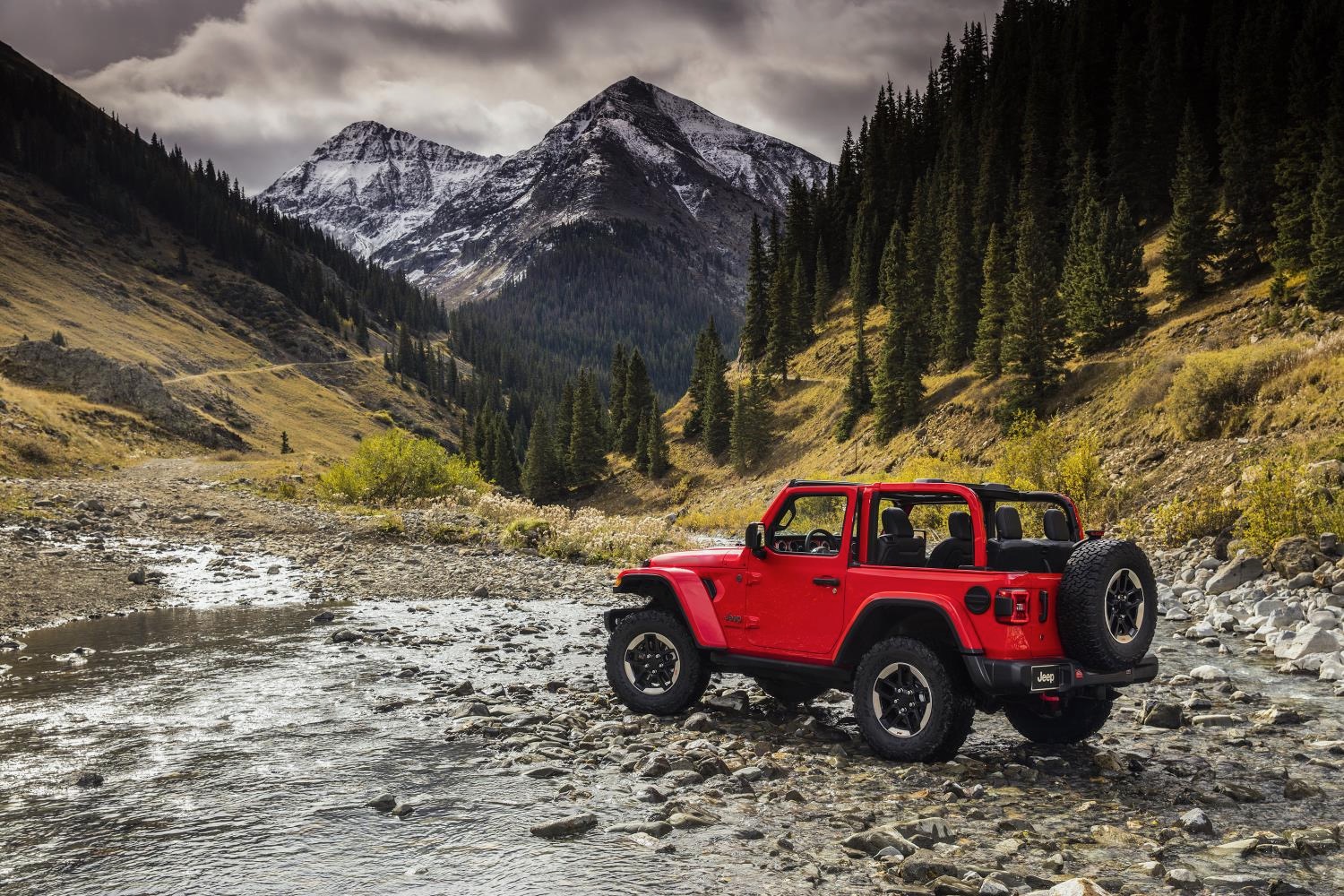 Out of the box
Despite its new bodywork, the Jimny retains the basic architecture of previous models, which includes a separate ladder frame chassis and live axles front and rear with coil springs. It's small, it's light and hardly high-tech, but these attributes are what make the Jimny work so well off-road.
The Jimny, which is only available in one trim level, is powered by a 1.5L four-cylinder petrol engine that makes a modest 75kW at 6000rpm and 130Nm at 4000rpm, and this can be mated to either a five-speed manual gearbox or a four-speed auto, with a two-speed part-time 4×4 transfer case. While peak power and torque outputs aren't that impressive, and they occur high-up in the rev range, the Jimny manages to get along at a reasonable clip thanks to its light weight (1075kg manual and 1090kg auto) and relatively low gearing.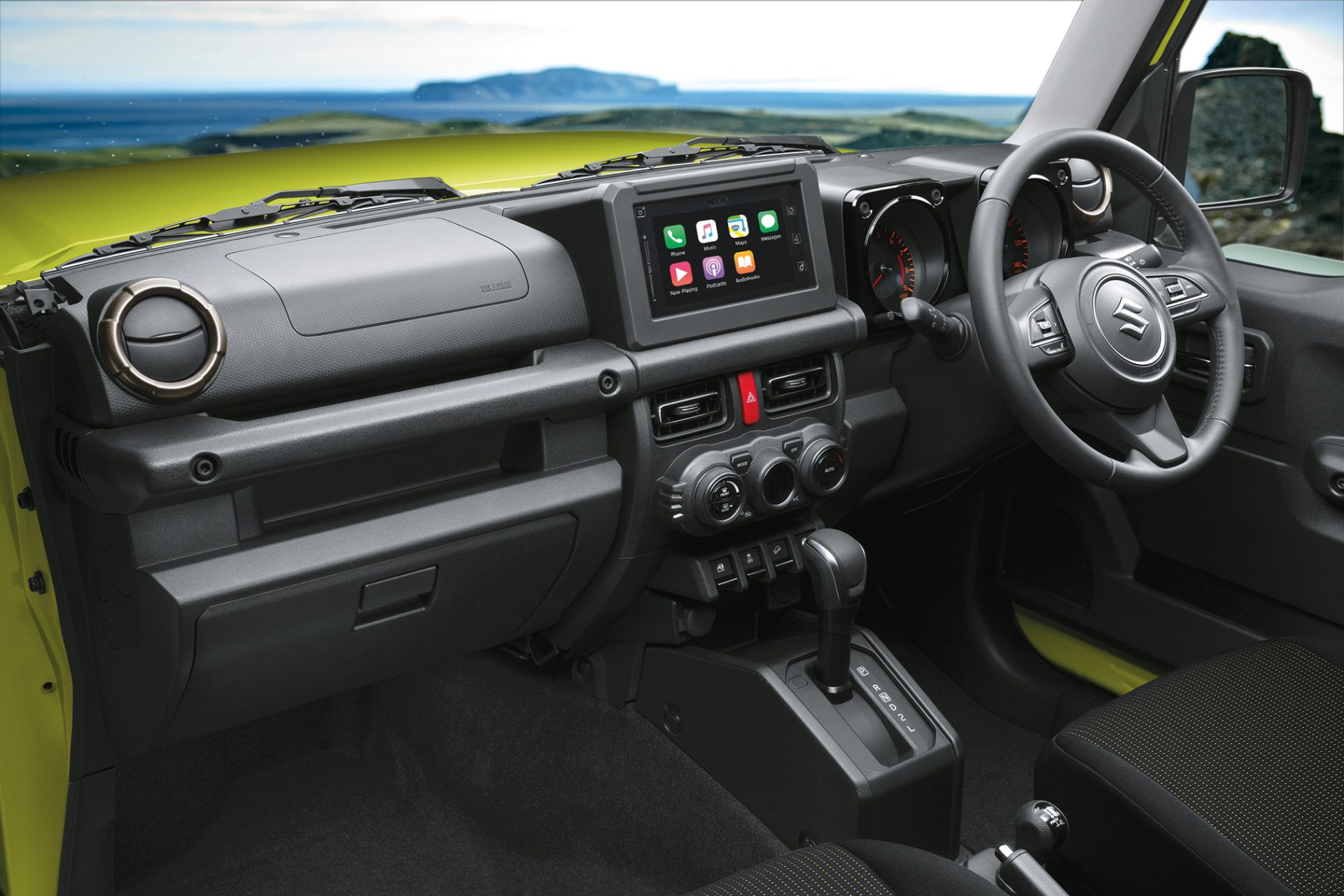 The manual Jimny is the pick for fun on-road driving thanks to a light clutch and slick-shifting short-throw gearbox, but the auto is better for highway touring thanks to a taller and therefore more relaxed top gear.
Standard equipment includes a two-speaker sound system, colour touchscreen with Apple CarPlay/Android Auto, satnav, cruise control, basic trip computer and tilt-adjustable steering wheel.
On the safety front the Jimny has ABS with EBD, ESC, autonomous emergency braking, lane departure warning, hill hold, hill descent control, reversing camera, auto-levelling LED headlights with auto on and high-beam assist, DRLs and fog lights, two ISOFIX and tether child-seat anchors, and front, side and curtain airbags.
Like the Jimny, the JL Wrangler also runs a separate ladder frame chassis and live axles front and rear with coil springs, but it's significantly larger, and heavier, than the diminutive Suzuki.
Available in Sport S and Overland trim levels, the shorty Wrangler comes with a 3.6L petrol V6 engine mated to an eight-speed automatic transmission and a two-speed transfer case providing full-time 4×4. If you want a diesel Wrangler, you'll have to stump up for the four-door Rubicon model.
The Wrangler's petrol V6 makes a claimed 209kW at 6400rpm and 347Nm at 4100rpm and like the Jimny it produces its best when revved. Performance is best described as spritely, and the engine makes the most of the auto box's eight ratios to sprint from 0-100km/h in a claimed 7.5 seconds.
Standard kit on the Sport S model includes an eight-speaker sound system, 7-inch colour touchscreen with Apple CarPlay/Android Auto, a 7-inch Multiview driver information display, keyless entry, cruise control, reversing camera and rear parking sensors, automatic headlights, DRLs, tilt and reach adjustable steering wheel, 17-inch alloys, black soft-top (hard-top is an optional extra), removable doors and a fold-down windscreen.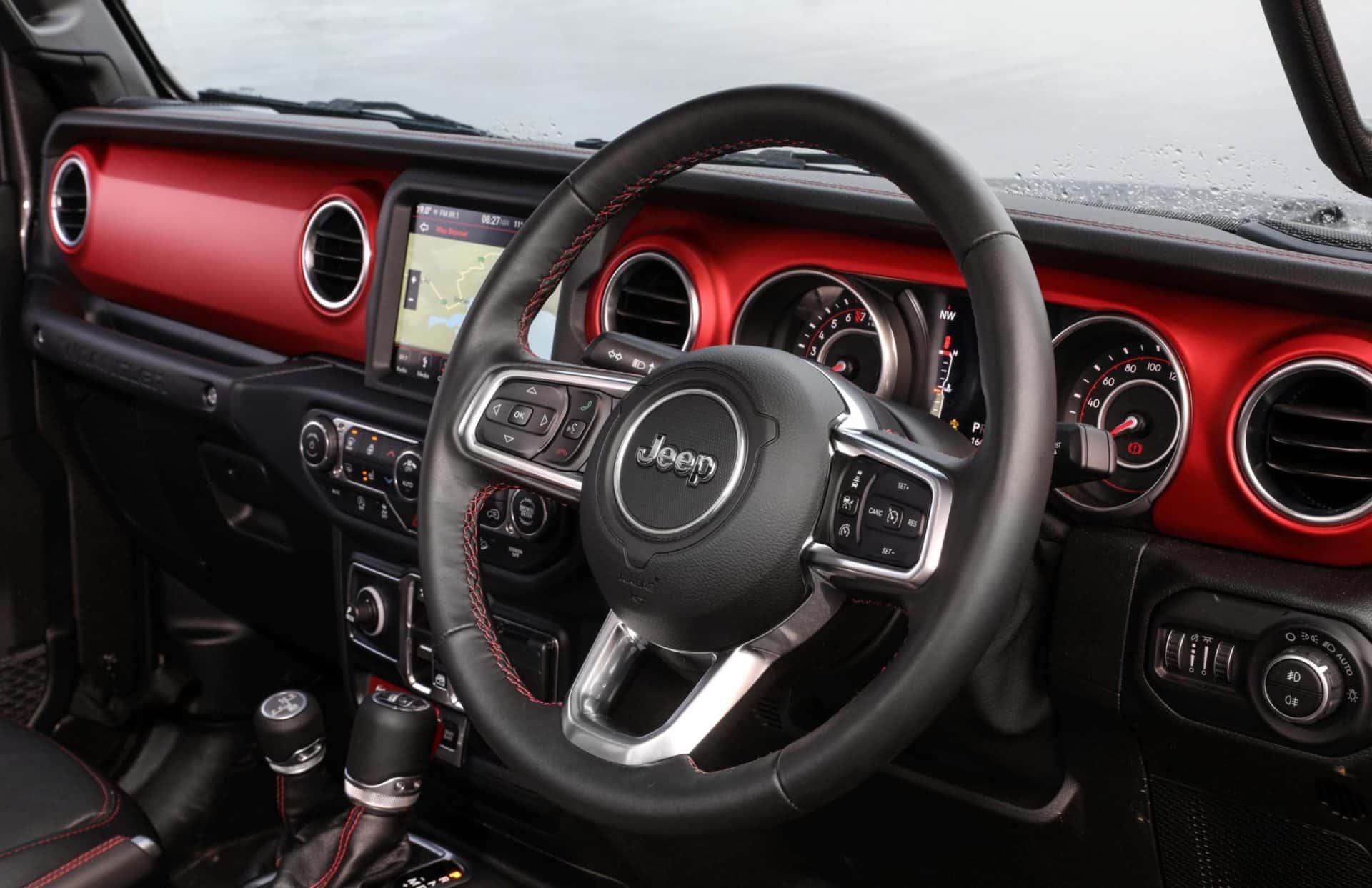 The Overland adds features including standard hard-top, nine-speaker sound system, 8.4-inch colour touchscreen, satnav, remote proximity keyless entry, security alarm, automatic headlight levelling, 230V power outlet, front parking sensors, adaptive cruise control, full-speed forward collision warning, blind-spot warning, rear cross traffic detection, premium trim and 18-inch alloys.
Safety kit on both Wranglers includes front and side airbags, ABS, ETC, ESC, hill start assist, hill descent control, electronic roll mitigation, trailer sway control and tyre pressure monitor.
On the road
If you haven't driven a shorty before you'll probably be surprised at how much fore and aft pitching goes on as you drive either of these two over bumpy roads. Throw in a good dose of body roll with the Jimny, thanks to its narrow track, and a decent amount of bump-steer with the Wrangler, thanks to its twitchy steering, and you'll probably think these two are not much chop on-road due to their generally… choppy behaviour.
Having said that, the Jimny rides reasonably well over most surfaces, although it does run out of wheel travel on bigger bumps, which it tends to bounce over rather than crash through, and while the Wrangler feels more compliant and better able to handle some big hits, it's happier on smooth roads than it is on bumpy ones.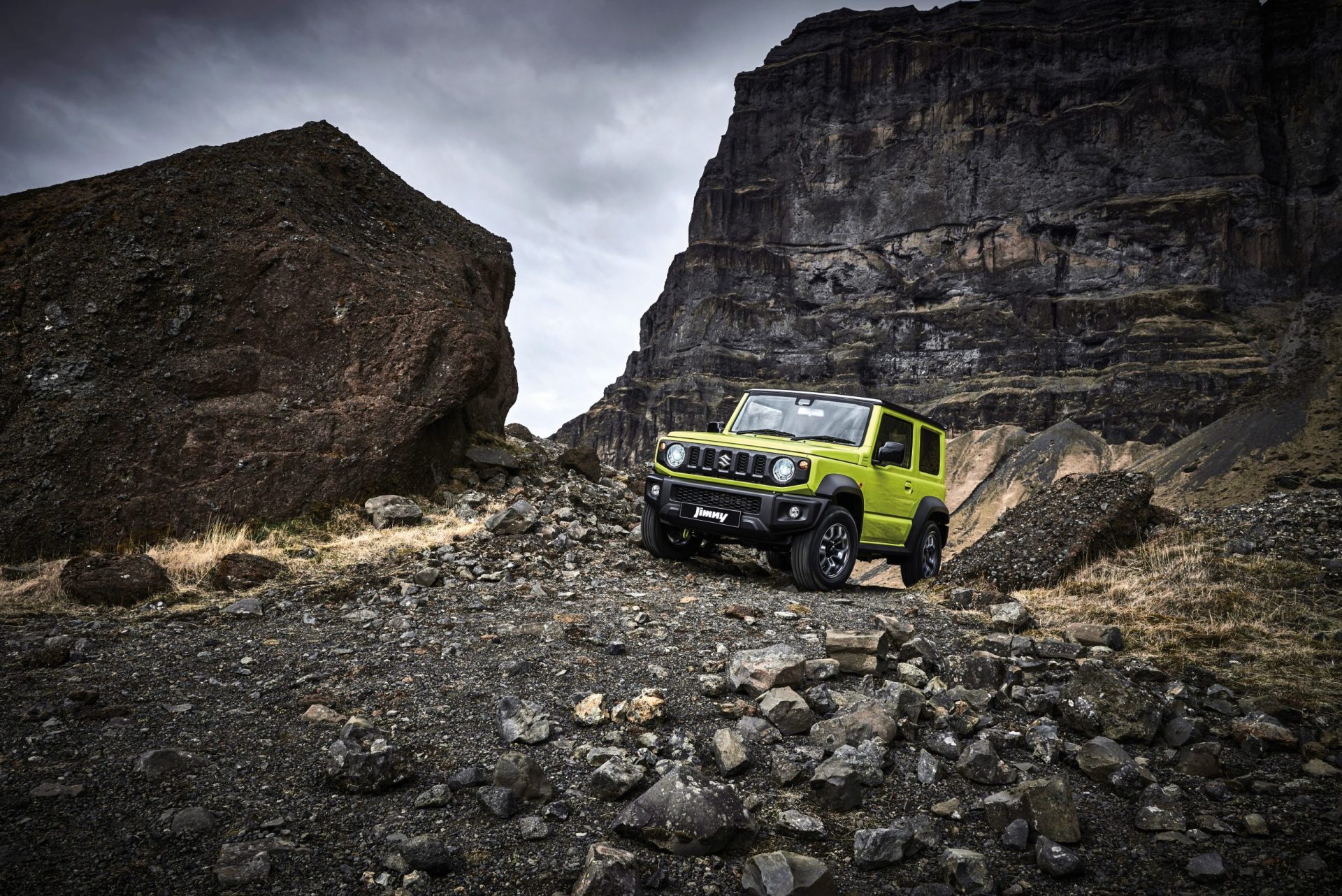 Thanks to its short gearing the manual Jimny accelerates quickly enough, but it's very buzzy in its low top gear and could really use another ratio for long-distance highway driving. The auto variant has a much taller top gear (2.997:1 compared to 4.090:1) that makes it a much better bet for those who'll spend any time on the highway. Having said that, with only four gears there are plenty of ratio gaps in the Jimny auto, so you have to really get stuck into the throttle to keep up momentum in hilly terrain.
The two-door Wrangler is close to 700kg heavier than the Jimny but its V6 engine is potent enough to deal with the extra weight, and with eight gears on offer in the smooth-shifting auto there's always the right ratio for any scenario.
As for on-road refinement, you wouldn't describe either as being particularly strong in this area. While both are much better than their respective predecessors, slab-sided panels and upright windscreens mean there's a fair bit more wind noise than more aerodynamic 4x4s.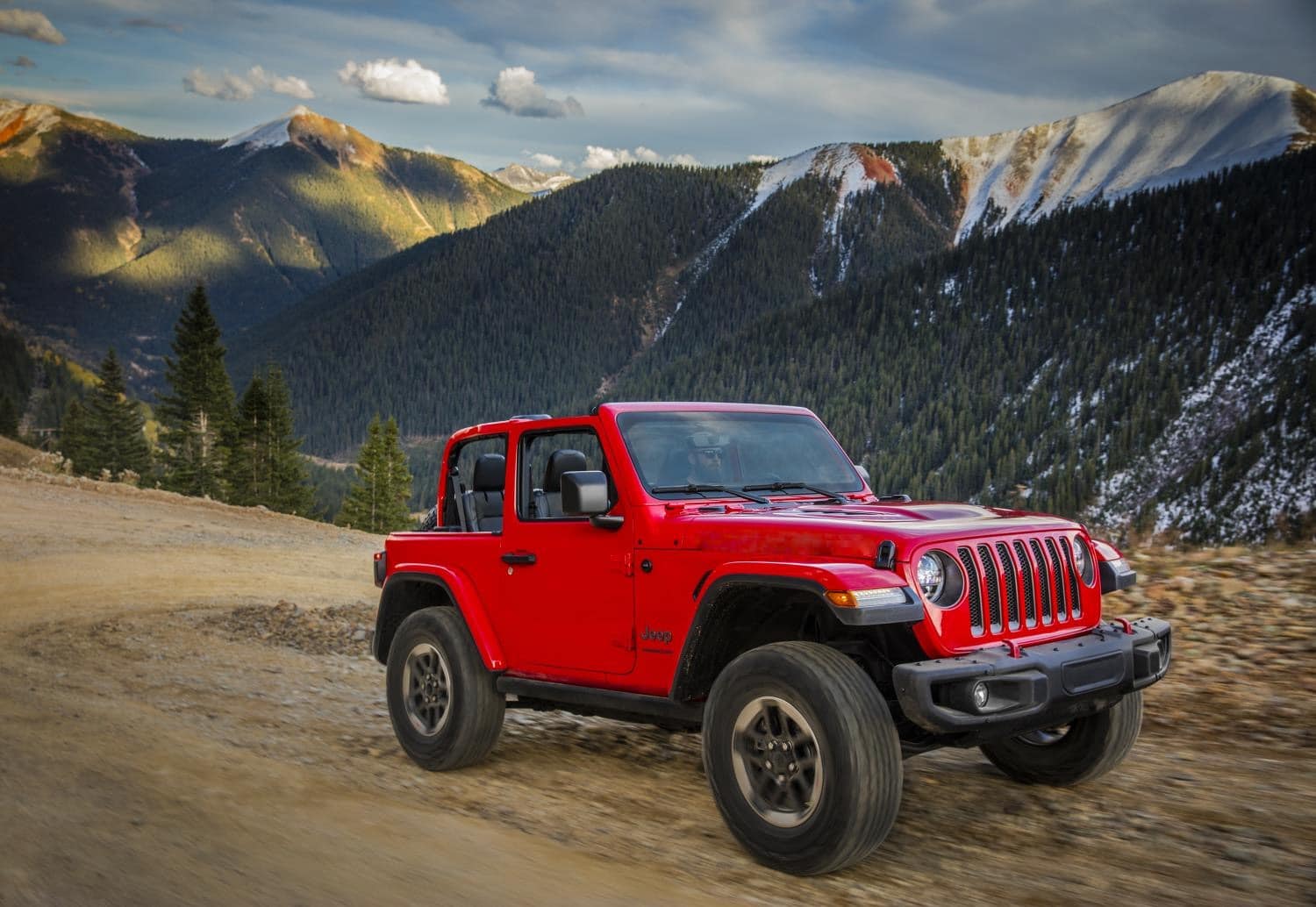 For those after care-free, open-top motoring, nothing comes close to the Jeep Sport S with its fold-down soft-top, but even if you opt for the Overland you can still easily remove panels in the hard-top. There's no soft-top Jimny at the moment but it wouldn't surprise us to see one down the track considering all previous models were available with a removable lid.
For those who insist on towing a trailer behind either of these shorties, the Jimny is rated to haul 350kg/1300kg (unbraked/braked) while the Wrangler will tow 750kg/1495kg. While we haven't tested either with a trailer, we'd be quite happy not to.
Off-road
Thanks to its small size, the Jimny is about the most nimble and manoeuvrable off-roader money can buy. With a narrow wheel-track you can pick your own line around most off-road obstacles and the Jimny also offers good approach and departure angles, a reasonable ramp-over angle, decent low-range gearing, okay wheel travel and an effective electronic traction control system.
Off-road negatives with the Jimny are also mostly to do with its small size. The narrow track means it's sometimes hard to negotiate deep wheel ruts and the small 195/80R15 tyres are easily swallowed up by big holes.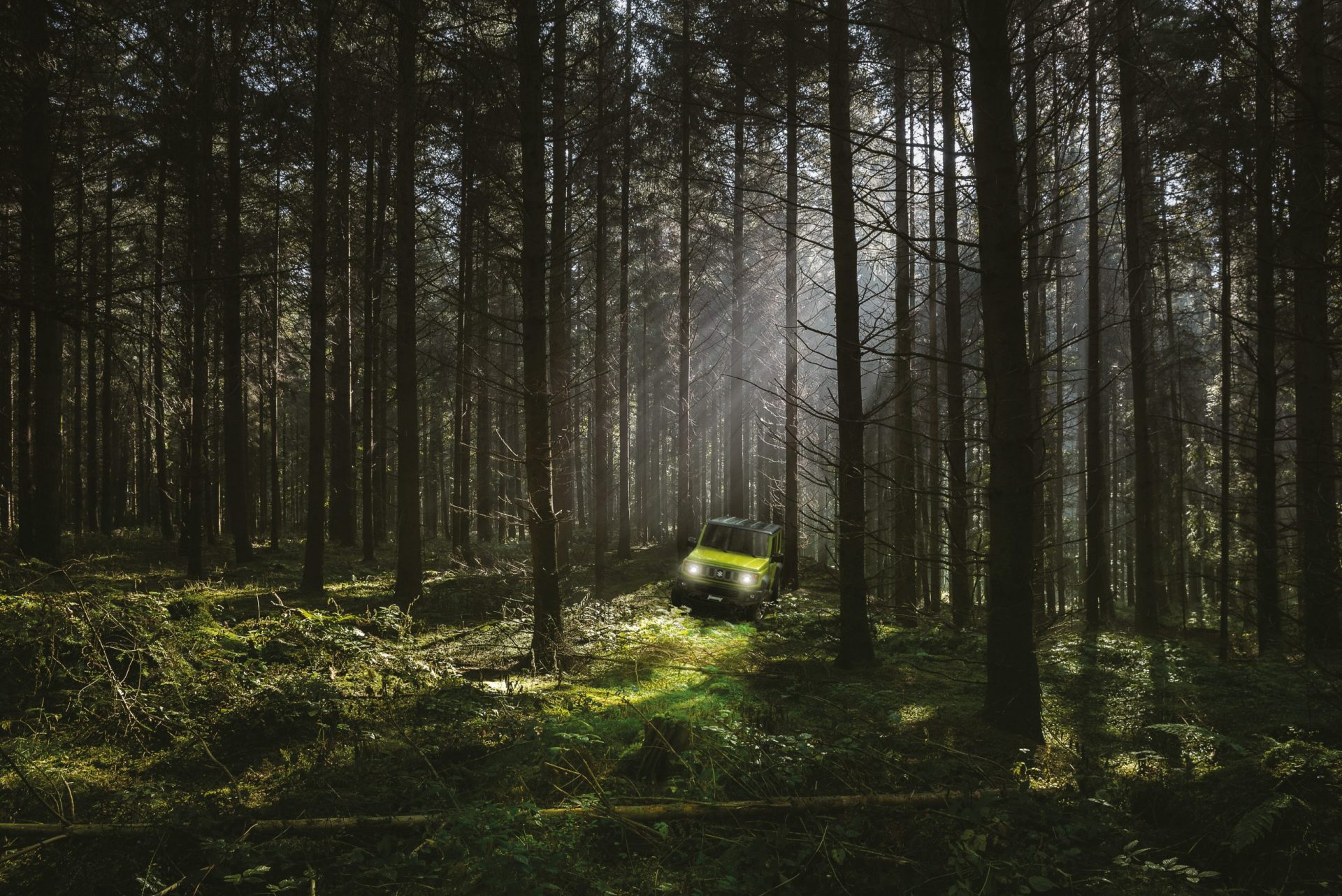 The Wrangler is no match for the Jimny when it comes to approach and departure angles, but ramp-over angle is pretty good. It also has more wheel travel than the Jimny and the Wrangler's wider wheel-track and bigger wheel/tyre packages don't see it swallowed up in particularly gnarly terrain. Low-range gearing is good and the auto transmission works well when clambering over off-road terrain.
While both vehicles have reasonably effective traction control systems, the open diffs at both ends would benefit from the addition of aftermarket lockers. Luckily there are plenty of aftermarket accessories available for both the Jimny and Wrangler, including locking diffs and suspension kits. In fact, thanks to its popularity in the USA, there are probably more off-road products available for the Jeep Wrangler than any other vehicle.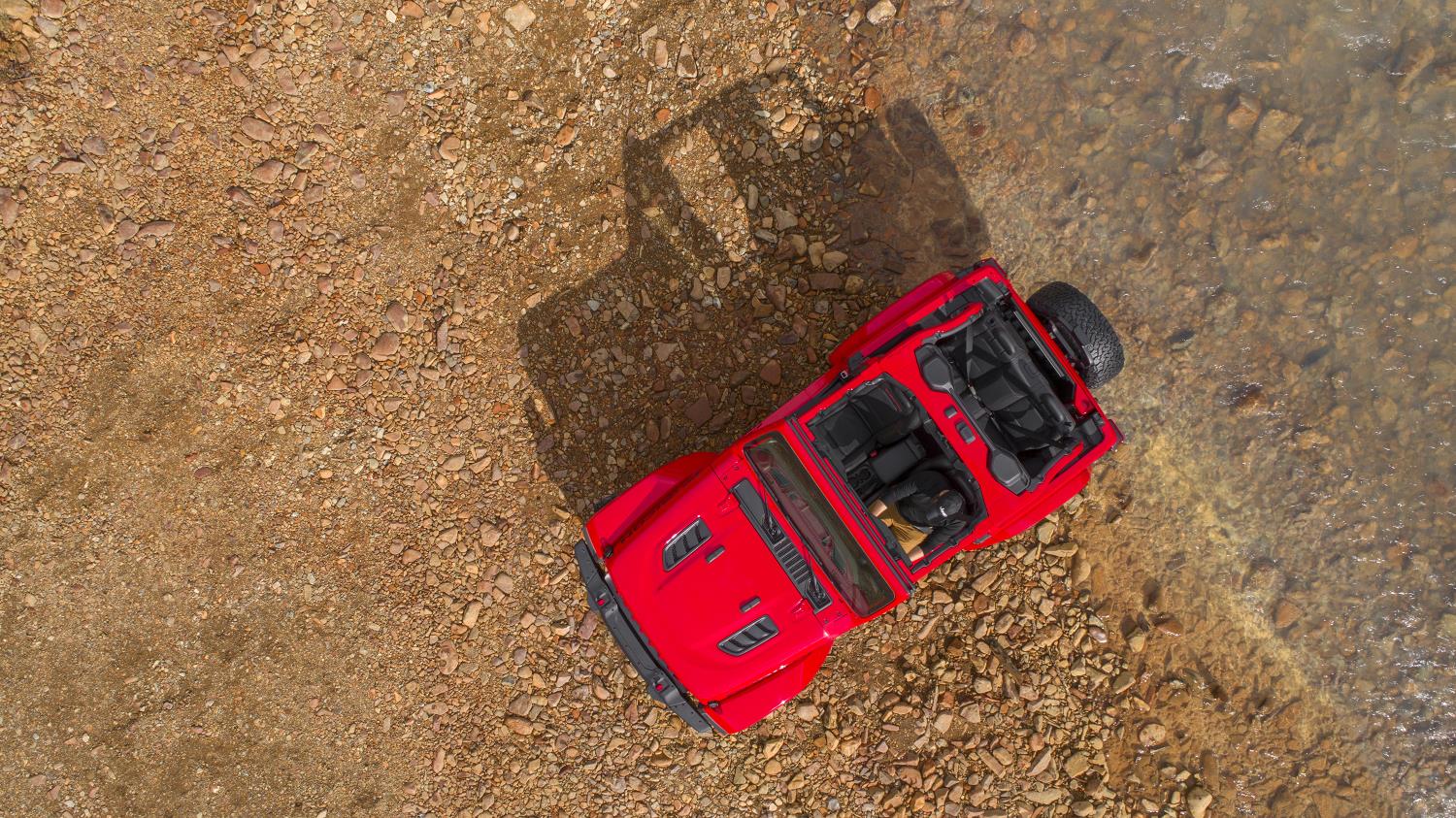 Packaging
The Jimny is plenty big enough for two people and a weekend's worth of luggage. There's good leg room up front and ample fore/aft seat adjustment, although the narrow cabin means you're sitting pretty damn close to your co-pilot, so you'd best be on good terms.
The Jimny's back seat is small and best suited to little'uns, while there's hardly any luggage space behind it when it's in use, so you're better off leaving kids at home.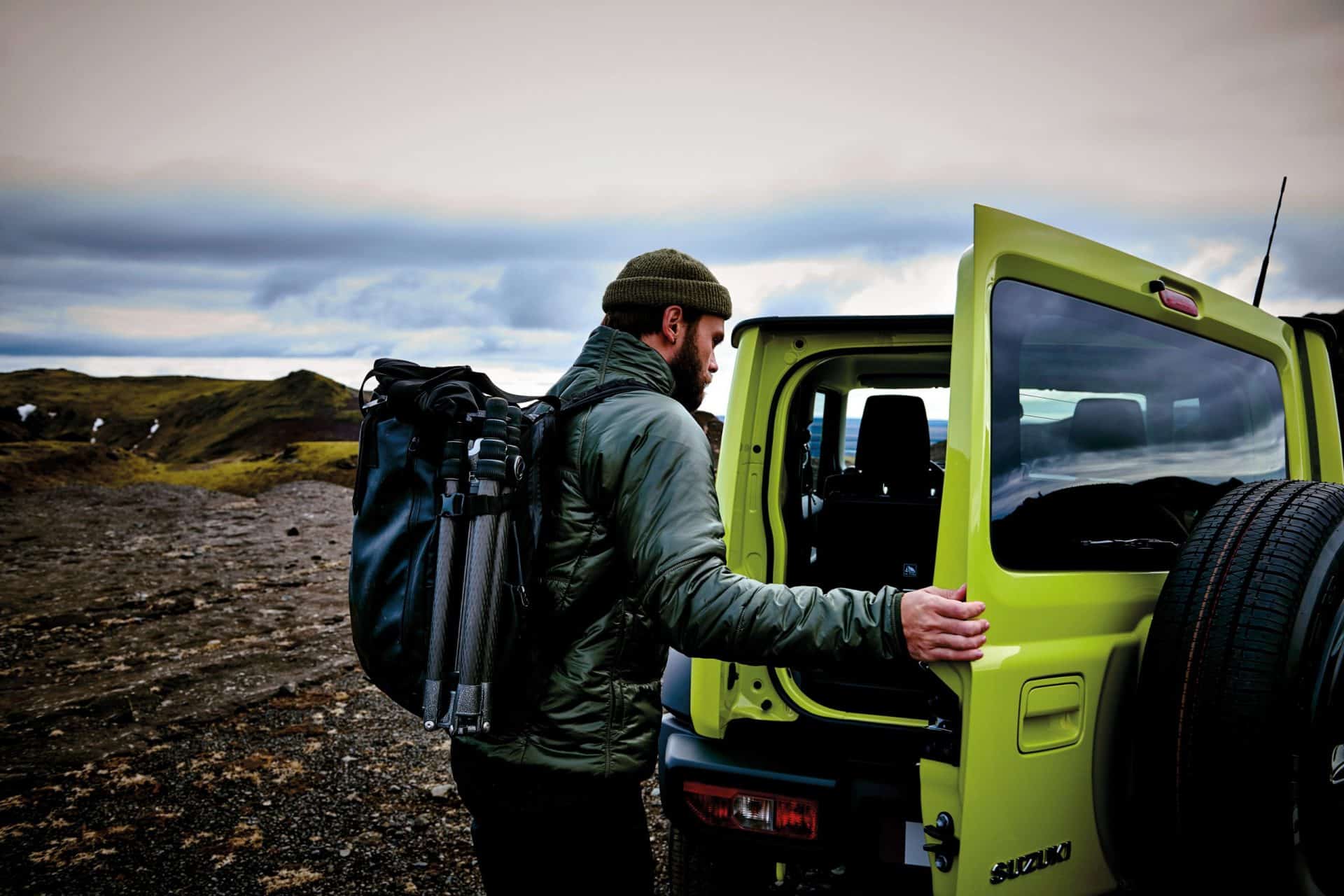 As you'd expect, there's a lot more space in the substantially larger Wrangler, which has a well-appointed and significantly wider cabin. The one-piece back seat also offers more space than the Jimny's rear pew, and there's more cargo space in the back, but it's still tight, so if you insist on taking the kids along you'd be better off with the long-wheelbase four-door Wrangler.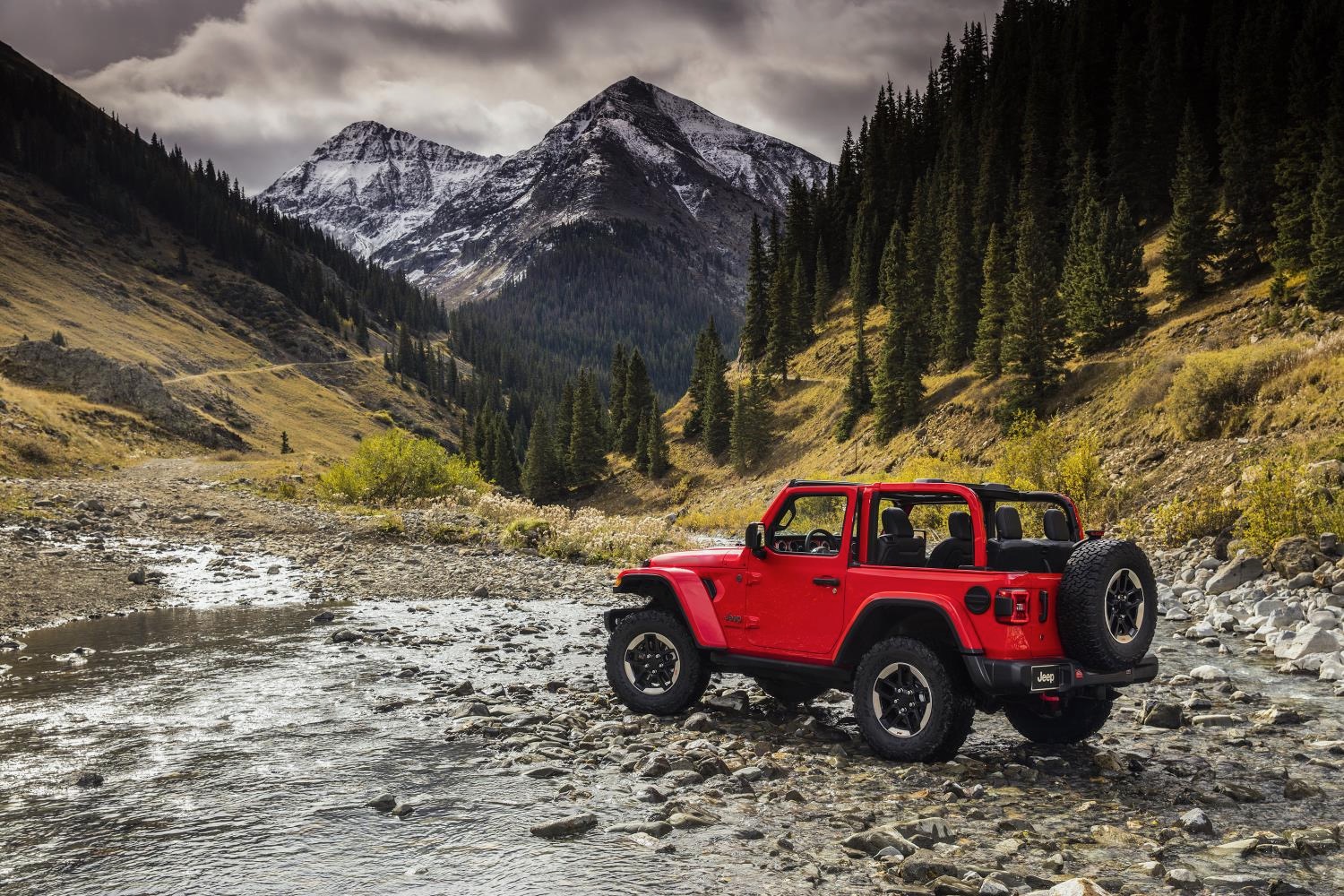 Verdict
There's not a lot of point telling you which of these two vehicles is the one to buy as they're not really direct competitors, despite both being shorty 4x4s. After all, in some cases the Wrangler costs almost twice as much as the Jimny. But what I can tell you is that both of these small 4x4s pack a huge amount of fun.
For those on a budget who might be looking for their first 4×4, the Jimny is a great vehicle that will teach them all the basics of four-wheel driving… and it's also a great little commuter that's cheap to run and easy to park.
The Wrangler, on the other hand, is extremely versatile in that you can whip off the roof, fold down the windscreen and unbolt the doors for the ultimate in open-air motoring. It's like a modern-day beach buggy, and it's also an effective off-roader that's crying out for modification.
For the latest deals you can check out the Suzuki Jimny here and the Jeep Wrangler here.