Patriot Campers has become first Down Under distributor for the Sherp ATV which is a mental-looking Russian developed all-terrain vehicle.
The Sherp ATV first hit the market in 2012 and has lit up the Internet ever since, with videos of it driving across lakes and up and over anything in its path attracting millions of views. Now, Australians have the chance to get their hands on one via Patriot Campers.
Want a Sherp ATV? It'll cost you more than $200,000 and you can finance one direct via Sherp Australia which has partnered with Asset Loan Establishment and based on the loan calculator I looked at you'd be paying out around $700/week to own one.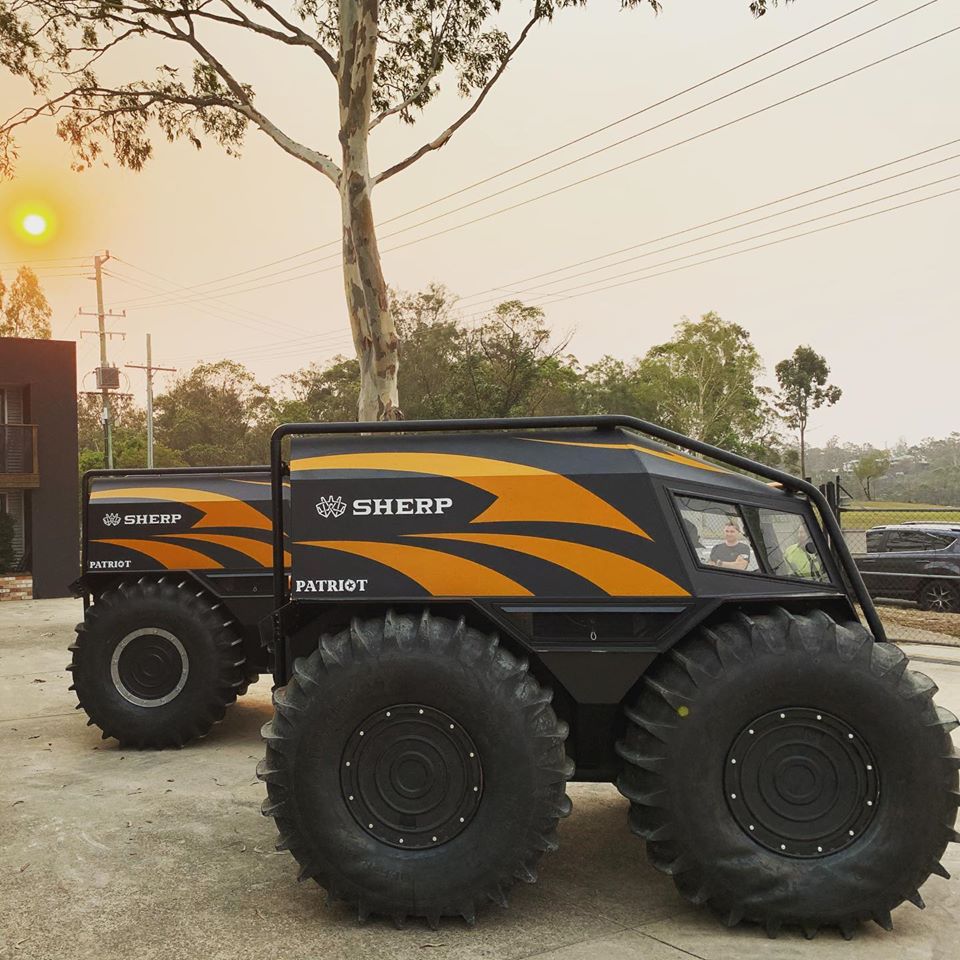 It's worth noting the Sherp ATV can't be road registered in Australia although, according to Patriot Campers, it's looking into some sort of conditional registration. But, given the Sherp ATV has a top speed of 40km/h it's unlikely to receive registration for use on the road.
Let's look at some of the key details. The thing weighs 1300kg, measures 3404mm long, 2520mm wide and 2520mm high. It's powered by a 1.5-litre four-cylinder turbo-diesel from Kubota which makes around 32kW, so it ain't quick. This is mated to a five-speed gearbox.
The Sherp ATV might not be a roadrunner but it's been designed for off-roading in marshy and boggy conditions. And while it looks like it'll climb Mt Everest, some of its numbers aren't amazing. Its minimum speed is 1.5km/h (no low-range) – a Wrangler Rubicon will go lower than that, runs tubeless, extra low pressure tyres, can climb obstacles three-feet tall, and can climb a maximum gradient of 35-degrees which is less than most mainstream 4X4s and that's because it's as tall as it is wide so it's top heavy. It does have two feet of clearance, though. Oh, and it can drive on water at 4km/h. And it uses a skid-steer system that allows it to turn on its own axis – like a tank.
And servicing? Unlike a vehicle which offers a servicing schedule of, say, 12 months and 12,000km, the Sherp ATV's servicing schedule is in listed in hours (like a boat or an excavator). Indeed, you'd be looking at servicing your Sherp every 50 hours.
The Sherp ATV isn't designed to replace your touring 4X4, rather it's intended to be used in extreme locations you can't get to easily or safely in a conventional fourby. We'd love to hear what you think?