TJM has launched its newest bullbar: The Venturer
New from the TJM stable is its low-profile hoopless bullbar, the Venturer. Featuring a more aggressive design, the new bullbar offers up an all-steel construction, with a solid multi-fold central channel, which offers a rather aggressive addition to the average 200 Series LandCruiser. The new bar offers a low-profile centre hoop, which is removable, allowing the provision of spotlights, light bar and antenna within and on top of the central hoop.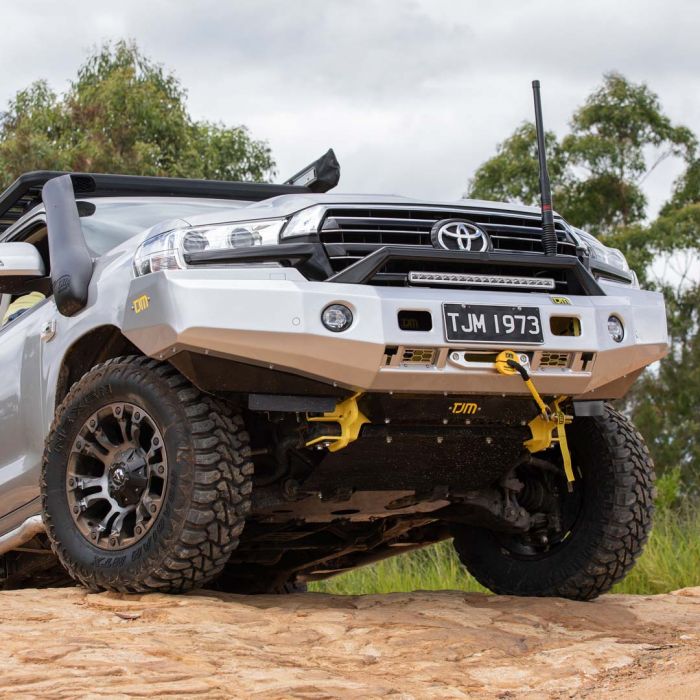 The new bar is, of course, winch compatible, and includes a pair of reinforced T-slots for high-lift jack use, and also has an increased tapered wing design that greatly increases approach angle. The new TJM Venturer bullbar is compatible with all the standard sensors that adorn the front of the 200 Series, and is offered with a three-year warranty. It is, as you would imagine, airbag compatible and ADR compliant, which is paramount for vehicle occupant safety. The new bar also features 8000kg rated recovery points, which ensures you're covered if you need to safely perform a recovery in the scrub.
The new angular bar accentuates the styling of the 200 Series LandCruiser, giving it not only the strength and protection of a quality bullbar, but also the aesthetic appeal to compliment the vehicle.
But enough from us – have a look at the video below and see the TJM website for more information.
RRP: $3390