Introducing Pol Lux – the Swedish designed electric floating camper
We all love getting off-road and camping among nature for a few nights, right? Well, how about getting off-road and onto the water in a floating camper to explore some of Australia's many stunning lakes, rivers and creeks?
Sweden has given us the pacemaker and the three-point seat belt among other world-changing inventions and now, they've come up with something less to do with saving lives and more to do with fun. They will soon be launching Pol Lux into the world.
Pol Lux is an easy to operate vessel with a fully electrified drivetrain powered by the sun that allows you to camp and picnic on the water. Basically, it's an electric floating camper!
Gustav Larsson, Naval Architect and passionate rower, envisioned a fossil-free seafaring solution that broke away from the current speed-focused products on the market. Together with Swedish boatmaker Pol Boat and design group Above, the Pol Lux was created; a twin-hull vessel designed to get you casually cruising outdoors.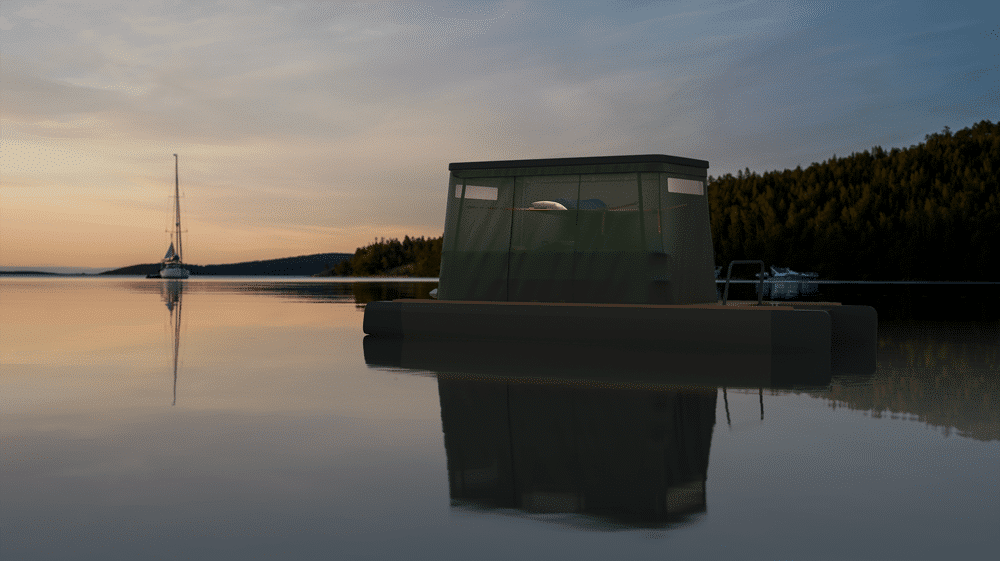 Pol Boat says, "We set about to create an adventure craft that can take you off the beaten path, transporting you via a fully electrified drivetrain, leaving nothing between you and nature. After all, that's why you left the house, right?"
Let's take a closer look at it, shall we?
Electrical
Rooftop solar allows you to charge with the sunlight, constantly extending your range. If you want or need to charge faster, simply plug it in at the harbour overnight while you sleep.
Although the twin electric motors are as-of-yet unknown, they will apparently push the Pol Lux along at a top speed of 22 kph (12 knots). Although if the boat is working off solar power alone, that speed drops to a more leisurely 7.5 kph (4 knots). With a cruising speed of 13 kph (7 knots), the Pol Lux has a range of 111 km (60 nm).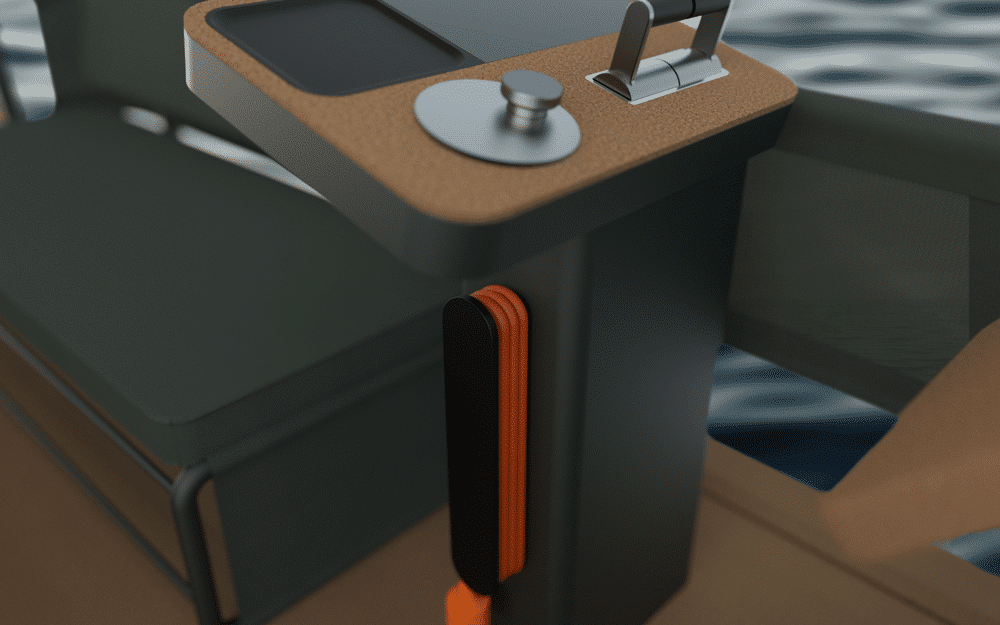 Design
The Pul Lux is a catamaran-type vessel with twin streamlined hulls. This allows for one large deck and great stability. Because it doesn't follow the design of a traditional boat that uses one large single hull, the amount of contact the boat makes with the water is reduced, thus minimizing drag and allowing it to glide more efficiently.
Measuring in at 7.8mx 2.5m, Pol Lux has capacity for 8 people with walking room.
The notion of a hybrid boat and caravan/camper is not a new one, we've seen it before in the Caraboat. The interesting thing about this floating camper is its modular design. This means that it can go by party/family boat during the day and when the sun goes down, you can change the benches around to make a few cozy beds.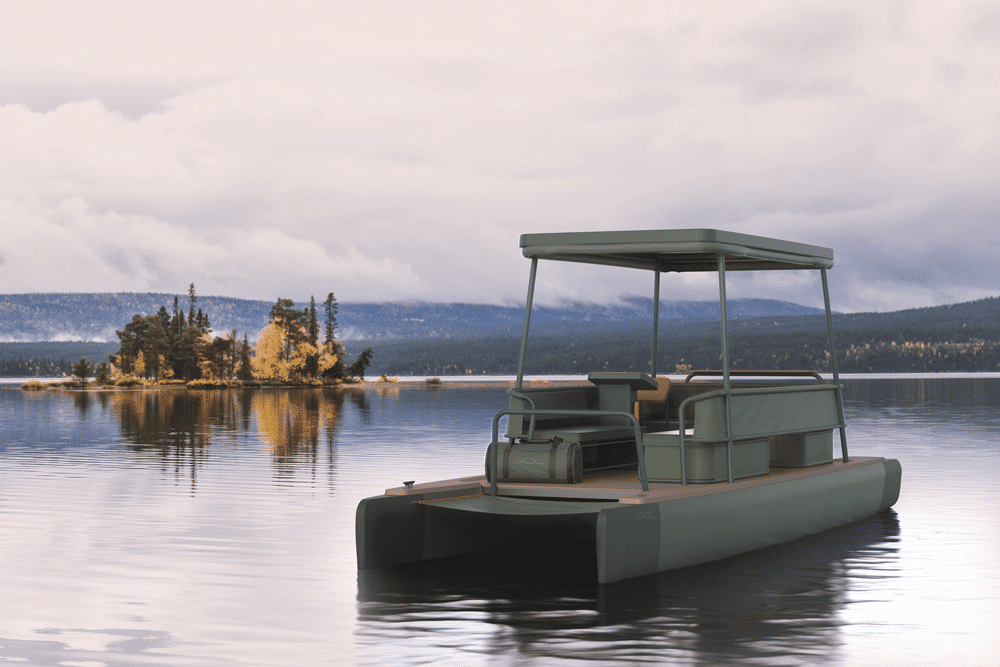 The floating deck can be customised as you see fit. Some will want a camping exploration type set up and others will want to use it mainly as a day lounger for river cruising. You can switch between both. Here are some of the flexible options:
Create a primary sleeping zone that doesn't disrupt the social space, or move the seats around to sleep more people bunkbed style.
Seats by day, beds by night.
Storage zones for waterproof duffel bags between the seats (in place of the standard heavy fixed sealed storage solutions).
The front lounge net can be swapped out to a metal storage rack or a simple cork diving platform.
The rear table can be remove entirely and an interchangeable panel allows for a modular grill or cutting board.
The roof can be used as a storage or a relax zone or it can be upgraded to a double solar panel configuration to feed the batteries on the go.
Materials and form
Not much info is given on the tent materials as of yet, other than to say its lightweight, water and wind-resistant material. A self-draining platform makes it easy to deal with rain/wet swim gear and cork flooring adorns the deck.
Living on the water
It's easy to see how the boat can be used during the day. Relax, enjoy the seats or deck, and find yourself a pristine waterway to enjoy. At night, use the roll-down walls to protect you from the elements and create privacy. Hello, floating camper!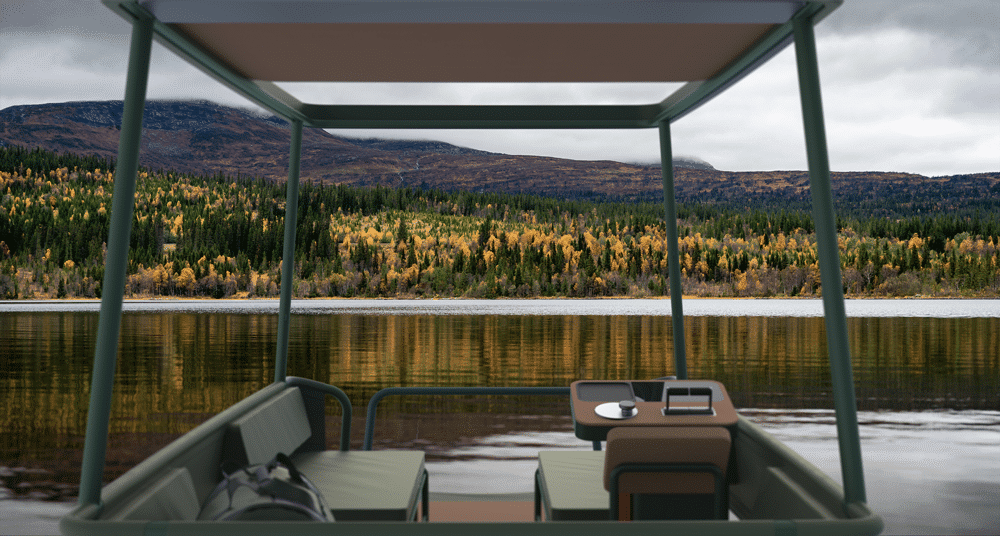 Cooking and toilets?
A toilet isn't mentioned but I'm sure a creative solution could be found for this floating camper. Cooking can be managed via an interchangeable panel on the rear table that allows it to be used as a cutting board or grill.
When will we see the Pol Lux on our waterways?
Pre-orders – From 1st of February 2022
Test ride – From 1st of May 2022
First deliveries – From 1st of June 2022
When Australia will see them? That's a little less clear. However, Gustav says they have already seen interest in the Pol Lux from Australia and they will be looking at the possibility to produce or at least assemble the boats locally as soon as possible. Pricing is yet to be revealed.
Stay tuned!