You don't need to go far back in Australian history to find a different kind of family holiday. Instead of picture-perfect overseas beaches and 5-star hotels, generations of young Aussies were crisscrossing the country sliding around on the scalding hot vinyl bench seats in an old Holden station wagon. An Australian-made camper hooked on the back, a year's worth of board games and pushbikes strapped to the roof, and little more than an outback campfire for a destination. You'd be hard-pressed to find a more Australian memory. It's fitting then, that as Aussie families look back to our shores for some hard-earned downtime, the iconic Cub Drifter is back for a whole new generation of young explorers. 50 years on and the Drifter is better than ever, and we recently had an opportunity to get an in-depth look at why Cub think it's so special.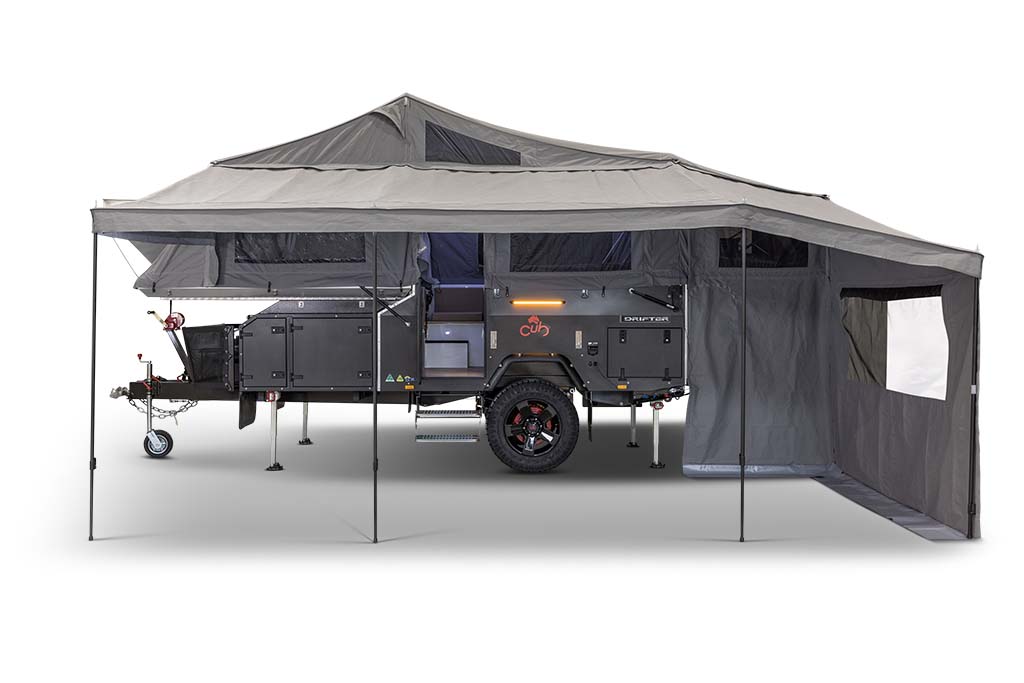 The setup
Let's get one thing straight. If you're eyeing off a Cub Camper it's because you want something that's easy to set up and spacious To that end, the Drifter is perfect. If you can forgo the awning, one person can set it up in roughly 2-3 minutes. Like the Frontier it's based off, the Drifter's forward fold Cub King Pillow-Top bed takes nearly zero effort to erect. Pop a few latches, crank the silent hand winch for a minute and you're done. The Cub team has perfected the canvas tent and pole arrangement, so it requires no adjustments or additional poles to be set up; something we're yet to see a single other manufacturer try to emulate.
Unlike the Frontier, the Drifter features a second fold-out bed in the rear; something Cub proudly boasts about as 'the only Australian made dual fold camper'. If you've used a dual fold camper before and found them cumbersome fear not, Cub has perfected this area too. Again, no additional poles or goofy supports. The double bed flips over with zero effort thanks to the clever gas strut mechanism. It secures into place with two simple straps. And the tent requires no additional setup. It just works.
Between the two large beds, a typical internal dinette features wrap-around seating and can also be arranged into a third large bed. The table is hard mounted and easily adjusted into place staying secure. Again, if you've used cheaper campers you'd know how impressive the Cub design really is. There's the typical under-seat storage as well as an easy-to-access shelf system tucked under the foot of the master bed.
We're yet to find an external awning we love, but in Cub's defence they have one of the easiest on the market, especially considering the amount of sheltered space it offers up. It mounts low, just above the windows making installation easy, and the poles Velcro to the outside rather than the awkward typical hook and loop fashion other campers use. From start to finish one person can erect the awning in around 5-10 minutes and it can be fully enclosed to create an annexe. If you love the idea of camping in a caravan but not towing one the Drifter won't disappoint.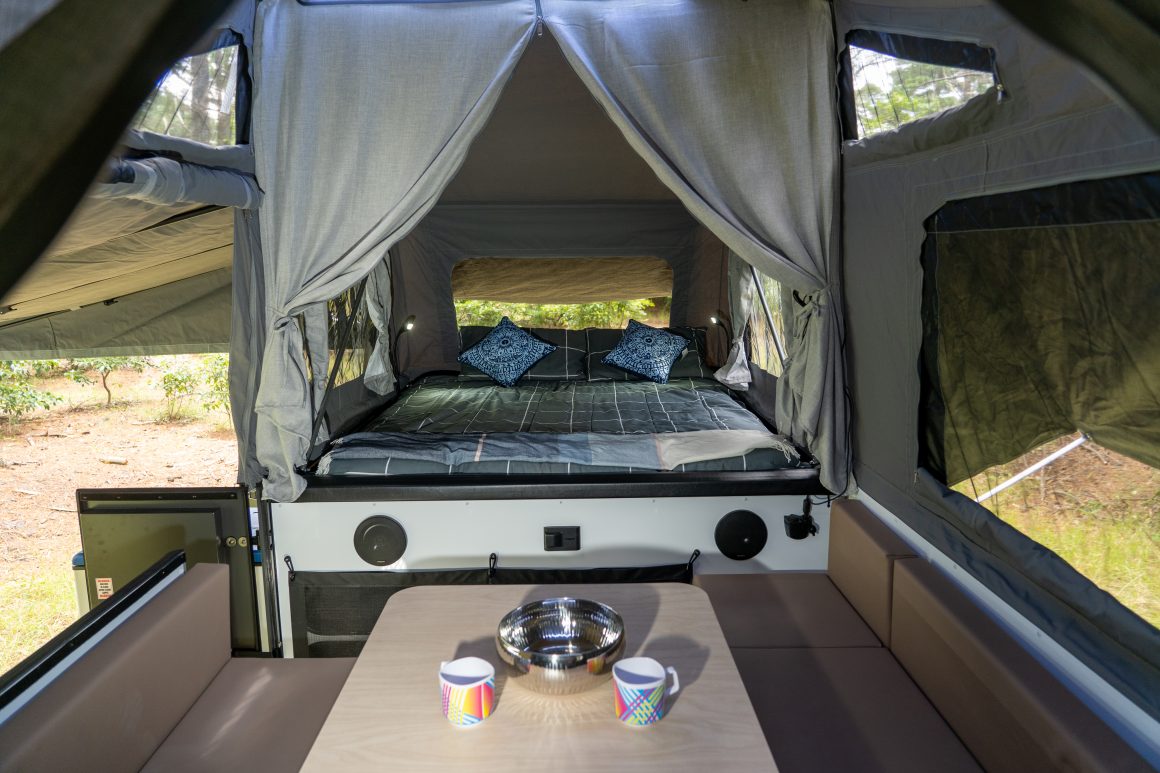 Bells and whistles
Despite being one of the most well-built campers you can buy, in recent years Cub has found themselves having to compete on spec sheets and to that end, you won't be disappointed. Right out of the showroom floor the Drifter has an extensive electrical setup that you won't find in entry-level campers. The brains of the operation is a 12V Projecta DC to DC IDC25L battery charger combined with a 240V Projecta IC2500L charger so you can keep the batteries topped up on the road or at home. They feed into an impressive 200Ah of lithium power split between two batteries. That's not only going to provide a longer running time for your fridge than a comparable AGM battery but it will also weigh significantly less.
You'll also score yourself a full Bluetooth Fusion stereo with external speakers and even a 180L of onboard water that feeds a Truma hot water system. That's going to give you hot and cold running water to the sink standard, but also to an included shower as well.
There is a 240V power outlet on the inside standard but it's pass-through power from an external input. You'll need to be plugged into mains power to use it so the optional Redarc 2000W invertor is well worth the money. The model tested featured the Xtreme Off-Road Pack which increased the trailer's ATM to 1950kg (up 50kg from stock) as well as adding a Cruisemaster DO35 over the stock Al-Ko ball coupling and 256/70r17 Goodyear mud tyres.
In typical Cub Campers fashion, the external kitchen is simple, well thought out, and robust. Both the kitchen and accompanying prep bench feature scratch-resistant stainless steel surfaces. There's a built-in sink with a mixer tap with a clever glass lid that closes for more bench space if the sink isn't in use. The three-burner Smev stovetop features the same glass top as well as a windshield for when the weather turns pear-shaped.
The awning is standard and made from the same Australian-made Wax Converters canvas as the tent but there's a host of options you can spec up depending on your needs.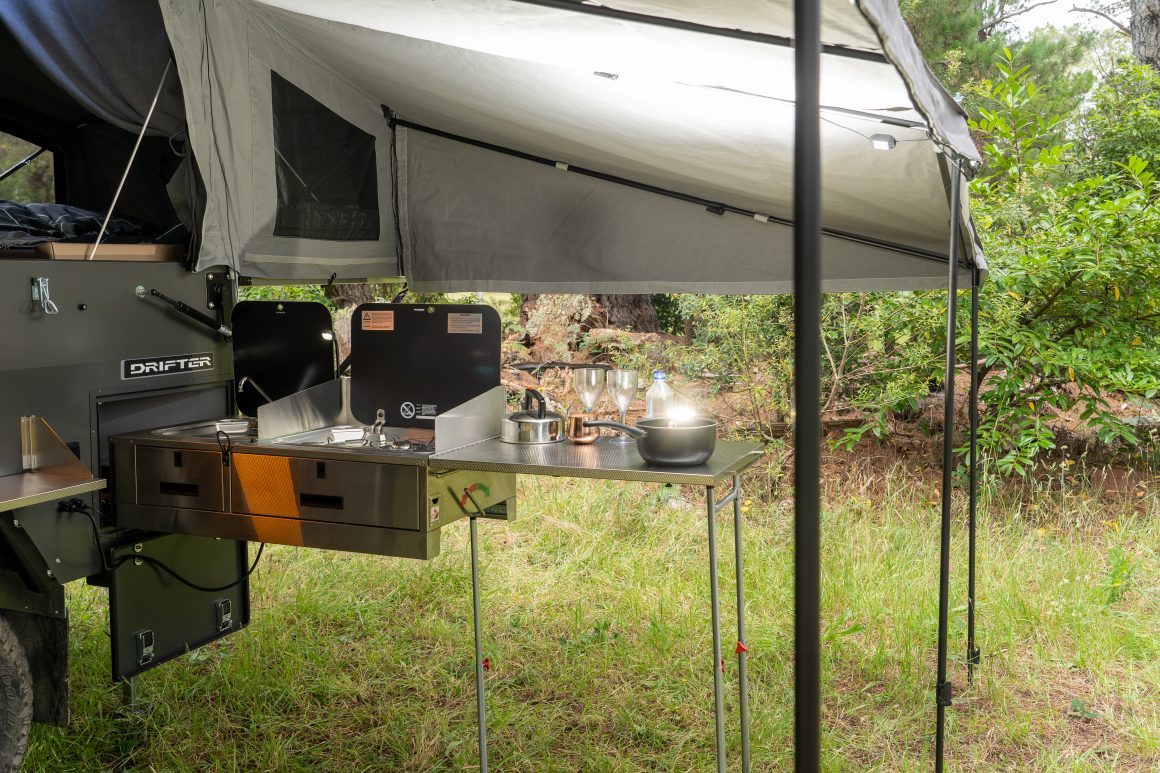 Off-road performance
When it comes to heading off-road, Cub Campers use the tried and tested method developed by Colin Chapman from Lotus fame, "Simplify, then add lightness". Per square foot of camper, the Cub Drifter is one of the lightest you can buy and that helps monumentally off-road. Weighing in at 1414kg tare weight it's 50% lighter than many of its imported rivals. That directly translates to an easier time for your 4X4 towing on and off-road. The lightweight Drifter bogs you down less in soft terrain, is easier to pull up obstacles, and pushes you around far less when heading downhill in steep terrain. Despite that low weight, with a maximum ATM of 1950kg in some specs you've got a weight carrying capacity of over 500kg so it can be loaded to the gills when you're off on serious adventures.
Cub has used as few corrosive materials as possible throughout the camper, stainless steel, aluminium, and extensive powder coating are the order of the day. There's even a hot-dip galvanizing option for the chassis if you're planning on spending a lot of time on the beach.
Underneath Cub have gone with their tried and tested independent trailing arm suspension. Riding on weight-matched coil springs both sides sport dual twin-tube ROX shocks. By running dual shocks over a single shock on each swing arm they not only increase their shock absorption capacity but also factor in redundancy should a shock fade in the middle of the outback. Stock or optioned up you're getting quality alloy wheels and Goodyear tyres which definitely give confidence against wayward branches when navigating through tight terrain.
Cub has balanced the camper well, the wheelbase allowing for a modest 141kg tow ball weight which is bang on the ideal 10%. The front mesh curtain protects twin 4kg gas bottles and twin 20L jerry can holders but is angled in on the sides to allow a steep turning angle without jack-knifing.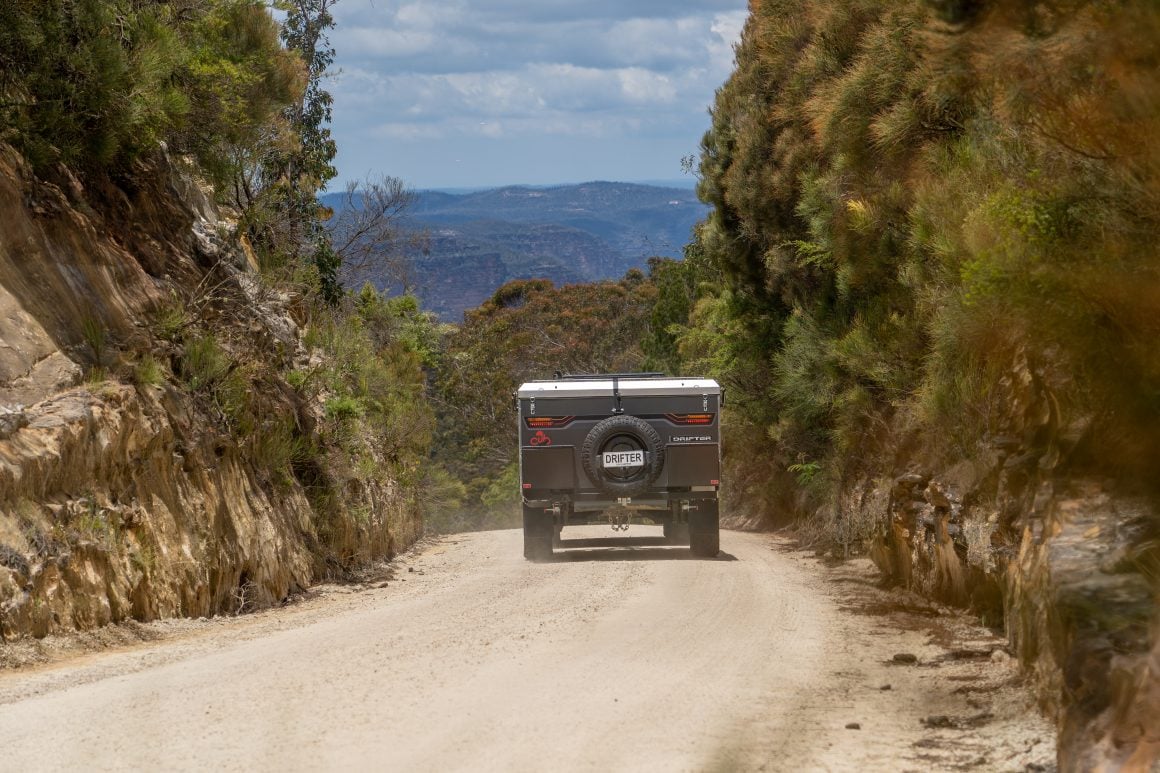 The verdict
It's no secret I'm a fan of Cub Campers, having travelled most of the east coast with one in tow, but not every camper trailer suits every camper. So who should be looking at the Drifter? If you're driving a portal axle'd 'Cruiser on 37s and spend your weekend looking for tracks to get you into trouble then this probably isn't the right pick for you. On the opposite end of the spectrum if your idea of a 4X4 adventure is travelling from caravan park to caravan park then you're probably better off with a… well… a caravan.
The Cub range aims for somewhere in between and the Drifter absolutely nails it. It's comfortable spending days on end on corrugations, light enough you can confidently tow it across K'gari (Fraser Island), compact enough that you'll comfortably zig and zag through tight Victorian tracks. And when you get to your destination there's more than enough room for a family of four or more to live out of it for a week. Dollar for dollar, and kilo for kilo, you'll be hard-pressed to find something that'll do the job better.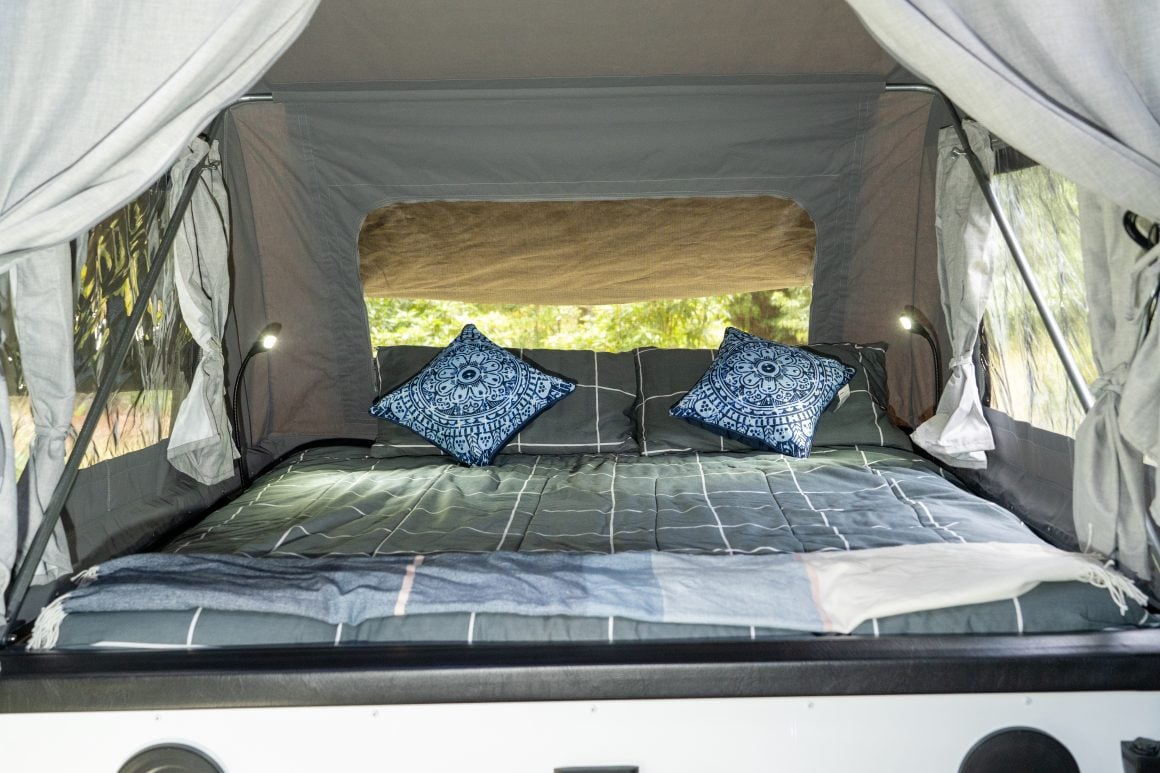 Spec sheet
TARE – 1414KG
ATM – 1900KG
LENGTH – 5600MM
WIDTH – 1940MM
HEIGHT – 1710MM
PRICE – $54,000
Quick links
For more info – www.cubcampers.com.au
RV Daily – The Cub Drifter Upgraded Again and it's the best one yet!