According to the lucky owner of this custom FJ Cruiser, off-road perfection takes time… and a plan.
Words and pics: Ray Cully
Here's one of the neatest customs from the Unsealed 4X4 vault, and building a 4X4 like this Custom FJ Cruiser is best done with hindsight. It's only through experiences and failures that we're able to decide not only what works and what doesn't, but (more importantly) what we actually want. It's the reason we see people building multiple setups time and time again. Suspension lifts go up and down, storage systems go from simple to complex and back again, and bar-work ranges from five-poster kangaroo killers to comp-style tube. All of this often while we're still at the drawing stage.
Sometimes your end-goal can change so far from the original plan that your best bet is to wipe your hands and start again with a clean slate… armed with all the knowledge you've gained from past attempts. An evolution in ideas to reach the new goal.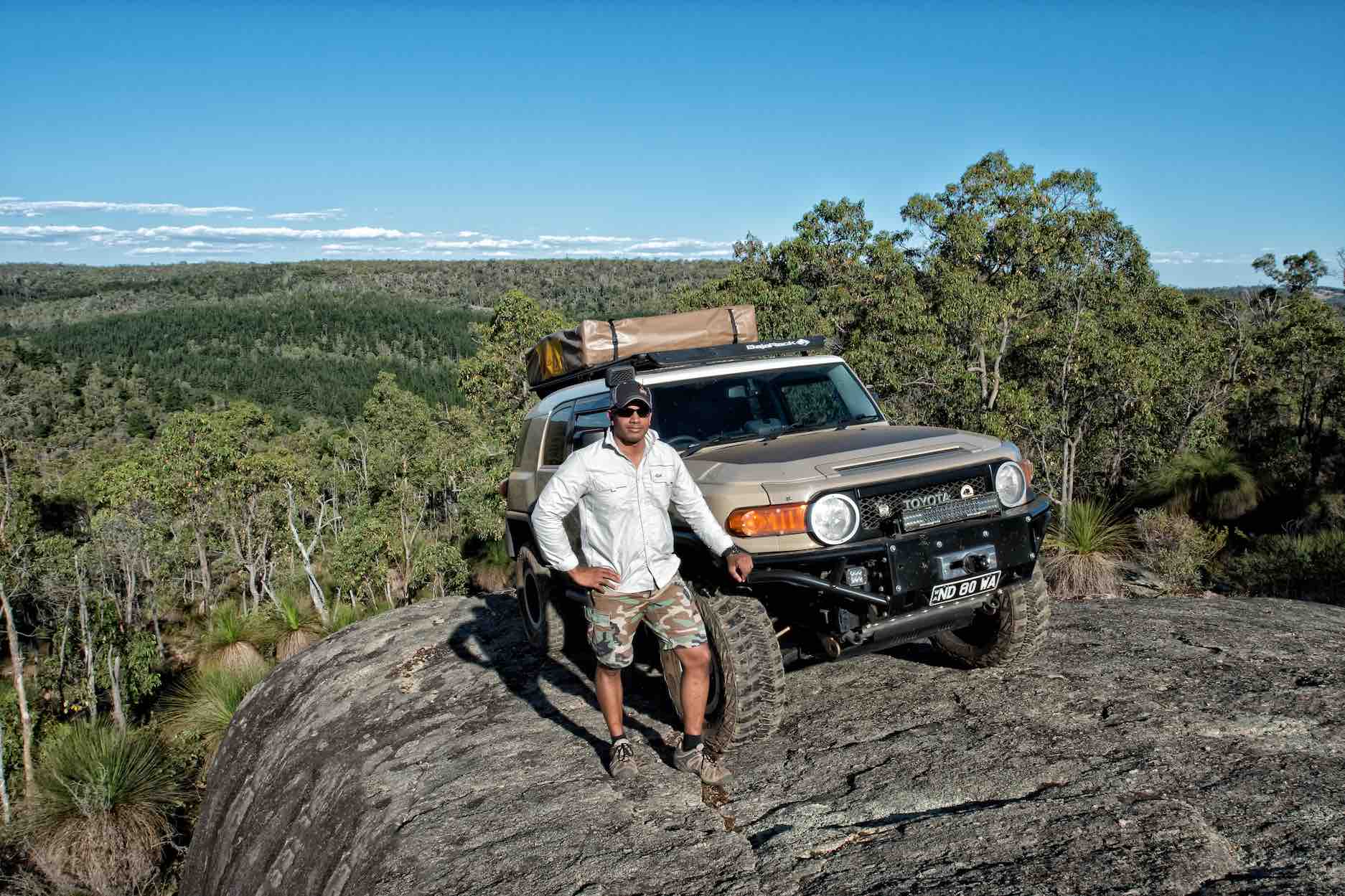 The owner
Most folk count themselves fortunate if they find a job or career that they enjoy – being able to combine it with a passion is a rare and wonderful thing. Neil De Alwis considers himself pretty lucky as he gets to travel to remote locations throughout WA and the NT as part of his job working as a Health, Safety and Environment professional. As a bonus he's even regularly forced to undertake mandatory 4WD training – honestly, Neil, the rest of us feel for you mate.
Neil reckons some of his earliest memories are of camping – in the front yard if the folks didn't co-operate with a trip away in Dad's well-loved 4X4. Neil was so keen, he'd even give up his time with his mates to impress Dad or make him feel guilty by giving the good old family fourby a scrub down and spit polish.
Now as the years rolled by, Neil's finally laid the Malvern Star Chopper to rest and got his own off-road adventurer. He reckons that no longer than a month goes by without the urge to pack up the FJ for a fun day trip or a longer camp-out with his wife and young son Tyler whose first camping experience was at the tender age of one.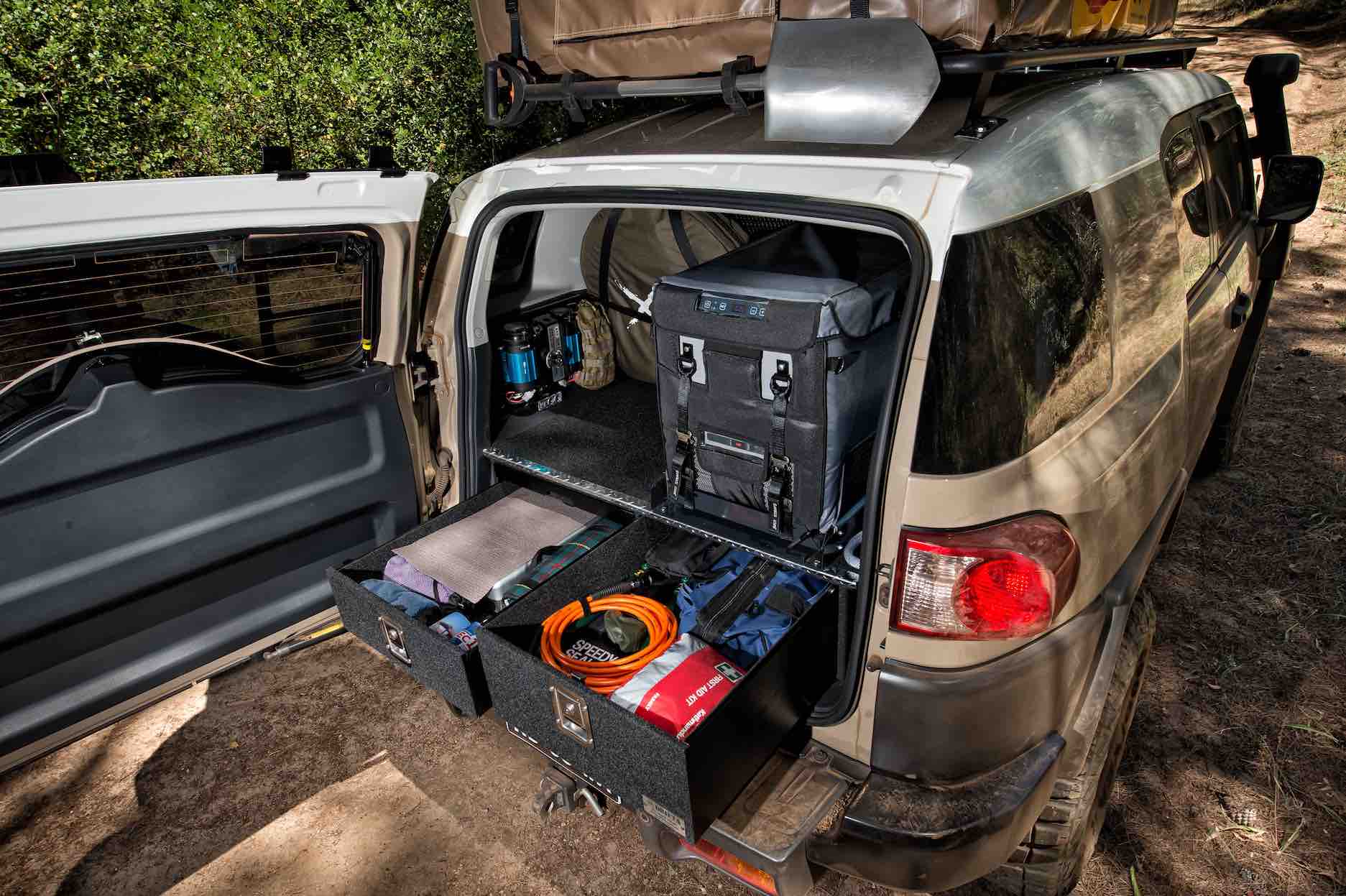 The Custom FJ Cruiser
Neil's previous fourby was a Jeep fitted up with the usual suspects: a suspension lift kit, a steel bull bar and a set of driving lights to ease the eye strain from the old halogens. While Neil and his wife have fond memories of their first camping trip off the beaten track, the old bus had more than one or three problems. With the tension in Neil's neck increasing every time they left the blacktop due to apprehension over the Jeep's ability to complete the trip in one piece, Neil decided to save his pennies rather than continually pour good money into a bottomless pit. Making the executive decision back in 2013, Neil and his wife put in an order for a brand new FJ Cruiser. After a three-month wait and probably driving the salesman mad with, "Is it here yet? How 'bout now? Now?" phone calls, he finally took delivery of his new pride and joy.
"I thought long and hard before deciding on the FJ," Neil explains. "After those few issues on my previous 4X4, I wanted something both capable and reliable. The FJ has a slick five-speed auto, an OEM rear locker, plus the added advantage of Toyota's very cool crawl control, which ticked all the boxes. I'm really pleased that I ordered the dual fuel tanks right up front – with 159L of fuel in the belly the FJ can easily cover over 1000km before the low fuel light sends me to the bowser."
Neil's pretty honest; he'll tell you the standard FJ is a great vehicle that provides a magnificent base on which to build a great off-road tourer… but it's not perfect. Hence there's a decent list of tweaks Neil's done to enhance his off-road activities in his Custom FJ Cruiser. And there are a few things that Neil reckons Mr Toyota has been stingy on: how about a telescopically adjustable steering wheel, or maybe the convenience of some electrically operated folding mirrors for those sudden tight spots. Heck, while we're at it, where's my electrically adjustable driver's seat?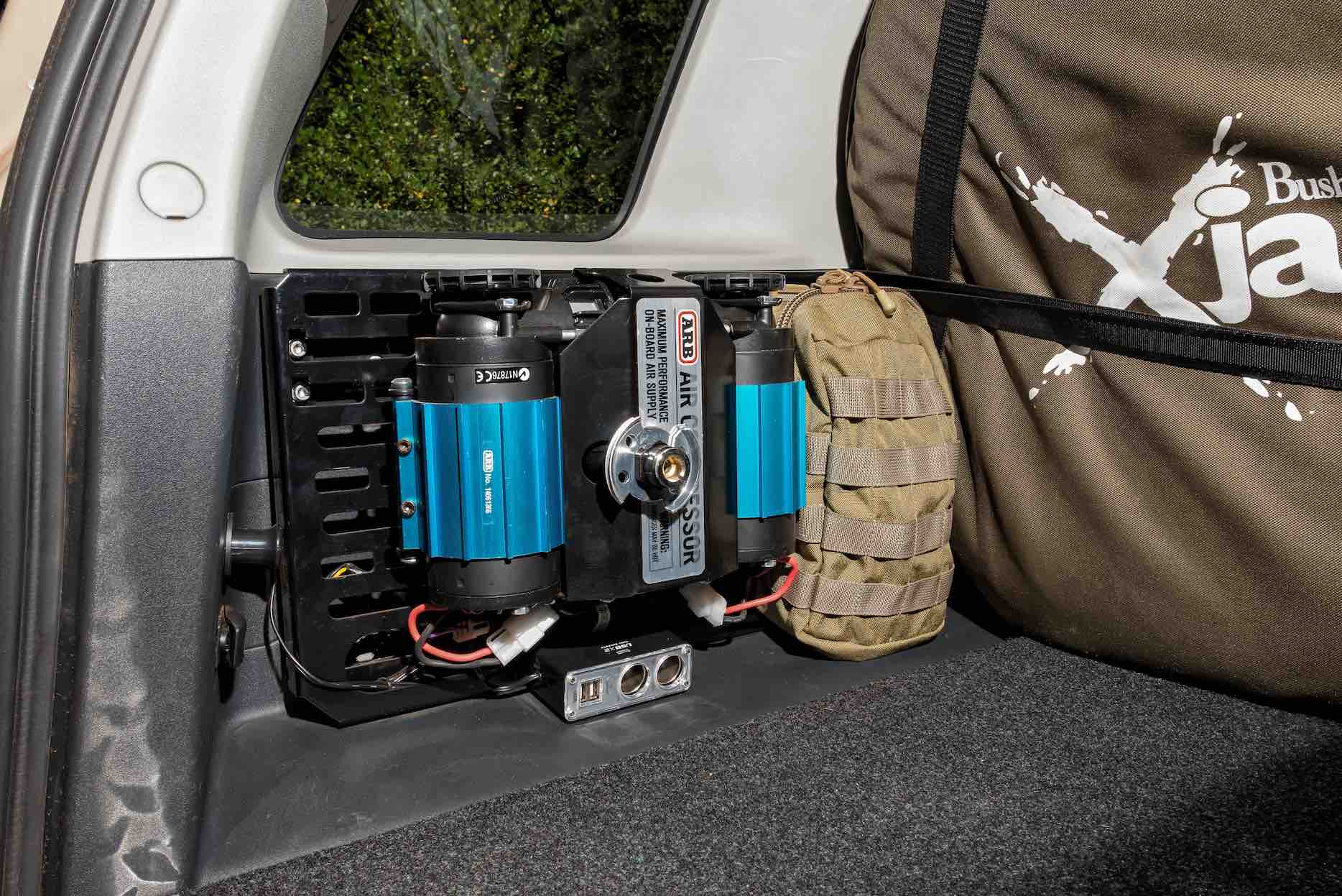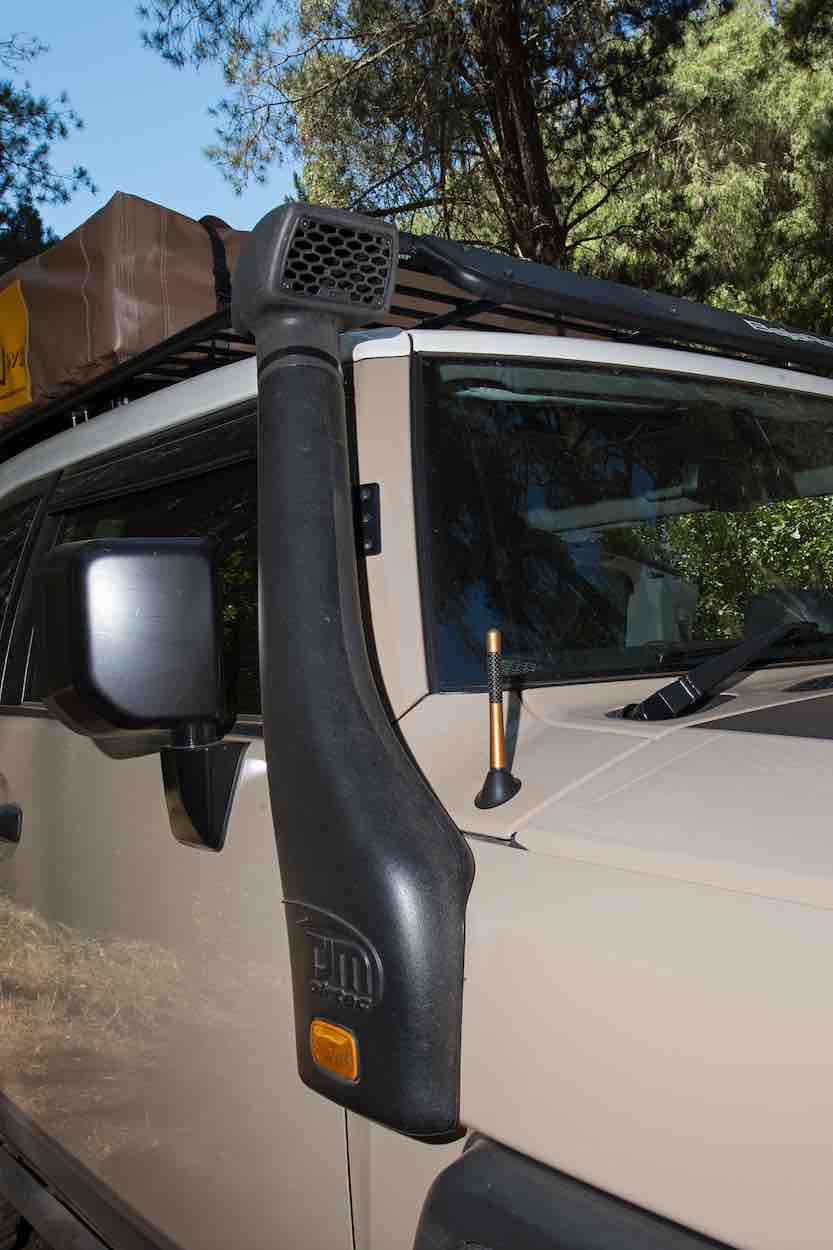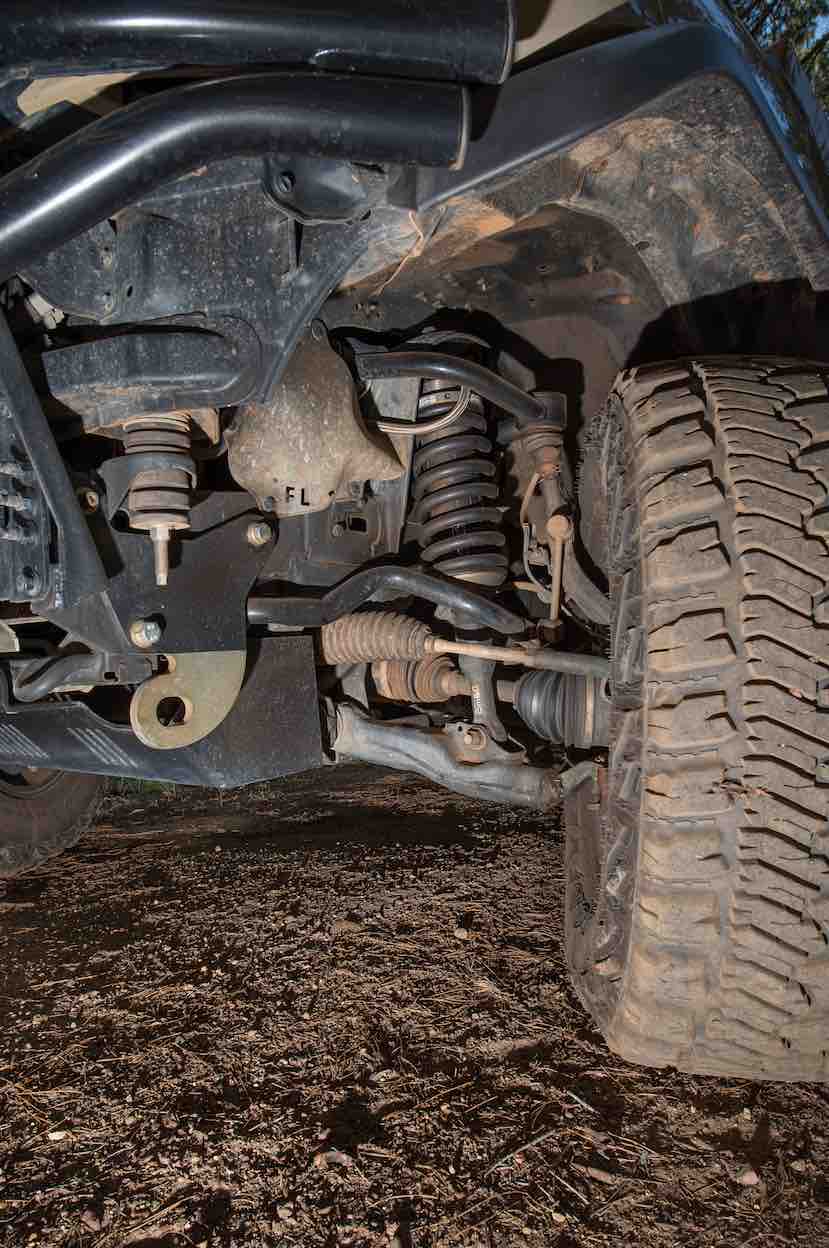 The Mods
Neil's best spend on the Custom FJ Cruiser was the Old Man Emu suspension upgrade with BP-51 shocks and 400kg rated rear springs – smooth on-road, supple enough to absorb bumps and dips and happy to flex it up when the need arises. There's an Icon adjustable Panhard rod at the back to help minimise lateral movement of the rear end to improve on-road handling and off-road stability and durability. You can feel the difference in the way the vehicle responds every time you drive it.
Neil reckons the 4.0L petrol V6 with variable valve timing does a good job when it comes to moving the FJ briskly, especially since he's added the TJM snorkel to pull cool clean air from above the dust trails on the dry tracks and a Pacemaker King Brown Cat-Back exhaust to let the big V6 breathe more freely.
To add to the FJ's aggressive looks, Neil's fitted some sharp-looking TRD beadlock-style wheels wrapped in chunky 285/75R16 Goodyear MTR Kevlar tyres to really bite hard on loose or slippery terrain. Behind the rubber resides a set of DBA 4X4 Survival T2 disks with improved resistance to warpage and better heat dissipation under heavy braking. Completing the braking duties are some premium pads for better wear and improved friction capability when needing to pull the FJ up quickly.
To compensate for the bigger rubber, Neil's relegated the original 3.73 diff ratios to the shed and opted for a combination set of solid pinion 4:56 Nitro gears and axles. The big offset here is, despite needing slightly more rpm at cruise even with the larger tyres than the standard setup, you're running closer to the engine's sweet spot – meaning better response for passing and overtaking manoeuvres.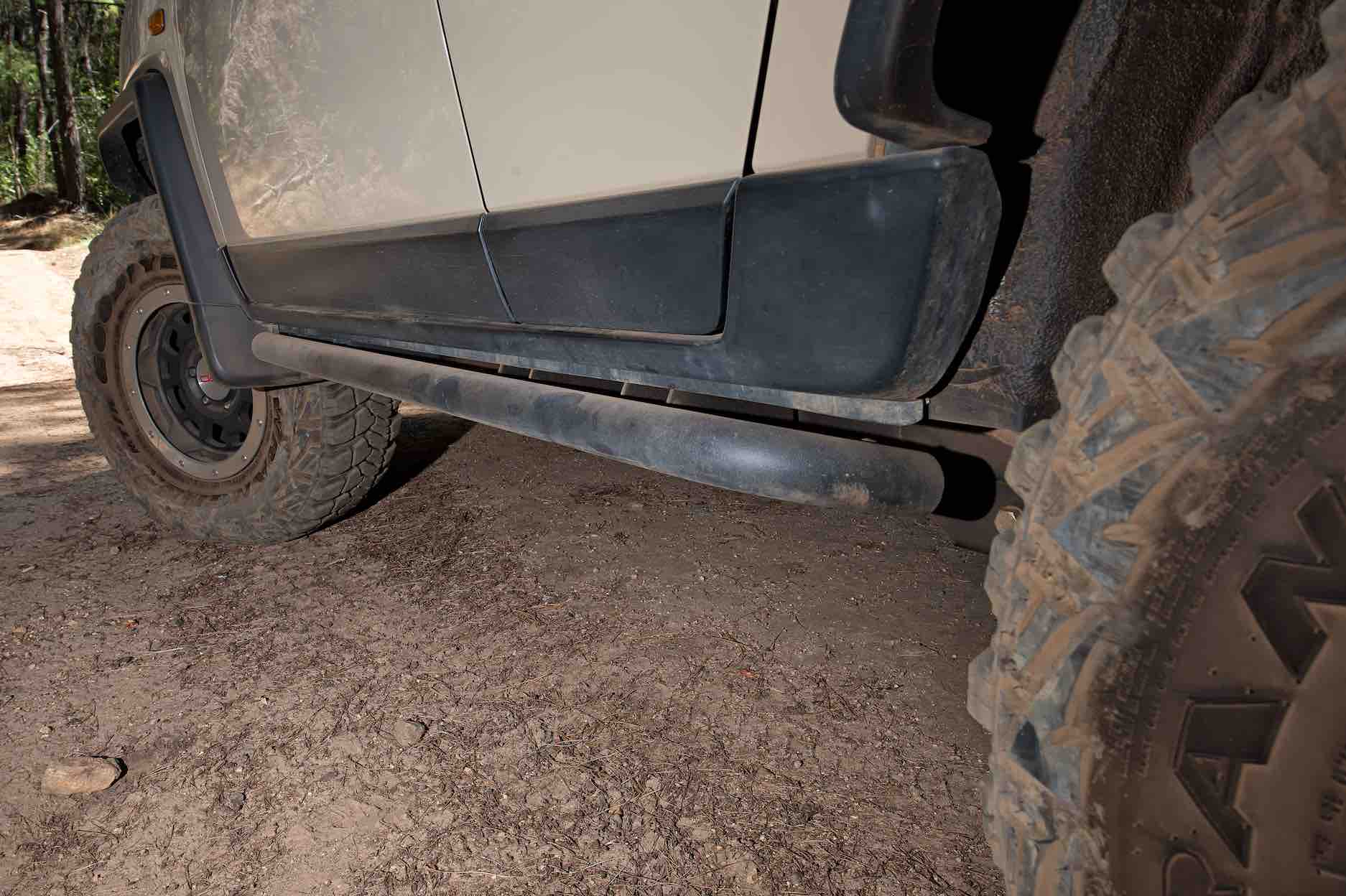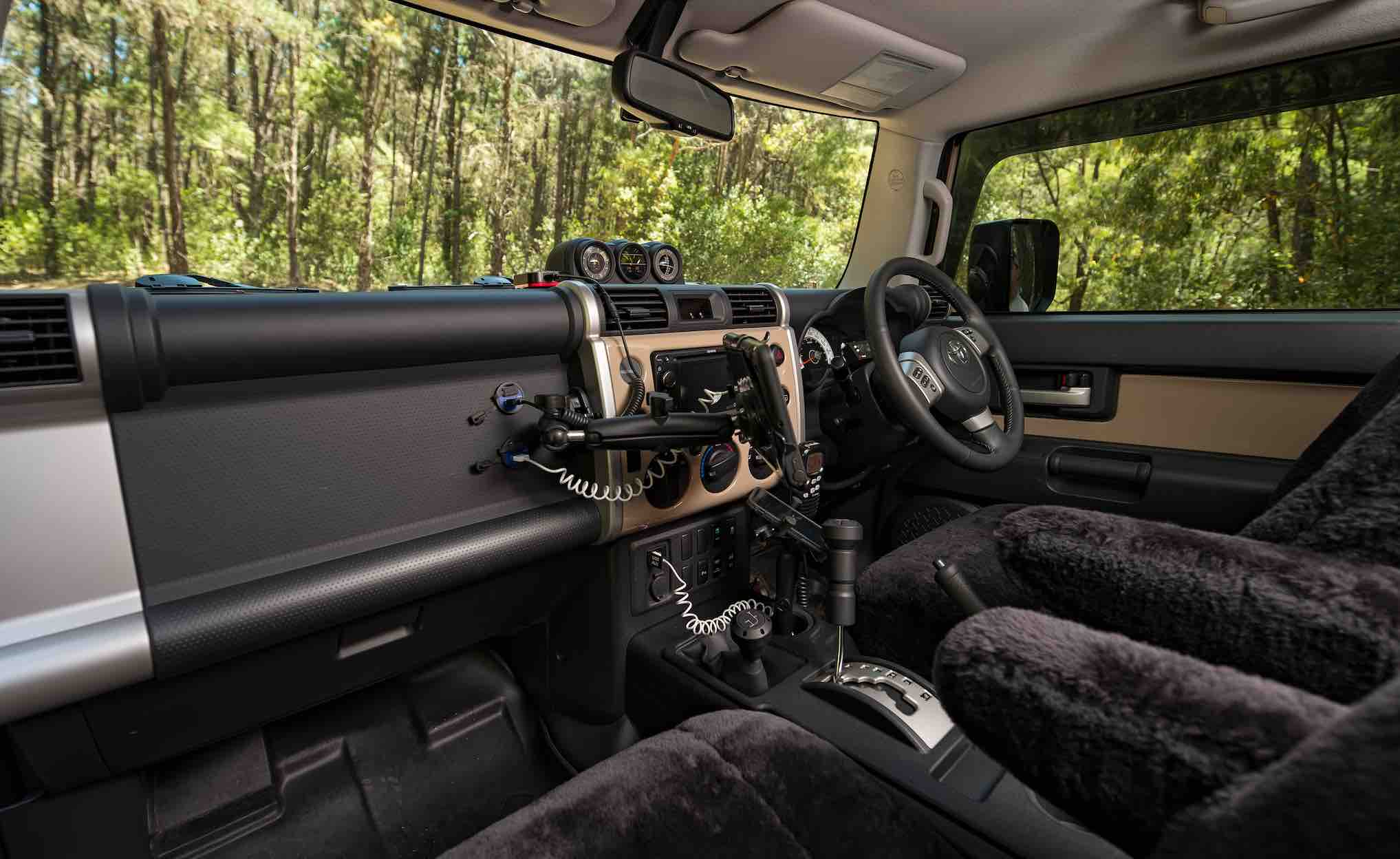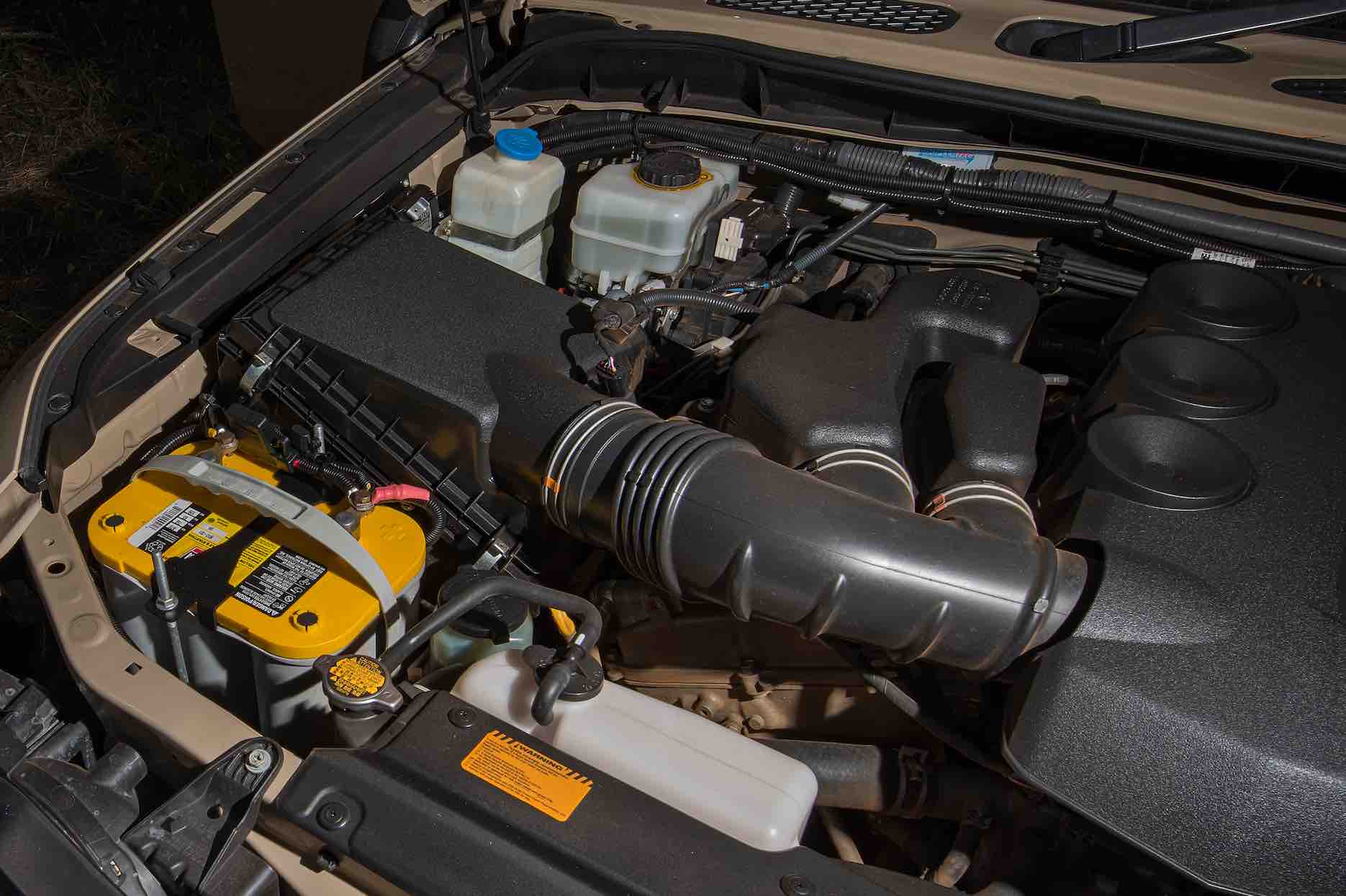 While Neil is still looking to find a steel rear bumper that he likes, he's fitted an XROX bumper up front to maximise the approach angle and to neatly house the Warn 9.5 XP-s winch. It also provides mounting points for some night-destroying Rigid Industries D2 Dually driving lights, and a punchy 20-inch combo E2 light bar offering both spot and spread for good peripheral night vision when Skip and his mates are on the move. There's also a cleverly-mounted SR series floodlight out the back to help when setting up camp.
For driveline protection, Neil relies on BRC Quad diff breathers to make sure the FJ doesn't down a couple of shot glasses of river water during a quick paddle through deeper-than-wheel-centre puddles. There's genuine Toyota rock sliders to keep sill panels intact during rock crawl duties, with solid recovery points and superbly made heavy-duty underbody protection plates from AOR. Rounding out the FJ's style is a Trail Team grille and some rear bumper side wings.
Taking care of electrical demands is a Redarc dual-battery 12V 40A system providing power for the auxiliary lights and the Waeco CFX 40L fridge (neatly mounted on an ORS slide). And, given most of us of can't leave our gadgets at home, a Baintech multiple-USB charging station is a handy addition to the cab.
A Baja ladder provides easy access to the utility rack for storing lightweight bulky camping gear up top. Inside the rear there's a set of Drifta drawers to house recovery gear, some tools and a first aid kit – along with other bits and bobs. To ensure everything stays in the back where it belongs should the unthinkable happen, there's an MPAC cargo barrier to protect the passengers. Neil's also squeezed in a custom-rigged 25L jerry can setup for water supplies and an ARB dual-compressor pump ready at hand for quick tyre inflation or simply performing camping duties with air mattresses or Tyler's toys.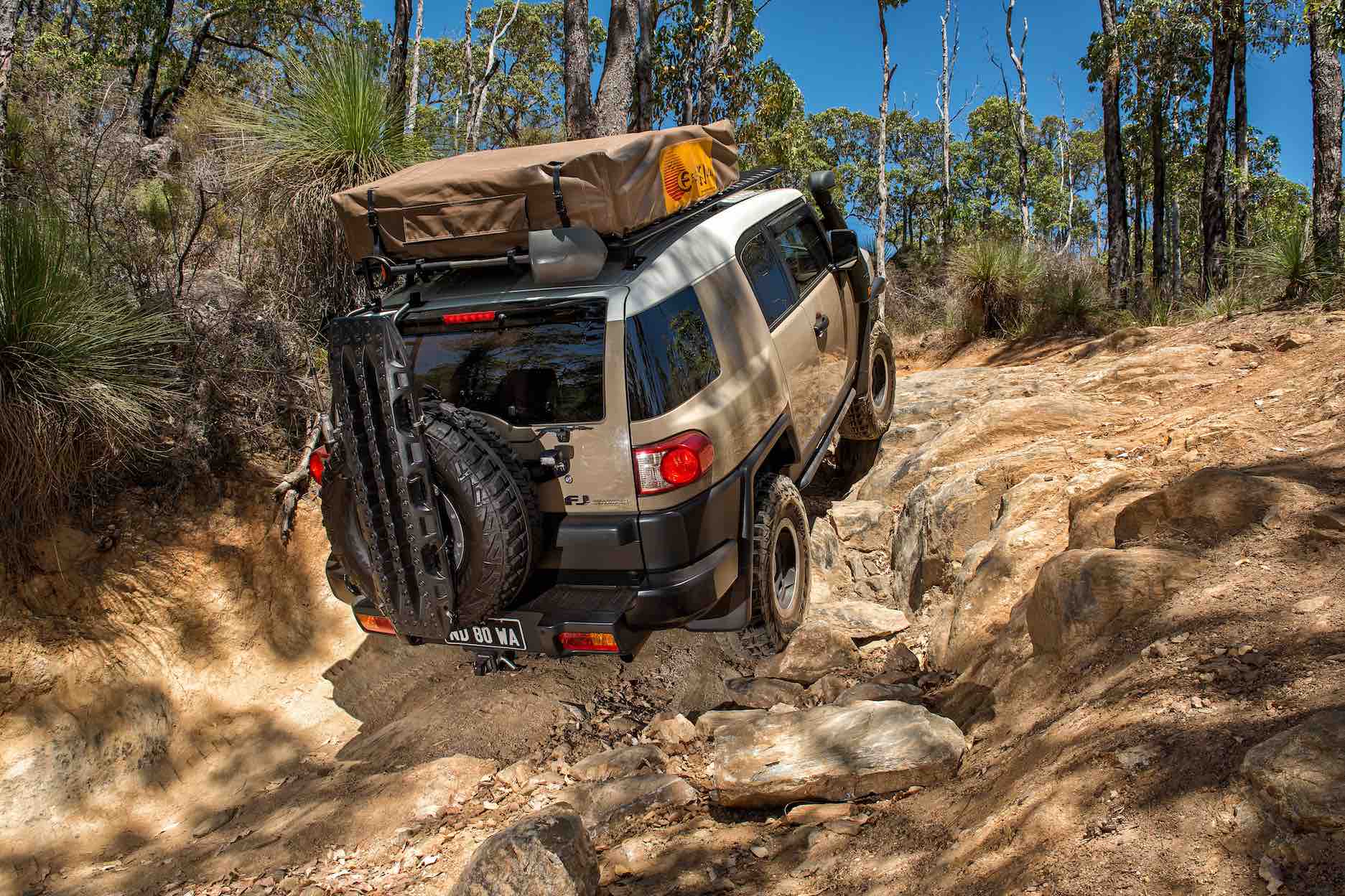 Where to?
Neil can definitely recommend plenty of spots in his own south-western backyard… like the challenging tracks and beautiful camping just south of Perth in the Darling Ranges from Dwellingup through to Collie. The D'entrecasteaux and Warren National Park near Pemberton provides rocky trails, river crossings and beautiful beach and forest landscapes that stretch as far as the eye can see. The Holland Track was a taste of the Outback with excellent camping, fun tracks and plenty of history for deep thinking over the campfire.
Heading north, Neil highly rates the Murchison Off-road Adventure Park as a great place to camp, complete with track options from easy to extreme providing a great way to gain technical skills and boost confidence levels.
With plenty of small trips under the seatbelts of the FJ, and Neil having finalised all his personal touches (now tried and tested from several shakedown trips), it's well sorted and ready for some longer trips away.
Neil takes a deep breath and smiles, "Yep, I've started planning the big one – going to tick off the Cape from my bucket list and this time with camping gear a little more sophisticated and comfortable than the itty-bitty tent me and the wife still giggle about as our first (and far from best) purchase."