Wes puts the RotaBBQ to the test as a neat little portable cooking option.
More and more often these days, you'll find campsites with signs everywhere declaring fires must be in those dodgy provided firepits or within self-contained stove type deals. That's great and all, if you're the only one at a campsite with three firepits for 30 campsites, or you've got the room to lug around a keg sized 'Fire-Pig' in your four-wheel drive. If space (and let's face it – weight) is at a premium in your rig, chances are this little gem from the folks at RotaBBQ may just be the thing to take camping.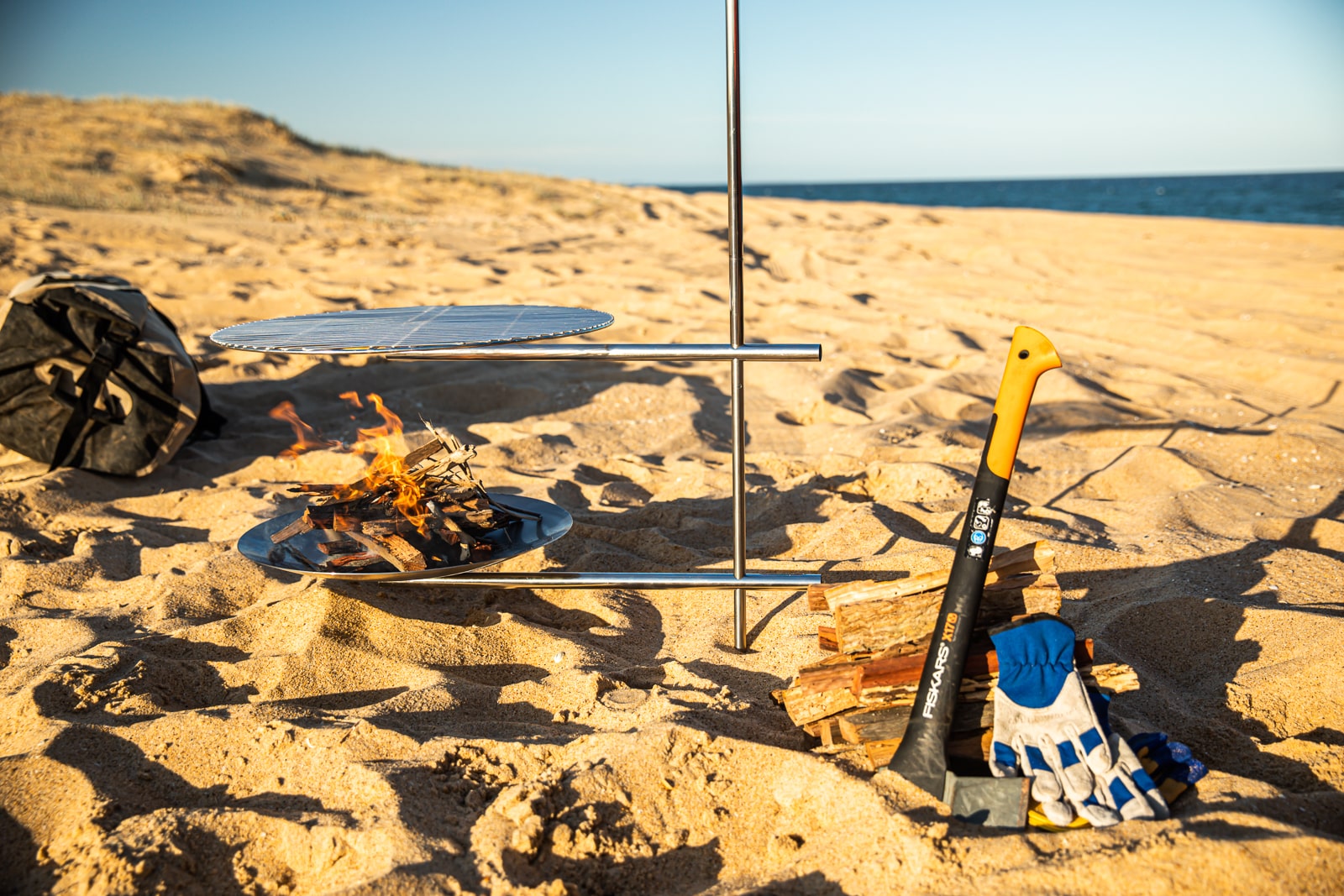 I got my mitts on one of these little jiggers after having a yack with the folks behind RotaBBQ, along the lines of 'surely there's a better way'. It turns out there is, and I'm not the first person to wonder about it.
The RotaBBQ Kit
To give you good folks the entire story on the RotaBBQ, the kit I got comes with everything. Aptly named the Ultimate Kit, it comes with the RotaBBQ itself (which is the pole, and rotating grill),  the firepit dish, a light-pole extension (with a torch) and a carry bag to keep it all neatly packed away to stop you losing parts into the depths of the shed where all the 10mm sockets end up.
The entire kit is made from high-quality 304-grade stainless steel, so it won't rust on you, or give off any dodgy chemicals as you're using it (there's a reason they don't use aluminium cookware anymore). The main stake (not steak; we'll get to that in a bit!) is a full 1000mm long and 18mm in diameter, which makes it long enough to be used in sand and solid enough to just about be hammered through rock!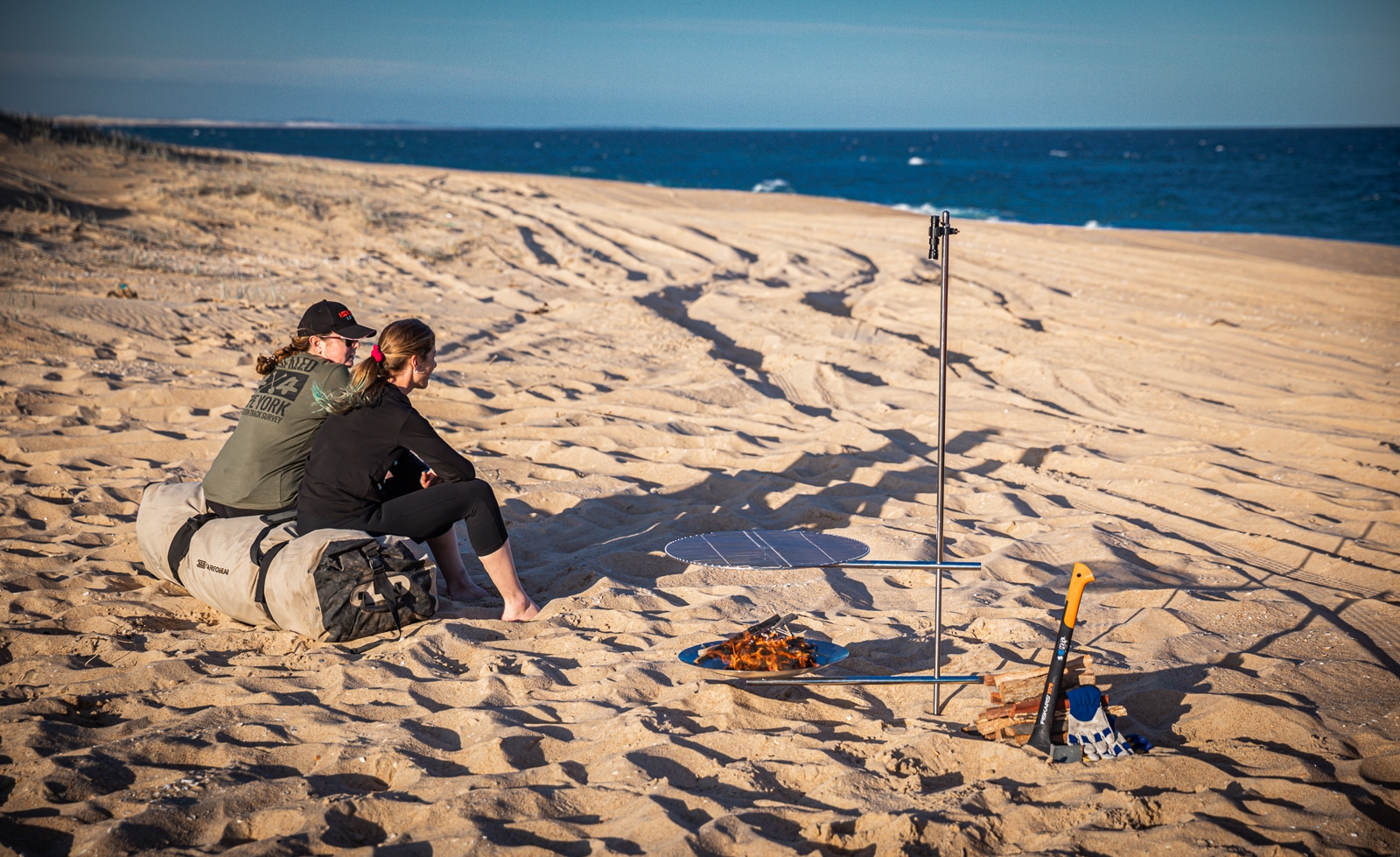 One of the greatest things about the entire kit is that as it's machined so well, the BBQ plate and firepit all rotate and move around; so if you're using it on a windy day, you can move everything around to keep the food over the heat, or off it, depending on what you're cooking.
The grill itself is a whopping big 600mm diameter, so you've got plenty of room to feed the entire tribe, with the Rota Arm being 675mm long and made from 25mm tube.
What's it like to use?
In a word, fantastic. Now I absolutely know this 'idea' is not brand spanking new – indeed I've seen a few National Parks campsites around the country with a mild steel swing in/out barbecue plate. That said, I've not seen one that's not been kicked, hit, jumped on by kids or in perfectly working condition, so having your very own that is completely portable and doesn't need to be concreted in is awesome.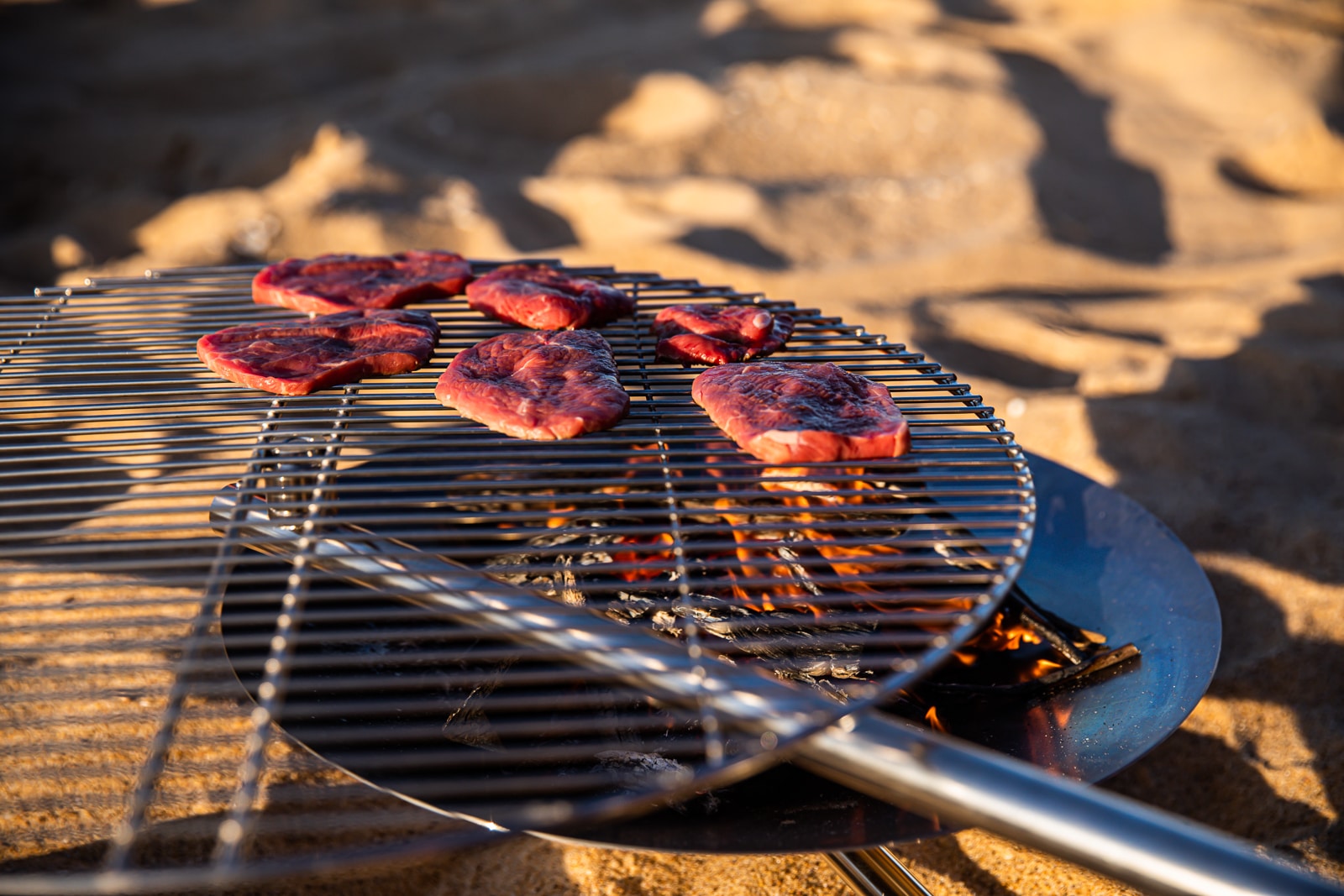 Putting it all together is very straightforward, and it's just a matter of putting the pit at a height that works for you, the grille above and off you go. With the minimal tolerances in which it's designed and made, the RotaBBQ self supports without issue; however, I'd suggest having a play with it before you start lighting fires – you're able to move the grill up or down once it's all put together by grabbing both sides of the Rota arm. Still, it's a lot easier working this out before it's been sitting over a fire.
Do I rate it?
Look, I do; however, it comes with a caveat. If you're someone who cooks strictly over gas on a frying pan, this isn't going to be much good. That said, if you want the ability to use a grill, you can still put your gas cooker on the ground and use this over the top of it – it's absolutely horses for courses.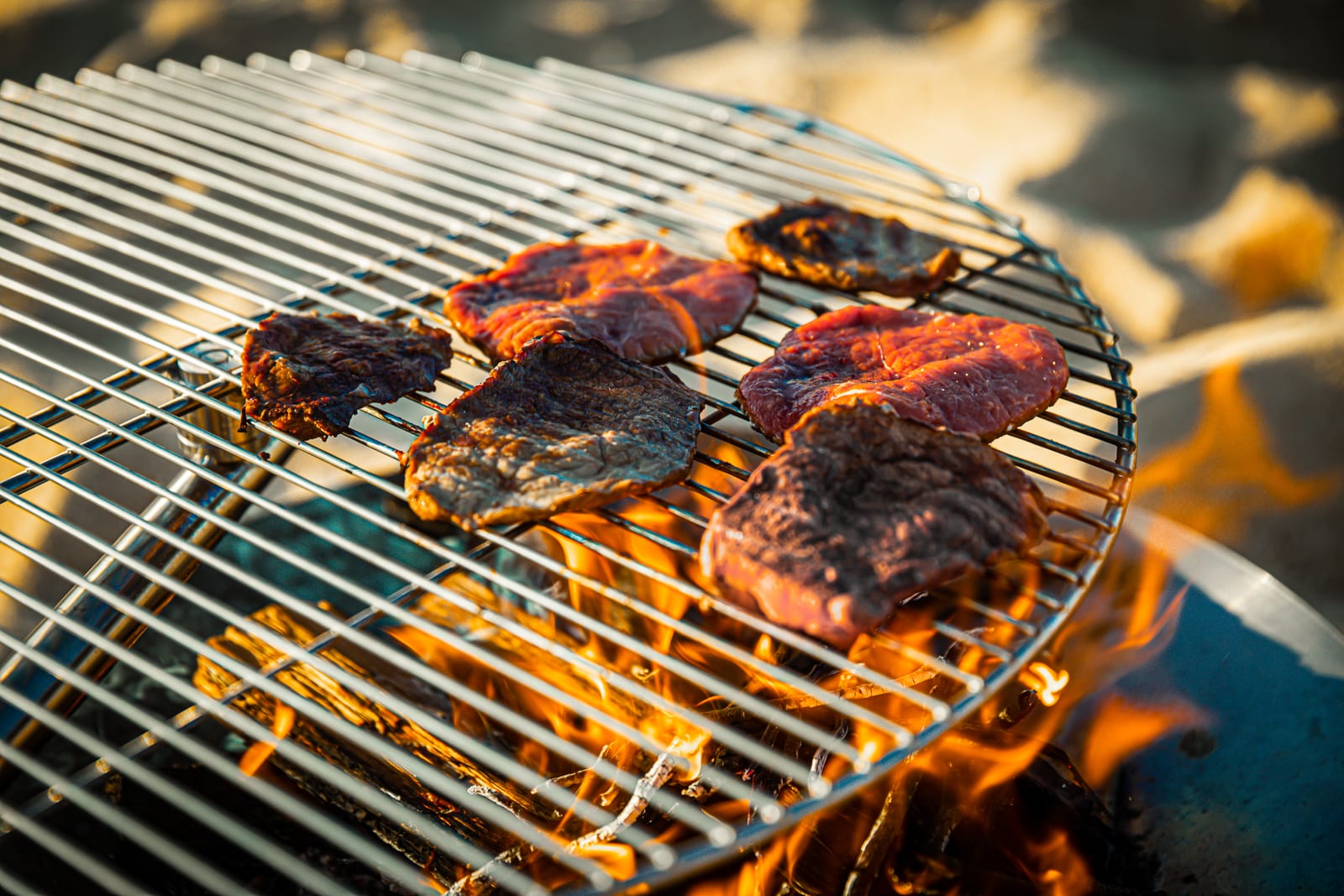 At the end of the day, I'm tickled pink with mine and will be pressing it into service just about every camping trip I get. And for those of us who live in suburbia, and don't want a permanent firepit, this thing works wonders in the backyard.
Specs:
Material: 304 stainless steel
Weight: 4.5 kg
Dimensions
Stake: 18mm diameter x 1000mm long
Rota Arm: 25mm diameter tube x 675mm long
Grill: 600mm diameter
Packaging: 750mm x 750mm x 50mm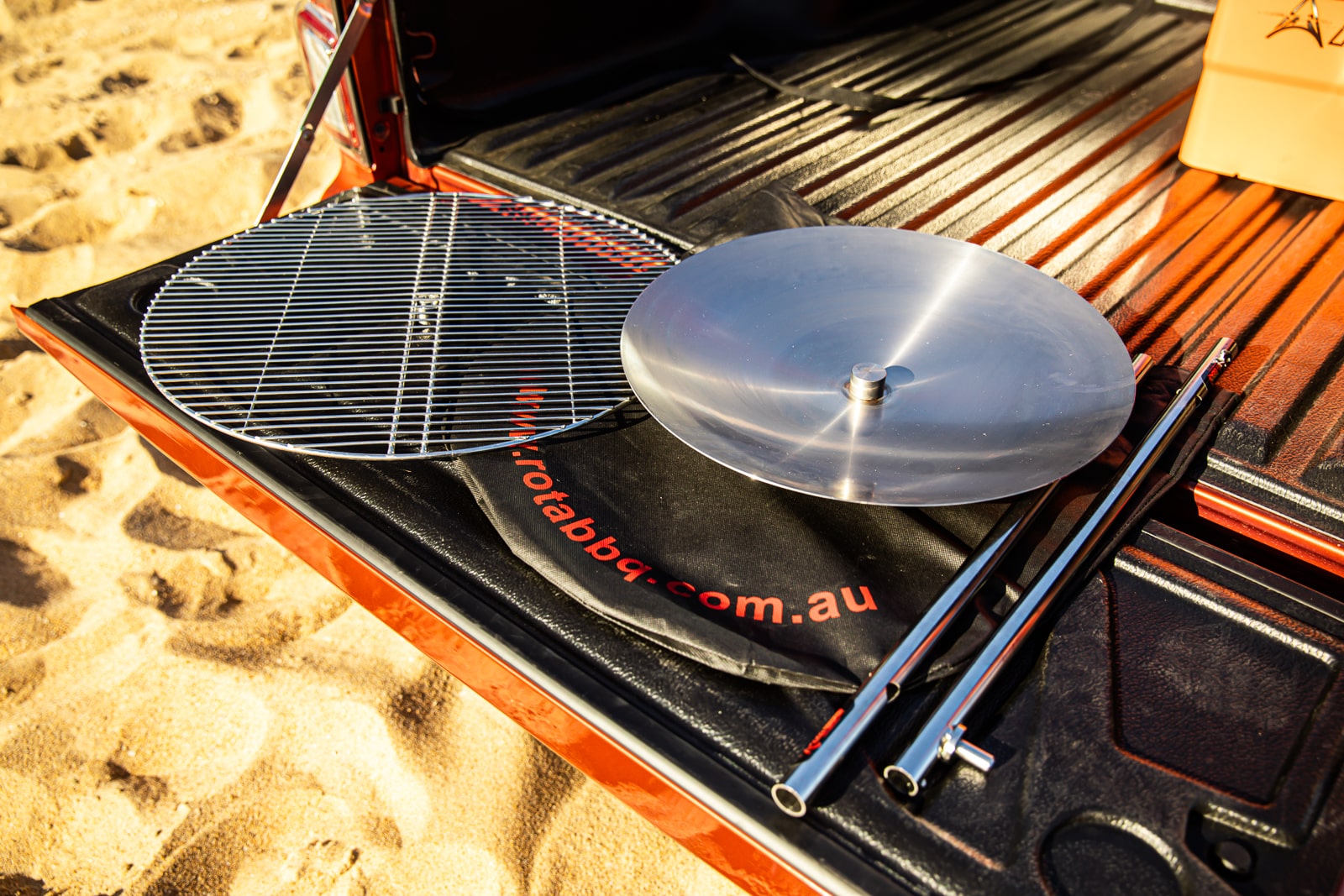 Kit as tested:
RRP: $340
Website: Ultimate Pack (RotaBBQ, Fire Pit, light pole and light, carry bag)