The rugged plateaus and deserts of inland New South Wales are renowned for their incredible 4WD tracks, but the coastal areas of the state are pretty epic in their own right. From deep valleys and river crossings to mountainous climbs with epic views to long open sandy beach drives, the New South Wales coast has some 4WD gems. Here are five tracks on the New South Wales coast you shouldn't miss!
1. Wadbilliga Road Drive
This lesser know track is accessed from Cobargo on the Sapphire Coast. The official 4WD section is 16 kilometres of dirt that starts at Wadbilliga and winds around the mountains towards the intersection at Tuross Road. There, you can turn right to Cooma or head left and back around to the coast via Nimitabel and the Snowy Mountains Highway.
This isn't an overly challenging track so it's perfect for anyone at the beginning of their 4WD journey. Although the track is an easy grade, you'll need to engage L4 as the track steepens up into the hills. There are some creek and river crossings that are often friendly but could be challenging after a bit of rain.
Despite its easy rating, experienced 4WDers will love this track too. Soak up incredible views as you climb up the mountainside looking back across the coast and through the rainforest. While you're on the track, take the time to stop for a swim and a picnic at Tuross falls and Cascades swimming hole.
2. Bendethera Valley
Although devastated by the 2019/2020 summer bushfires, the adventure to Bendethera Valley remains a long-time favourite of locals and visitors. This track sits within the Deua National Park, just West of Moruya on the Far South Coast. From Moruya, head towards Wamban and take Little Sugarloaf Road which then becomes Bendethera Firetrail as you get deeper into the park.
The track into the valley is steep and can get particularly tricky in the wet due to the Clay-ey nature of the soils. It also features a number of river crossings that are known to rise unexpectedly with heavy rain. This track is a medium-hard difficulty and not one to be tackled alone, especially in wet conditions.
Your destination is the stunning, remote and peaceful Bendethera Valley, an ideal spot for a weekend spent camping by the river under the stars. Take your swimmers, walking shoes and a set of binoculars and spend a day exploring the riverside or tackling the nearby walk into Bendethera Caves.
3. Mungo Brush
While Queensland might boast a reputation for excellent beach 4WDing, New South Wales still has some crackers. The track along Mungo Beach, near Port Stephens, runs 18 kilometres north from Dark Point to Big Gibber Headland and is a beach driver's dream.
This spot is far less busy than the very popular Stockton Sand Dunes or Blacksmiths Beach and is the third-longest beach in the state, so there's plenty of room to explore and escape the crowds. The beach is known to be wild, rough and rugged, with big surf, big sand dunes and plenty of blowouts. It can get boggy in sections so make sure you're prepared with recovery gear, a compressor to let your tyres down and maybe a mate to pull you out.
If you want to make the trip last a little longer, spend the day on the beach fishing, sandboarding or surfing, then head to the nearby Mungo Brush campsite in Myall Lakes National Park. This camp is technically 2WD, but still, a fantastic place to settle in for the night and soak up some time in nature.
4. Barrington Trail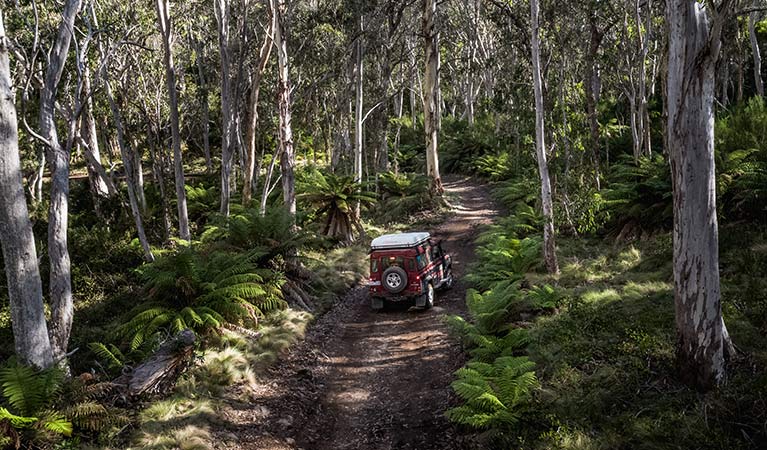 This stunning 15-kilometre drive traverses part of Barrington Tops National Park in the hinterland behind Forster on the mid-north coast of New South Wales. This iconic track used to be for foot traffic only but has recently been opened up for drivers. It boasts epic mountain views, some of the oldest trees in Australia and incredible wildflowers (if you head there in spring). There are camping options at Murray Campground and Junction Pools which both offer peaceful scenery and a relaxing spot to extend your adventure.
Although it's a relatively easy track, it can get tricky in sections after it's been raining, so make sure you have the right recovery gear. The gates of this track are locked in winter due to the conditions so make sure you plan ahead and check road closures before you head out. If you prefer a bit more of a challenge, you can start with the Barrington Trail and then take on some side trails such as Polblue Ridge Road, Horseswamp Trail and North Branch Road.
5. Point Plomer Road
This fun, sandy track is the start of a perfect beach adventure day with your mates or the whole family. The track takes you north, starting with a ferry trip over the channel from Port Macquarie and into Limeburners Creek National Park. The first 10 kilometres is a single lane, medium difficulty sand track that runs along behind North Shore Beach. Go carefully over the water crossings here!
Once you reach Point Plomer there are options to stop and camp, retrace your steps back to the ferry, or head further north to explore the campgrounds and beaches around Goolwah which also has excellent beach driving. Spend the day or the weekend surfing, swimming, walking and soaking up the sunshine. Once you've had your fill of salt and sand, head back the way you came or take the scenic route past the quaint surfing town of Crescent Head, and back around to the ferry via Maria River Road. Permits for beach access apply and can be purchased at the visitor info centre at Port Macquarie before heading onto the Ferry.