Gary Tischer takes a look at the new AOR Sierra ZR Camper Trailer – a budget-priced Aussie-made camper to which many options can be added over time.
You have no doubt seen an Australian Off Road (AOR) camper somewhere in the wilds of Australia. The company's high-quality hybrid campers with caravan-like inclusions are taken to many off-road destinations and are loved by their owners. What you may not know is that AOR originated as a soft-floor camper manufacturer on the Sunshine Coast back in 2000. Today there are 10 different hybrid camper models with the introduction of the new AOR Sierra ZR Camper Trailer.
Starting from just $29,900, the Sierra ZR is the smallest of the AOR camper range and it sees the company return to its roots; it's a go-anywhere camper for the couple or young family wanting to get into adventure touring/camping at an affordable price. The stand-out feature of the Sierra is that you can get one in its base form and can add features over time as DIY or with AOR's help and expertise. You can even bring some of your existing equipment and bolt it on.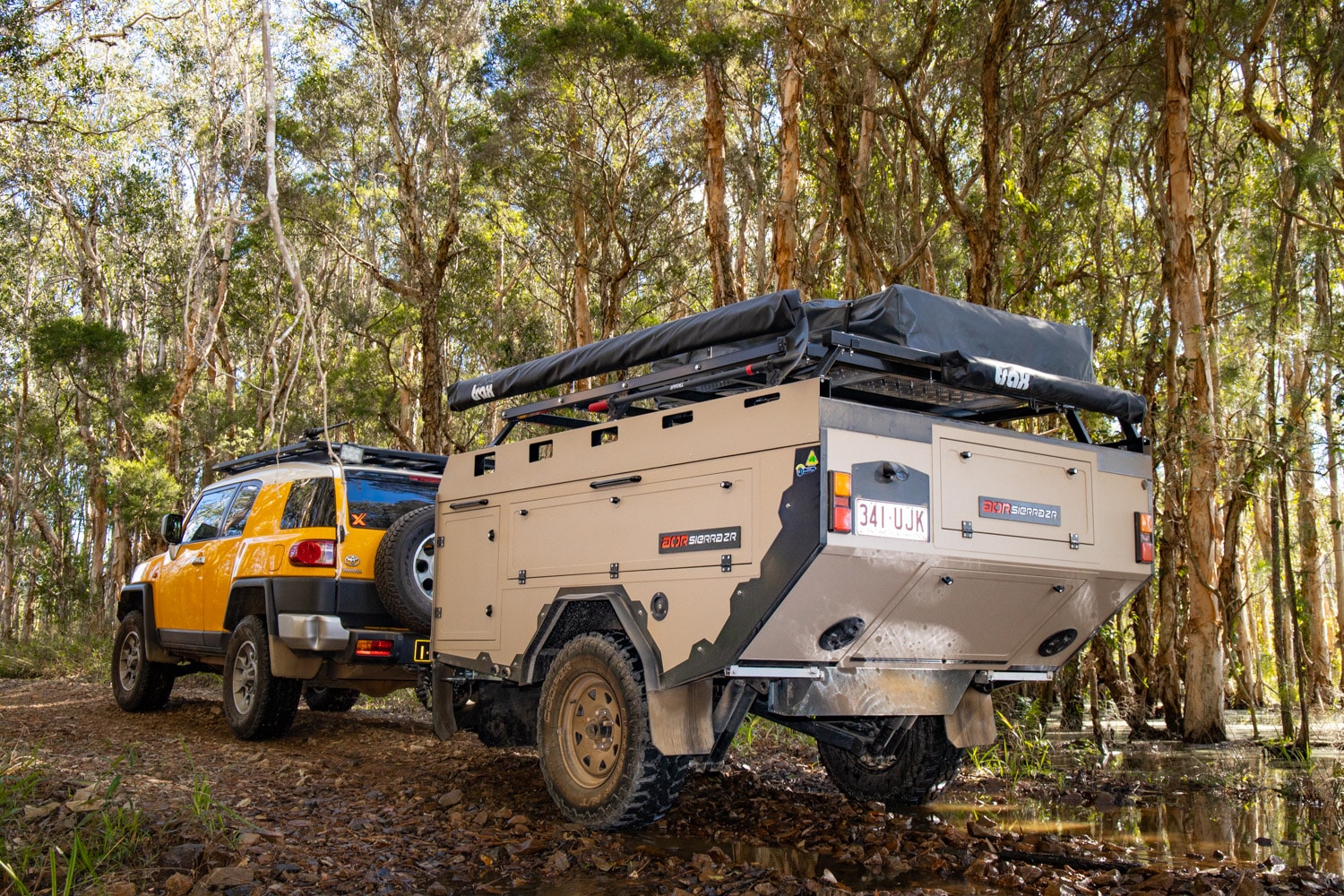 External
As the importation of overseas manufactured campers has increased, the locally manufactured camper brands have reduced dramatically. This has created a rethink on what can be built from the ground up in Australia and still come in at a cost that will allow the average family to consider purchasing. Enter the AOR Sierra ZR, which lowers the entry cost for a quality Aussie-made camper.
There is plenty of lockable storage, including loads of space between the camper roof and the roof rack for bulky items like stand-up paddle boards and surfboards. The roof rack itself is a strong, solid and adaptable item, and it will house up to two rooftop tents if required – one for the kids and one for you.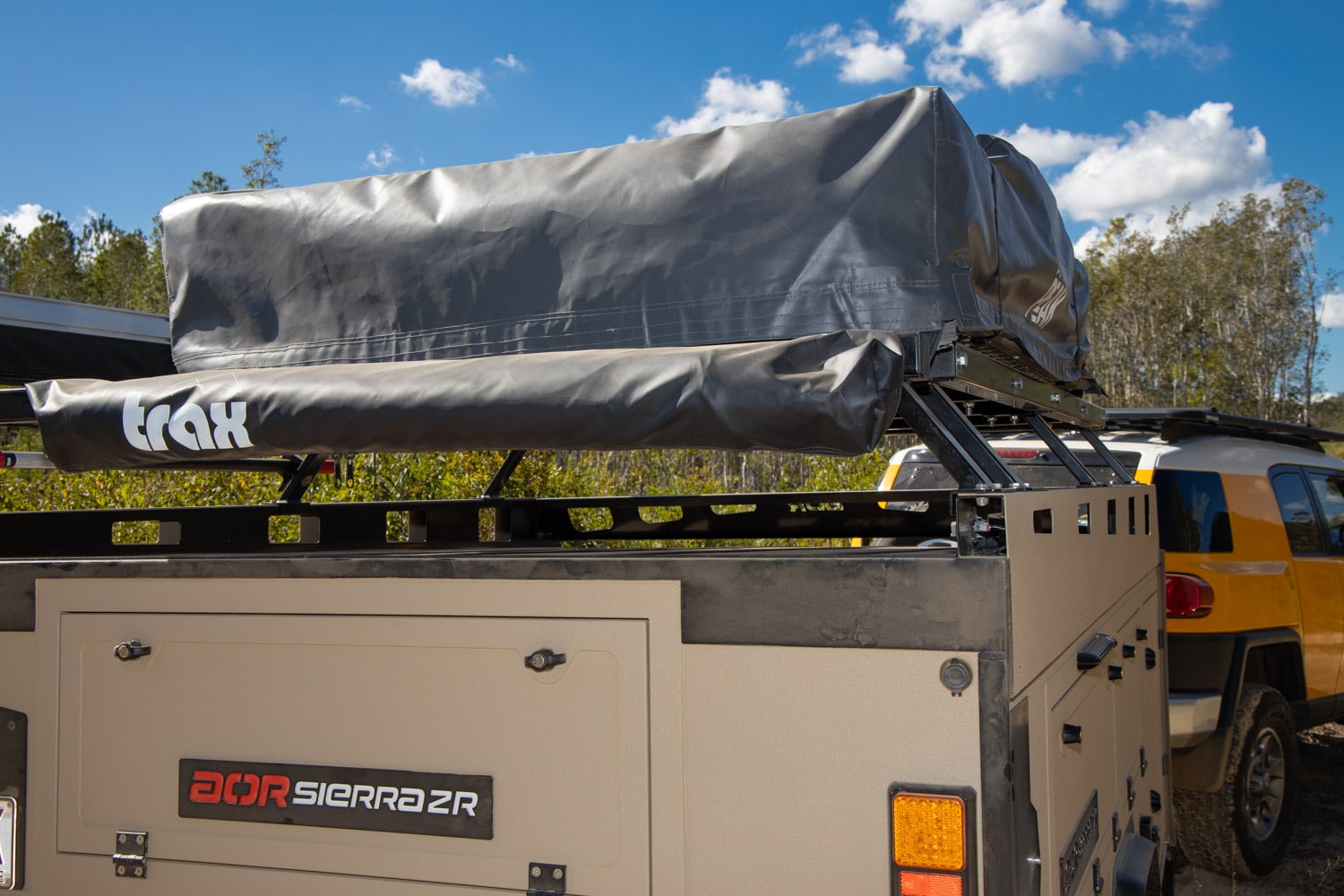 The camper is finished in an extremely tough and durable RAPTOR coating, with three colour choices, so it will not be susceptible to bush pin striping when negotiating narrow tracks. Underneath is AOR's own independent trailing-arm suspension that has been well proven across its range of campers. Coils come standard but airbags are an option. Wheels are 17-inch items fitted with 33-inch rubber, and the stud pattern can be matched to suit popular tow vehicles.
The camper body is made of the same durable composite panels used in AOR's larger trailers, which provides great strength and insulation while remaining lightweight. The slanted and faceted front is similar to the rest of the AOR range, providing stone protection and low air resistance to help save fuel. Two gas bottles are stored on the drawer bar with stone protection.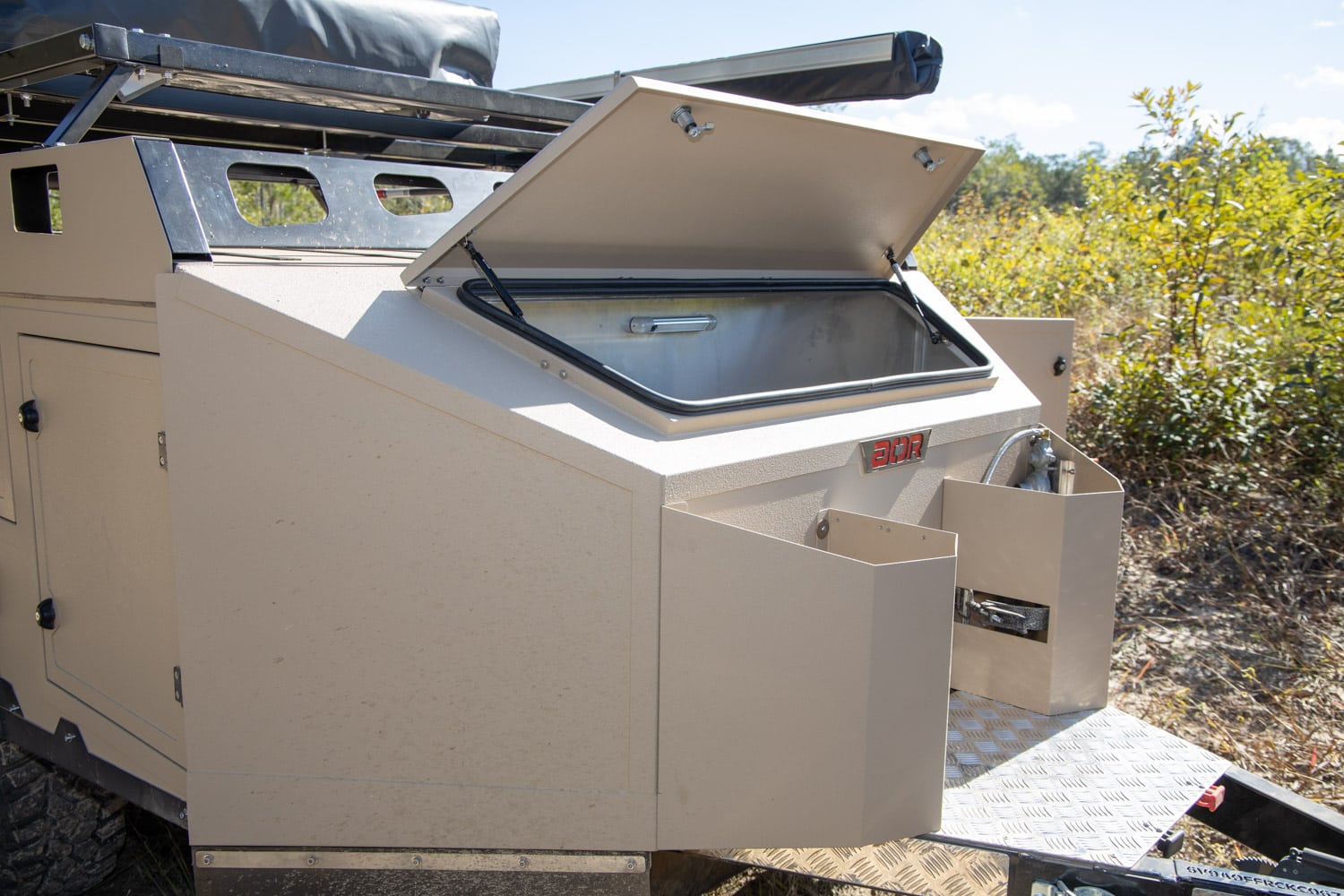 The roof slopes forward for less air resistance, and to channel water when stationary, and it provides the aforementioned extra storage for long items. The ZR comes standard with an awning although a 270° awning would easily fit on the camper and would be a great option. The back of the rack is the perfect place to add an optional drop-down shower tent. There are easily accessible gas and water outlets at the rear of the trailer. The base model is really suitable to those on a budget as options can be easily added in the future.
With a tare weight of 950kg, the Sierra ZR is light. It's only 1950mm wide so will follow your 4×4 anywhere it goes, and at 1890mm high it will fit in most garages. Overall length is 4300mm, so it will probably be shorter than your tow vehicle. Speaking of tow vehicles, with a low ATM of 1800kg, you don't need a fully kitted-out LandCruiser to tow the Sierra.
Storage
A big payload is only as good as the amount of storage that you have, and the Sierra ZR has stacks. Up front, the nose cone is a large area suitable for chairs, fold-up tables and other camping or sporting gear. On each side of the Sierra there are multiple large, dustproof storage areas. And at the rear of the camper is another large storage area, with a separate lockable area for the spare wheel.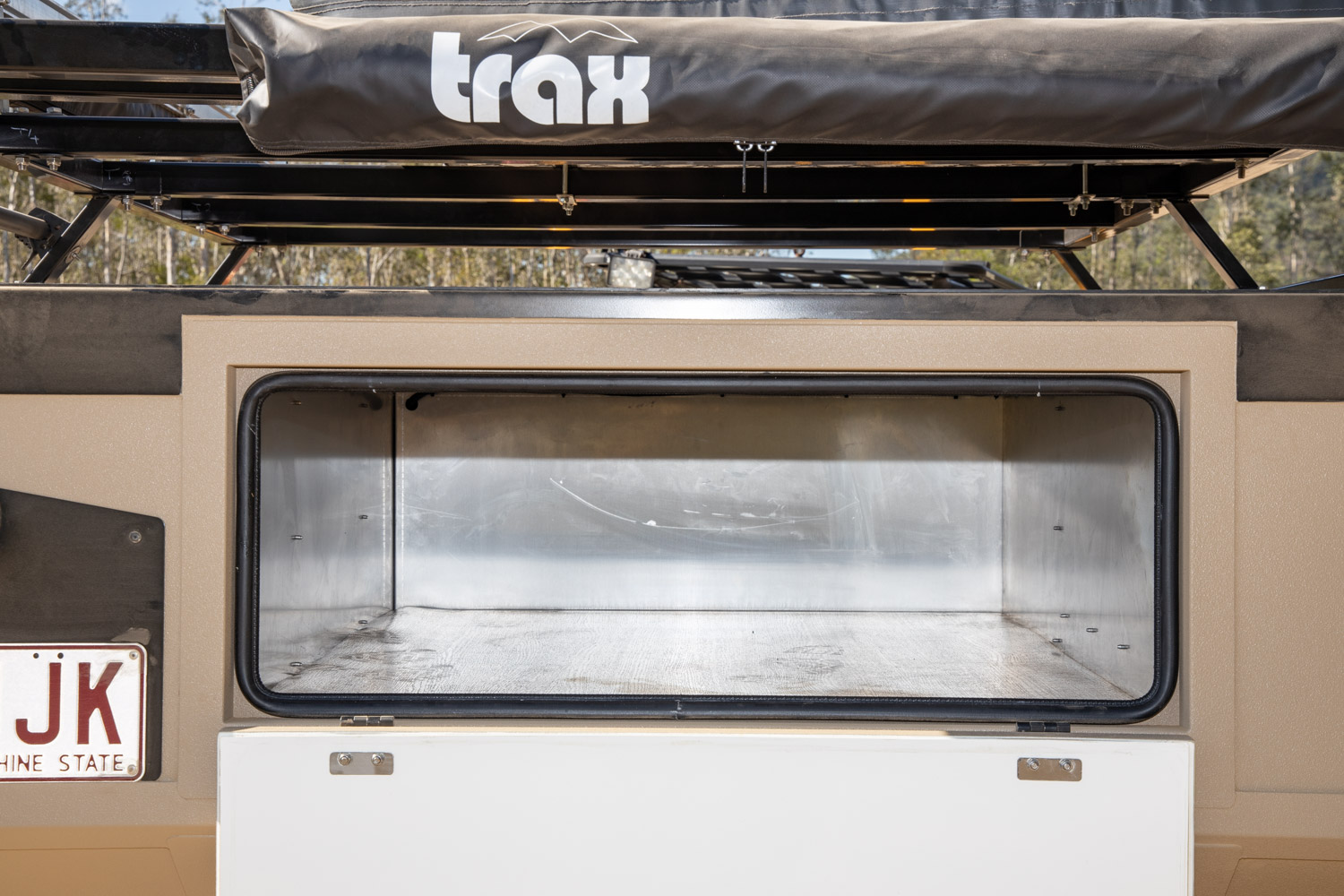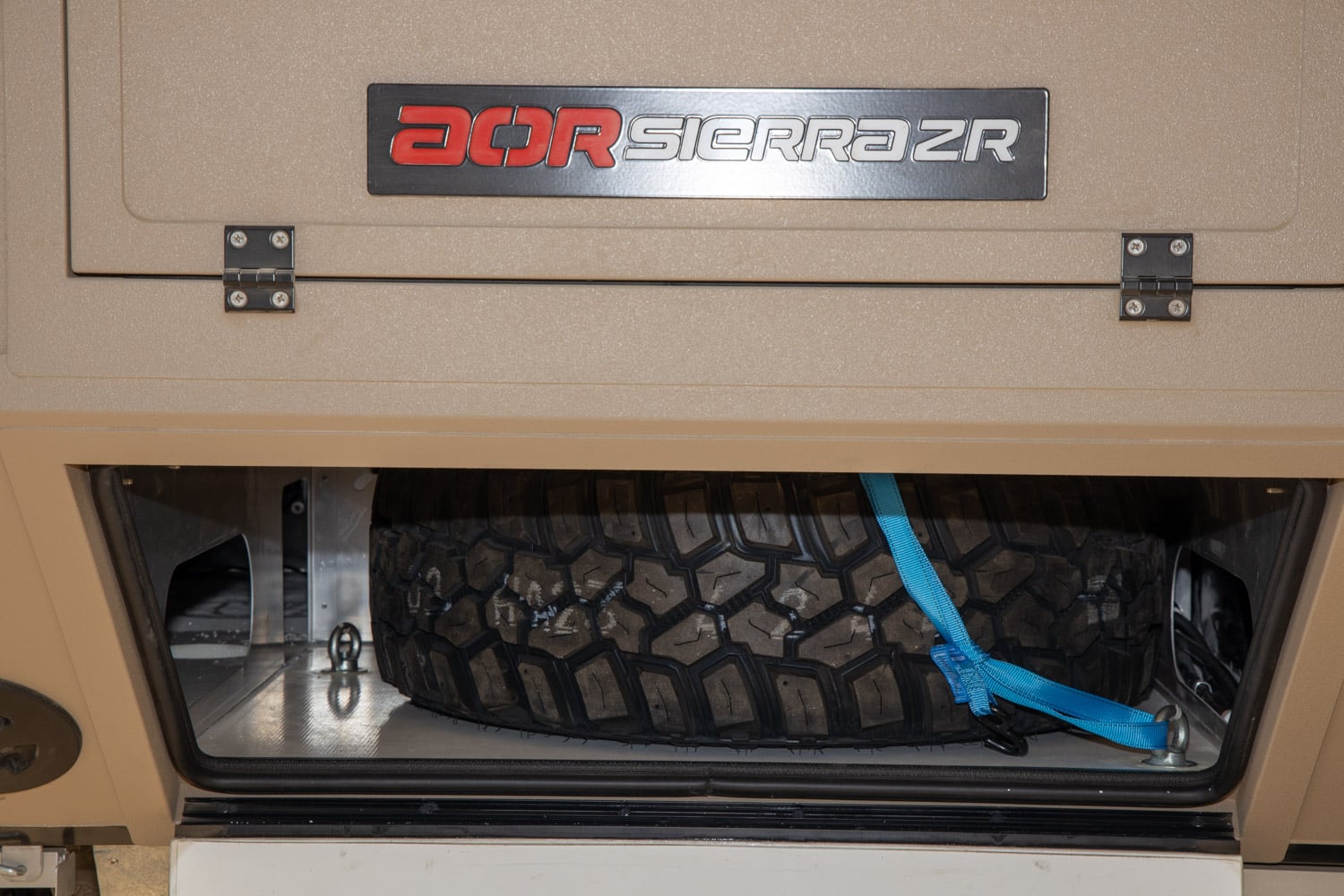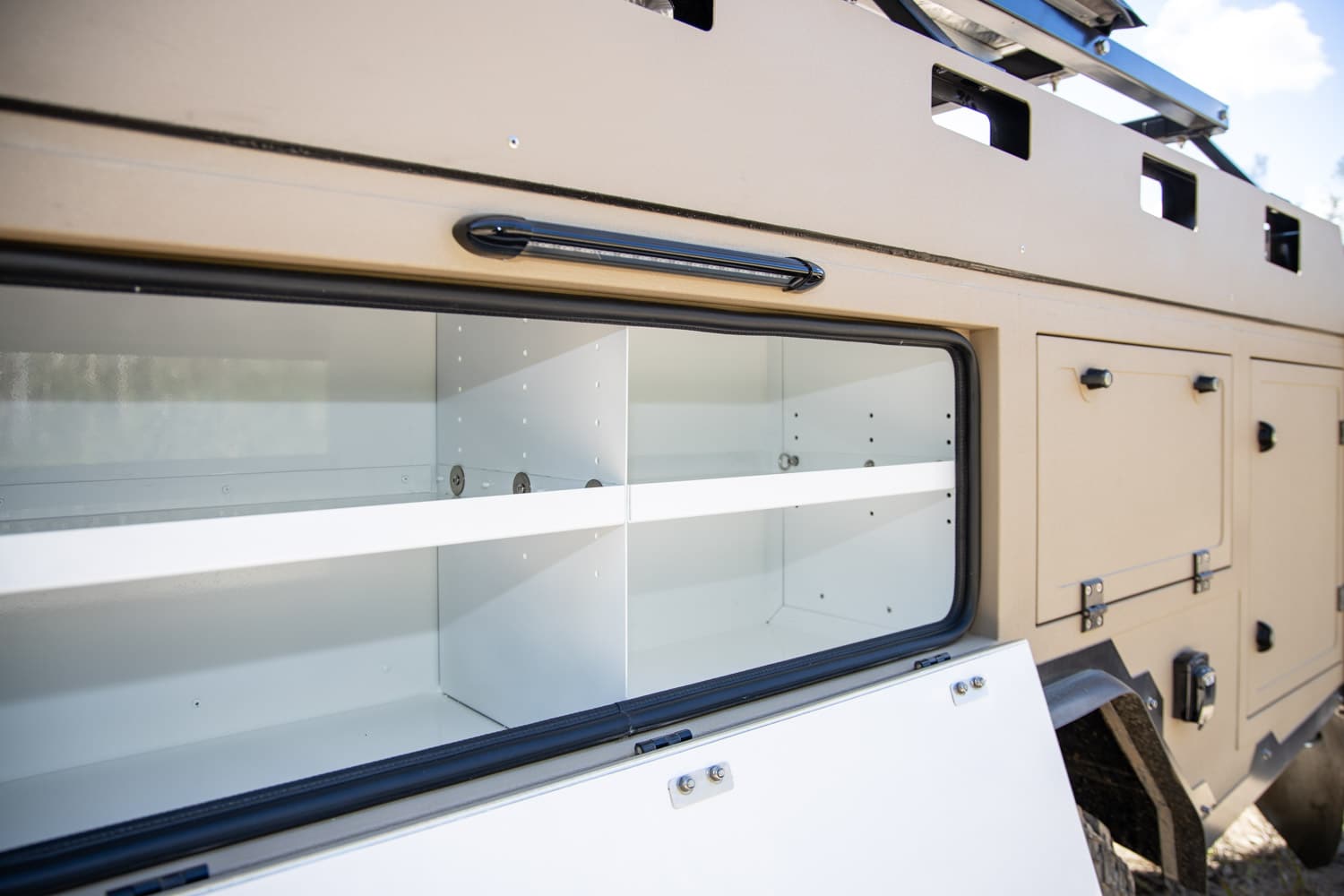 Electrical and gas systems
Despite its base-model status, the Sierra ZR comes standard with a 150amp Lithium battery. A FinScan PowerCORE battery management and automation is also standard, providing multiple battery-charging methods all monitorable via a 3.5-inch touchscreen or mobile device app. Using the app allows remote switching of lights, and the ability to check battery and water tank levels. The gas system is installed with external bayonets for gas stoves and accessories.
Kitchen
The kitchen has plenty of storage in the pantry area, a drop-down preparation area and a sink/stove slide-out next to the pantry. Above this is another slide-out which is perfect for cutlery, cooking implements and plates. On the other side of the sink/stove slide-out you'll find room for the fridge where you can specify an optional fridge slide that incorporates a bench for placing items on as you take them from the fridge. The Sierra ZR is designed for people who may already have camping gear and want to add that to their new camper. Personally, I really like this. A 60L water tank comes standard and can be supplemented by an optional 140L tank.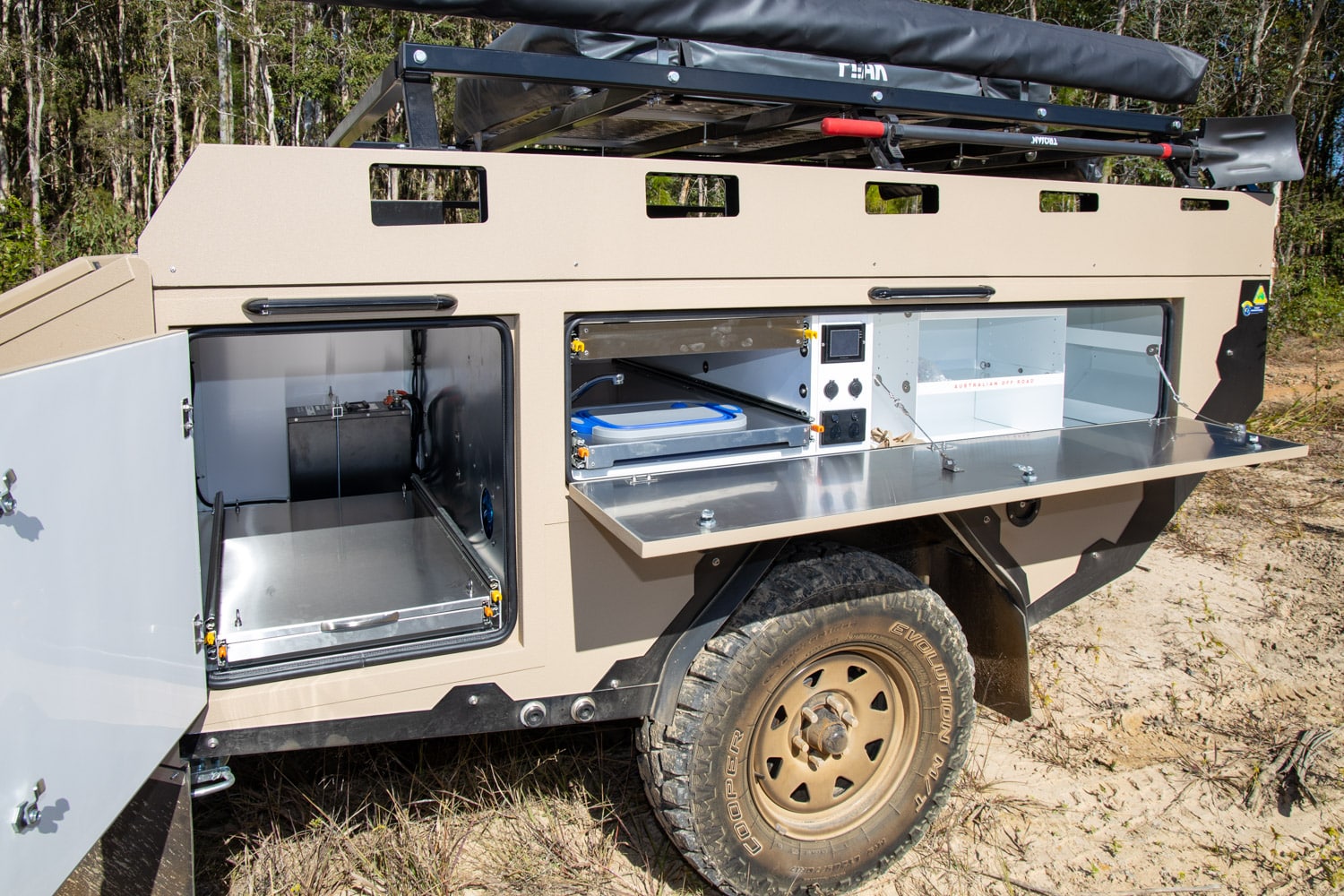 Sleeping area
The choices are vast these days in the world of rooftop tents (RRTs). There are the common nylon fold-out models often seen on many 4x4s, and vertical rising RRTs are also popular, in either fibreglass or alloy, and some even feature automatic opening systems. You may already have one that you could attach to the Sierra ZR's rack, or you can choose from many of the available options. If you have a couple of kids and want to keep them off the ground and close by, but not too close, fit two RRTs on the rack; one for them and one for you. A tent or swag could also be used if that's the best option for you, and upgrading is easy.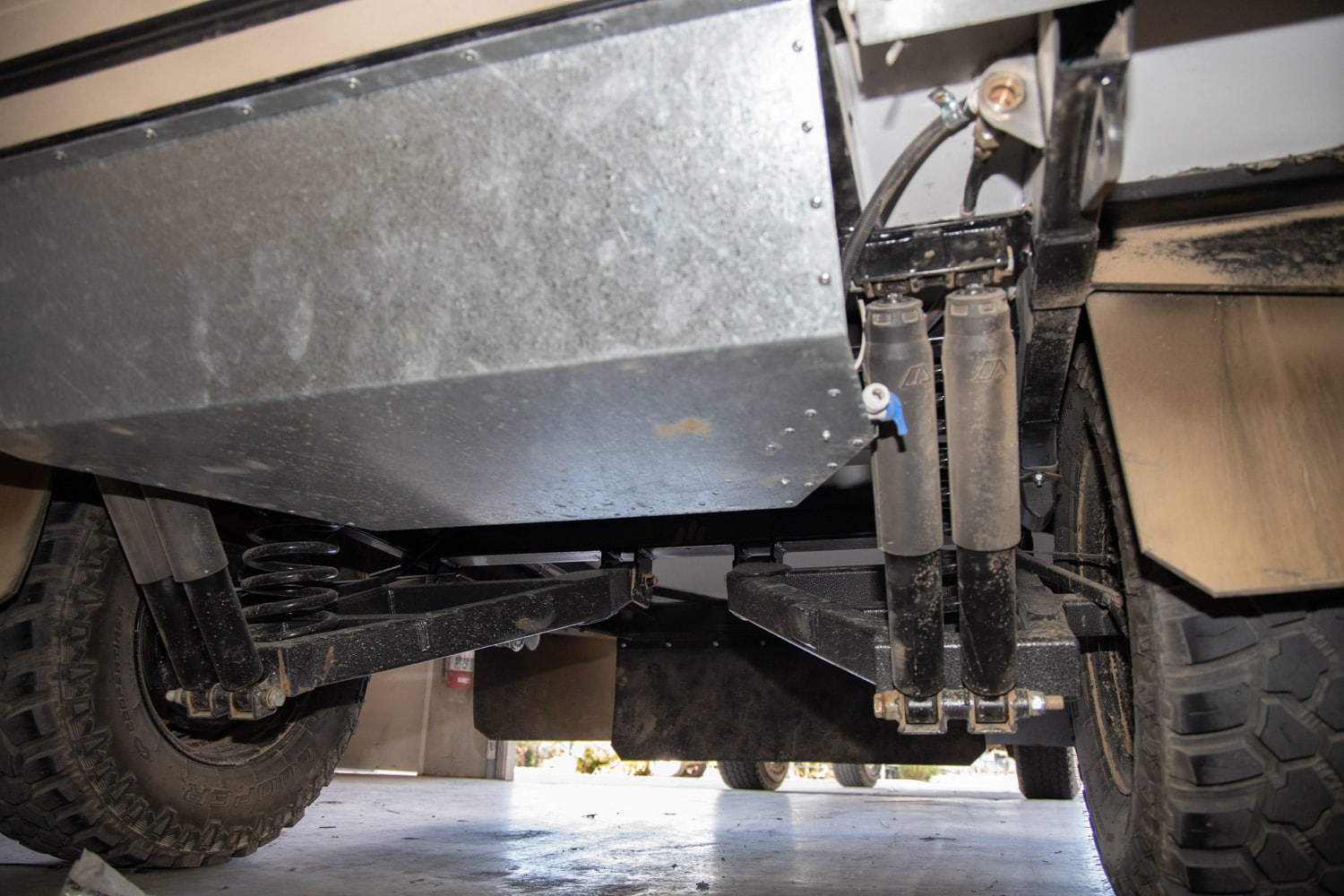 Verdict
The Sierra ZR is a tough, go-anywhere camper that is built on years of experience and is manufactured in Australia to suit our harsh conditions. It is light but is still packed with features. It has loads of storage and the flexibility to suit many different styles of camping. The ability to purchase the base model and add to it over time will appeal to many on a budget, or for couples future-proofing for kids down the track.
Specifications
Tare:                950kg
ATM:               1800kg
Length:            4300mm
Width:             1950mm
Height:            1890mm
Price:               From $29,900
Check out Gary Tischer's video below for a full run-down on the AOR Sierra ZR camper trailer.